Parent's Night Out – University of Louisville Cardinals Basketball Game
One of our goals as a couple for 2012 is to go on one date night per month. Serendipitously, the University of Louisville was playing our alma mater, Villanova University, on January 25, my husband's birthday. I bought tickets to the event on stubhub.com, excited to have out second night out since our daughter was born in August.
This was our second time to the
KFC Yum Center
, which turned two in October. It is a beautiful and modern arena that can seat up to 22,000 people. When you enter you are directed to giant escalators bring you to the floor where your section is located (there are elevators if you I had need them). The facilities are clean, staff is friendly, signage is easy to read and we were able to find our seats without any trouble. There were numerous concessions, priced about the same as other sporting events that we've been to in other cities. We had already had dinner so we had opted for the dessert cart run by the
Homemade Ice Cream and Pie Kitchen
, our large cookie was fresh and satisfying. Our seats were in section 310 row S and although high up we were able to see the entire floor quite well, the jumbo trons were also helpful.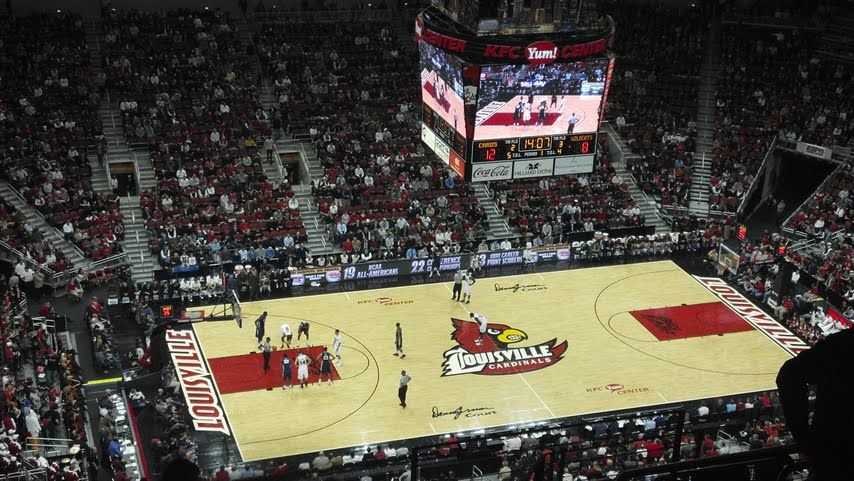 Louisville fans are passionate and definitely enjoyed the game, and they were even friendly to us, likely the only fans of the opposing team in attendance that evening. The arena looked about 90% full, which indicates there is a good fan base. Tickets run from $35 and up per person, pretty reasonable, but they aren't easy to find, especially if there is a good Big East match-up. If you enjoy watching college basketball, you will have a good time. Despite the loss of our dear Wildcats, we enjoyed the three hour break from our children, who were blissfully sleeping by the time we arrived home.
By guest contributor: Tanya