Horseback Riding around Louisville, KY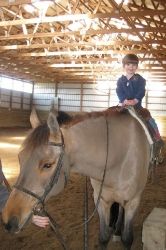 Saddle up! Kentucky is one of the world's number one horse regions, so why not introduce your kids to a bit of our local heritage and have some fun too? Typically, horseback activities are reserved for those six and up while pony rides are more appropriate for those under six. Each business has different age ranges, though, so be sure to check before you go. Here's our list of some just a few of the great places in and around Louisville for lessons and trail rides:
TRAILS: Horseback trail rides are a great way to enjoy the sights of fall and get some quality time with Mother Nature.
Little Big Horse Trails is located 30 minutes away in LaGrange. They offer one hour guided trail rides for $30 per person. Reservations are recommended.
Whispering Woods Trails is a bit of a hike at about one hour and twenty minutes from Louisville. Their trail rides are $25 for 1 hour per rider, $45 for 2 hours per rider, and $20.00 for each additional hour per rider. Please note that they accept cash or check only.
RIDING LESSONS: There are several places that offer horseback riding lessons as a one-time session or a series of lessons for kids. There's even more options than this but here are some highlights.
Louisville Equestrian Center has a variety of options including one-time lessons ($30), group lessons, beginner's package, year round camps and more. They are located in Taylorsville.
Pleasantview Farm, in Simpsonville, offers lessons for beginners and those who are more experienced. Their private lessons are $45 for 30 minutes.
Signature Stables and Farms is conveniently located in St. Matthews right next to Seneca Park. They offer lessons at $35 for thirty minute semi-private lessons or $165 for a pre-paid package of 5 thirty minute lessons.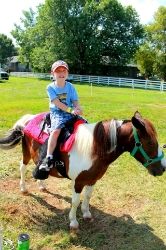 Rolling Hills Farm is located in Mt. Washington. They offer lessons for $35 per group lesson, $40 for private lesson or $160/ month.
PONY RIDES: Pony rides are a great way for little ones to be introduced to horses. The rides are typically short and inexpensive.
Hubers Orchard and Winery typically offers pony rides for a small fee within their Family Fun Park. This would be a great trip to gather your apples, pumpkins and a pony ride!
Lots of festivals offer pony rides. For example: Sunny Acres Farm will be hosting the Pumpkin Festival on October 19th from noon to 6pm. They will have pony rides for $3 as well as hayrides, pumpkin carving stations, petting zoo, and food and artist vendors. Mark your calendar!
By guest contributor: Jennifer