Favorite Crock Pot Recipes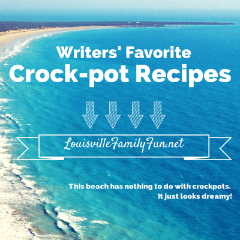 Tami ~ Chicken with Cranberries We love this one in the fall!
Nicolle ~ Chicken Tortilla Soup (I usually use a rotisserie chicken from Costco and use half the beans in the recipe. Family favorite!)
Jeanette~ Slow Cooker Ham For a delicious, no-fuss ham that is juicy and good, try this slow cooker sensation with only two ingredients! It shreds great. Great for a crowd or to use it in recipes for the rest of the week
Maggie ~Vegan Black Bean Chili
Soak dried black beans in water overnight. Canned won't hold up in the crock pot all day. Drain in the morning and add to crock pot.
Sauté onions, peppers, and garlic in vegetable oil with Adobo (I use the one with the green lid). Add to crock pot.
Dice up 1 sweet potato and add to crock pot.
Add 1 cup uncooked quinoa (optional)
Add 2 cans rotel or diced tomatoes. (Rotel will make it pretty spicy.)
Add 1 box tomato sauce. Refill the box with water and add that.
Add Chili powder and stir.
Cover and cook on high for 4-5 hours. You can also assemble this the night before, put it in your fridge, and cook on high 6-7 hours.
Don't let the vegan title fool you-this Chili is hearty and packed with protein. My kids love it!
Stephanie ~ 3 lbs chicken + 1 jar medium salsa. 10hrs on low. Shred and serve with tostadas, shredded lettuce, diced tomatoes, refried beans, cheese and sour cream for a build-your-own tostada dinner Here's another: 1 bag(s) tortellini2 can(s) italian style diced tomatoes (i used roasted garlic & basil)4 c vegetable broth1 pkg cream cheese (cubed up)1 bag(s) fresh spinich Put all in crockpot and cook low for 5 hrs.
Dana ~ Pork BBQ sandwiches – Place 2 pound boneless pork shoulder (trimmed) in a 5- to 6-quart slow cooker. Rub with brown sugar, chili powder, garlic, 1 teaspoon salt, and ¼ teaspoon pepper. Add ½ cup of vinegar and ½ cup water.
Cook, covered, until the meat is tender and shreds easily, on high for 4 to 5 hours or on low for 7 to 8 hours (the low setting will make total cooking time 8 hours, 10 minutes). Serve on buns with coleslaw
Erin ~ Crockpot Chicken with Black Beans 3 chicken breasts, 1 cup chicken broth, season to taste the following: black pepper, salt, red pepper, garlic powder, cumin (about 2 tsp). Put in crock pot and cook on high for 4 hours. Cut and shred chicken up and add 2 cans of rinsed and drained black beans; continue to cook for at least another hour. Use as a filling for tacos or burritos. Add the fixins!
Karen ~ Crockpot White Chicken Chili 4 cans Northern White Beans (1-2 cans can be Cannelini if you choose)1 onion (chopped)1 can corn1 can petite diced tomatoes (I use the kind with green chilis)1 (4oz) can diced fire roasted green chilis2 packages McCormick White Chkn Chili Seasoning2 cups chicken broth2 LARGE boneless/skinless chicken breasts (at least 8oz each) Drain and rinse beans. Put all ingredients in crockpot, stir, then lay chicken breasts on top. Cover and cook on Hign 3-4hours, or 6-8hours on low. Before serving, remove chicken breasts and shred the meat, return to pot, stir and serve Taco Soup/Chili 1 sm-med onion chopped3 – 10oz cans diced tomato w/ green chilies2 cans black beans1 can pinto beans1 can creamed corn1 packet taco seasoning1 packet ranch dressing12oz bag of frozen corn Drain all of your cans except the creamed corn, put all in the crock pot and heat. *Add any meat you wish – shredded chicken, ground beef, ground turkey …
Brandy ~ Amazing Pork Tenderloin in the Slow Cooker– 1 (2 pound) pork tenderloin- 1 (1 ounce) envelope dry onion soup mix- 1 cup water- 3/4 cup red wine- 3 tablespoons minced garlic- 3 tablespoons soy sauce- freshly ground black pepper to taste Place pork tenderloin in a slow cooker with the contents of the soup packet. Pour water, wine, and soy sauce over the top, turning the pork to coat. Carefully spread garlic over the pork, leaving as much on top of the roast during cooking as possible. Sprinkle with pepper, cover, and cook on low setting for 4 hours. Serve with cooking liquid on the side as au jus. Makes 6 servings.
Mexican Slow Cooked Pork Carnitas– 2.5 lb pork shoulder blade roast, lean, all fat removed- 6 cloves garlic, cut into sliver- cumin- dry adobo seasoning (I used Goya)- garlic powder- 3/4 cup 99% fat free chicken broth- 2-3 chipotle peppers in adobo sauce (to taste)- 2 bay leaves Season pork with salt and pepper. In a medium sauté pan on medium-high heat, brown pork on all sides for about 10 minutes. Remove from heat and allow to cool. Using a sharp knife, insert blade into pork, cutting small holes and insert garlic slivers. Season pork generously with cumin, adobo and garlic powder all over.Pour chicken broth in the crockpot, add bay leaves and chipotle peppers. Place pork in crock pot and cover. Cook low for 8 hours. After 8 hours, shred pork using two forks and combine well with the juices that accumalated at the bottom. Remove bay leaves and adjust salt and cumin (you will probably need to add more). Let it cook another 15-30 minutes. Serves 8.