Review of Christmas at the Galt House 2015
The writer and her family were given admission to this event for the purpose of review.
Christmas at the Galt House is back and packed full of things to see and do. This was our first time experiencing the attraction. We visited on a Saturday during opening weekend so it was very crowded. The in and out access is helpful during peak hours. We were able to skip crowded areas, take a break or grab a bite to eat in the hotel and return to them when they cleared.
Santa was our first stop as we made our way from the ticket booth. The line moved fairly quickly. We bought the professional 5X7 photo ($12.99) even though you are allowed to snap your own photos. Make sure you register for the free digital download; it wasn't clear to us this was available until later.
Next to Santa is a small room filled with gingerbread houses. The room is a showcase for a gingerbread house contest containing several contestants' beautiful designs. We were especially impressed with the largest of these designs; a massive house created by some of the Galt House chefs. There are a few tables and chairs set up in this room where you can create your own gingerbread house. The kits were $17.95 and an additional $4.95 for the take-home box.
The Holly Jolly Elf Show is back again this year. It was very popular last year, so it was moved to its own room with shows starting about every hour. I recommend getting in line 15-20 minutes prior to the show time because the room fills quickly. The elves interact with the crowd before the show starts and take photos after the show. My 4 year old daughter said this was her favorite.
A Christmas Carol is the theme throughout KaLightoscope again this year. My children enjoyed reading parts of the story along the path, looking at the handcrafted silk luminaries and knocking on some of the doors in Scrooge's village. We did not feel like there were many "creepy" displays and we could tell event planners were intentional about the placement of ghosts and tombstones.
We walked through the KaLightoscope tent in about 10 minutes and made our way inside the hotel. Along the walk is the new Winter Wonderlane. The map describes it as "whimsical trees and dancing lights above as you approach a fairy-tale gazebo with a magical mistletoe." We saw a gazebo, but decided it was too rainy and cold to explore.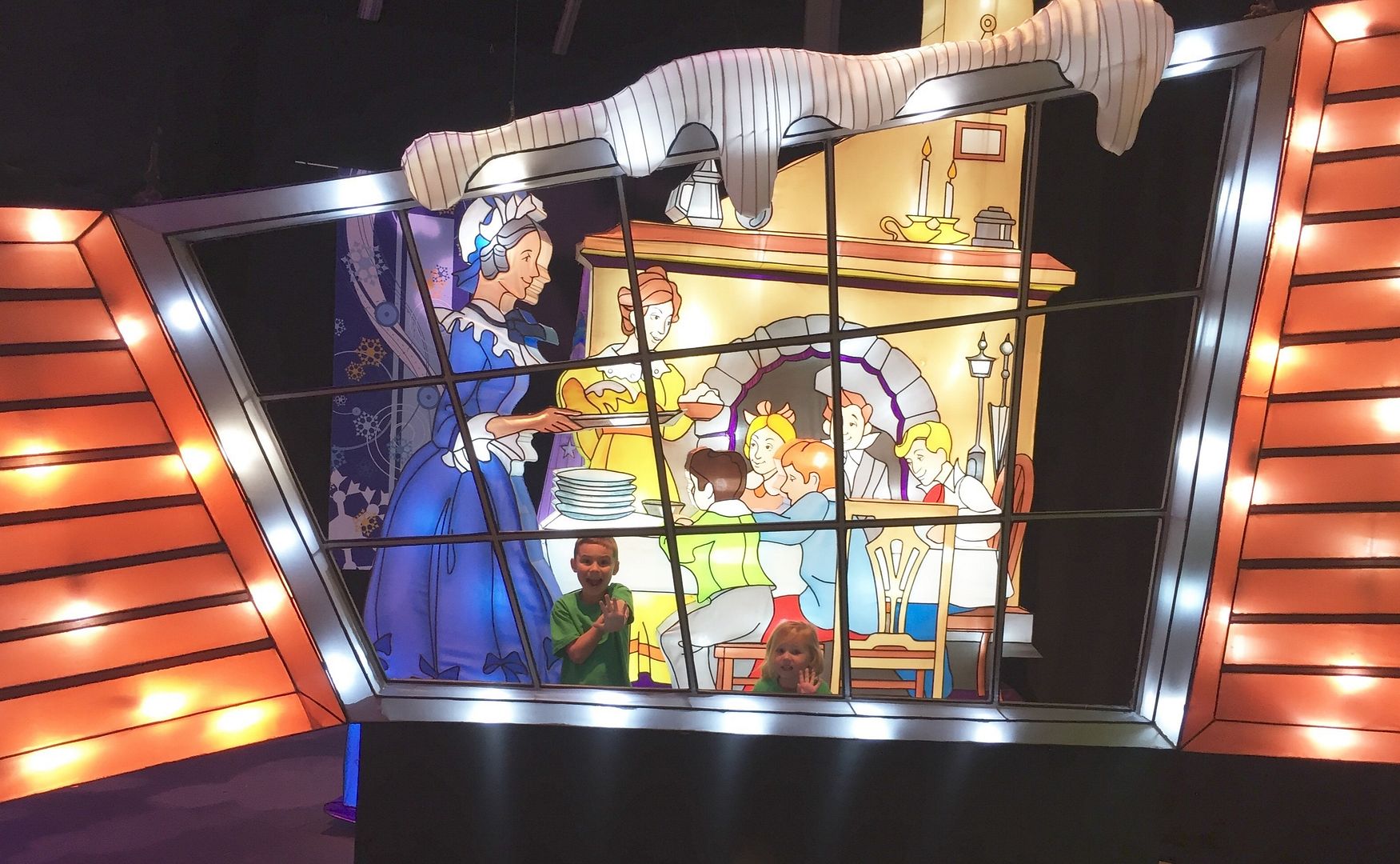 Once we were back inside the hotel, we entered a room where children can write letters to Santa, try out the green screen sleigh ride and pay $8 for a chance to pick a present that had a tablet inside. This room was quite small and crowded so we moved on to the Christmas village displays. We saw signs to play the Great Christmas Mouse Mystery Game ($10). When we were leaving I asked about the game and was told that it is a scavenger hunt played in the Christmas Village and game cards are redeemed for a prize.
The Snow Fairy Castle is located just on the other side of the village displays. There were two fairies that spoke to young children, posed for pictures and pretended to sprinkle fairy dust on children's hands. I liked how special the fairies made each child feel. The snow fairy line was a little chaotic and difficult to navigate.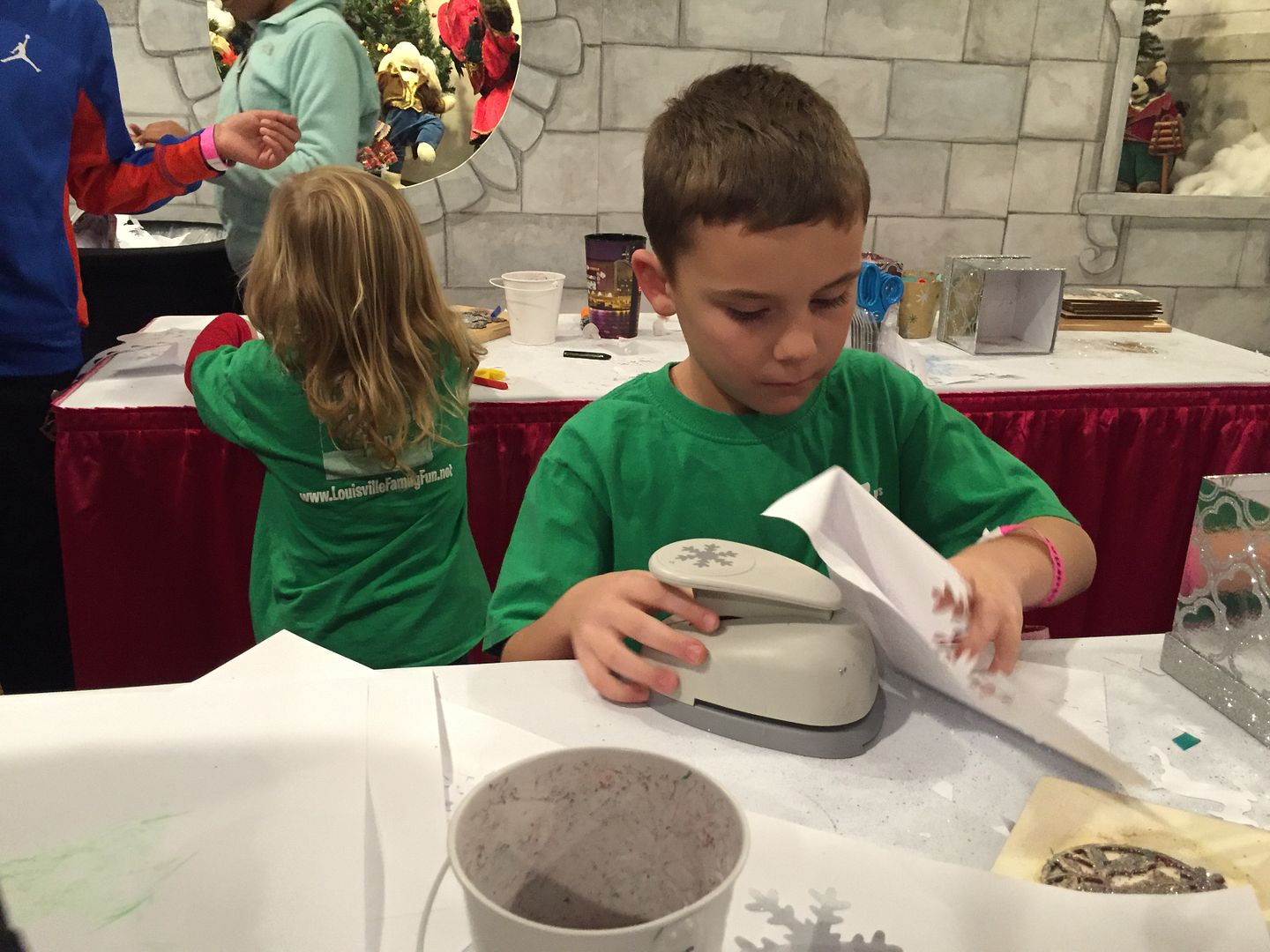 In this area, children can sit and create a snowflake at the Make-A-Flake tables, build a life-size snowman and write on a giant white board. Just like the Santa letter writing area, the Make-A-Flake tables were crowded and some of the art supplies needed to be replenished. There was a reindeer ring toss game and face painting for $8 in this area. Luckily, there is enough to see and do that skipping over the additional fee sections was not a big deal.
We had to pull our children away from the giant white board and made our way to The Peppermint Express train ride. There was a long line, but it moved quickly and it was roped off, making it easier to find where the line actually ended. It is a short train ride, but children can go on it as many times as they like. This area also included the Mistletoe Marketplace where Christmas items are sold.
I read that this year's opening weekend drew a record crowd. I would suggest going during the week to avoid the congestion. The event runs until December 27th. Admission cost is $15 for adults (13 and up), $5 children (3-12) and 2 and under and military (with valid ID) are free. Extra events such as Breakfast with Santa and Christmas Tea with a Snow Fairy Princess are an additional cost. There are also Galt House overnight packages available.
In addition to the many entertaining sections, there were fun elf characters walking around the hotel, Christmas Carolers, silly photo opportunities and Dancing Bellmen. Add this event to your holiday bucket list to enjoy the beautifully decorated downtown hotel and the family-friendly experiences at Christmas at the Galt House!

By Guest Contributor: Nicolle