Archery Lessons, Ranges and Equipment in and around Louisville, KY
Recently, my twelve year old daughter took up an interest in learning the sport of archery. She became fascinated by archery when the movie "Brave" came out, and of course after the popularity of the "Hunger Games" trilogy. Tidbit: Did you know that Louisville native actress Jennifer Lawrence was on the archery team at JCPS school Kammerer Middle School?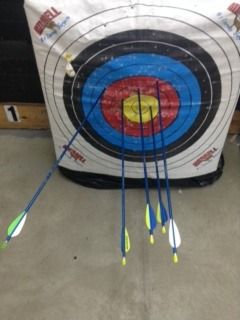 So, with this newfound interest in a sport for my daughter, we decided to purchase her equipment for Christmas this year after she took some lessons through a four week course at E.P. Tom Sawyer State Park back in the fall. She absolutely loved it, and was shooting really well, picking it up quickly and making targets pretty accurately. The instructor at E.P. Tom Sawyer was Nick Price who is a Park Naturalist, and he was great with the kids who were taking lessons. They follow the rules of the National Archery in Schools Program (NASP). The sessions take place once a week (choice of days) in the early evening and run $50 for four 1-hour-long lessons. I think that was pretty reasonable, and it was something my daughter thoroughly enjoyed doing. She's been trying to figure out what sport she really wants to pursue, and has finally found a passion with archery. She's even decided to try out for her school's team next year! You can find more information about the NASP archery lessons at E.P. Tom Sawyer Park here. Spring 2016 lessons are starting up on April 12. They will also offer lessons in July and October 2016. There is also an Archery Range at the park which is free and open to the public. Call 502-429-7270 with any questions.
In past years, Jefferson Memorial Forest has also offered an Archery program where children over the age of 8 can learn to shoot a bow and arrow.
Another option to get involved with Archery is through your local 4-H. Contact Dennis Ruhl (druhl@uky.edu) for more information about Archery programs and clubs with the Cooperative Extension Office in Jefferson County. Call 502-569-2344 for more information. There is also a 4-H Shooting Sports Program with the Oldham County Extension Office; 502-222-9453 or 502-222-1983.
We decided, after countless recommendations, to purchase our daughter's bow, arrow, and case and other additional items at King's Archery Outfitters in Fern Creek. Locally owned by some great people, we found every time we've been in the store the staff is overly accommodating and eager to help and answer any and all questions. If you choose to purchase a bow from King's, you can then have access to some free shooting time at the indoor range they have on site. The folks there will also set you up with a personal one on one session on an individual appointment time to go over the basics of archery and cover safety protocols and evaluate where the archery student is in their progress. We bought the Genesis bow and arrow, which is the standard bow and arrow for the NASP and the only one that schools who participate in that archery program and competitions allow students to use. As I stated, King's has an indoor range and you can pay $5 per session to shoot and practice there any time they are open. Since we purchased the Genesis bow there, my daughter received a 5 pass card that she can use at her own leisure. You can also purchase a card for $20 for 5 sessions of practice time. Most practice times run about 1/2 an hour, but if it's not busy and appointments aren't back to back students can practice longer if they want. The owner, Scott King, told me that they also offer lessons and you can call the shop (502-499-6543) and ask for Rachel for details on their various offerings. King's Archery Outfitters is located at 4754 Bardstown Road. The store hours are Tues/Wed/Thurs 12pm-7pm, Fri 12pm-6pm and Sat 11am-5pm.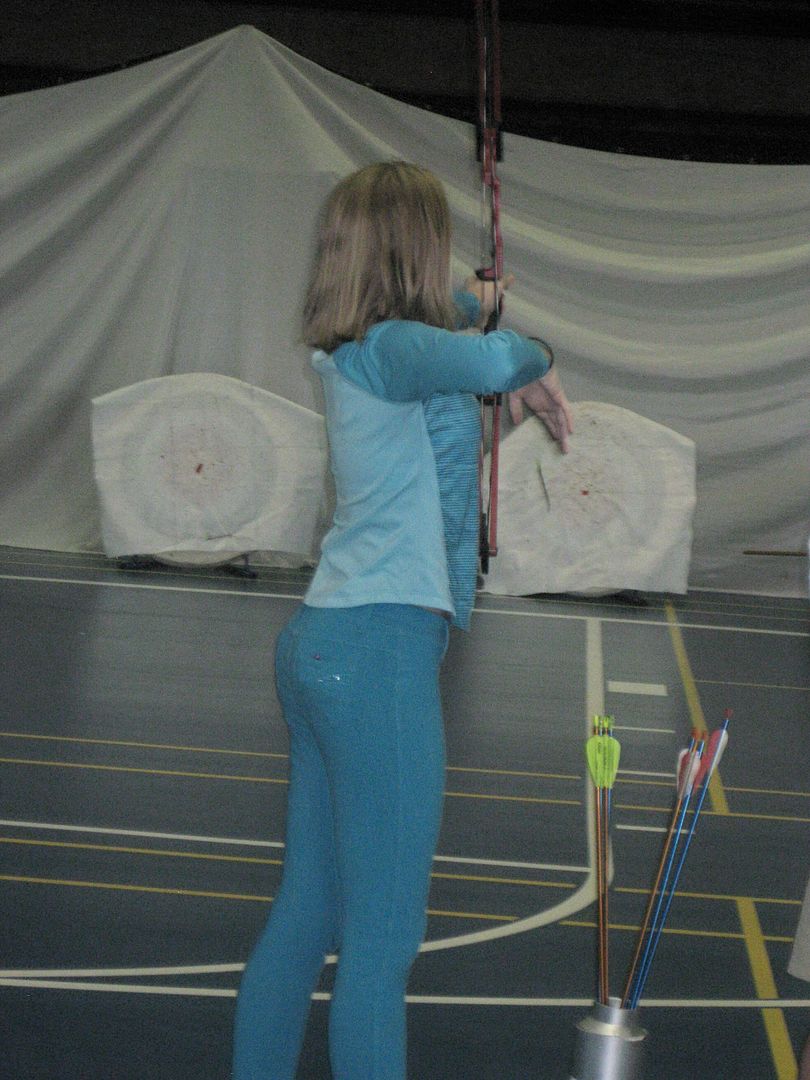 When I was shopping around the holidays, I also found that Academy Sports in Middletown has a section devoted to archery as well, and they are another good place to start. Give them a call as well to see if they offer indoor range time and any lessons. They are located at 13401 Shelbyville Road/502-489-5770. Yet, another place to check out for archery equipment is Play It Again Sports. They can be reached at 502-897-3494.
Also, the 2016 National Tournament with NASP will be here in Louisville, May 12-14 at the Kentucky Expo Center and will surely be of interest to archers of all ages!
By guest contributor: Erin