Family Getaway to Dollywood in Pigeon Forge, TN
Our writer was granted admission for purpose of review
Dolly Parton is one of the most prolific and recognizable songwriters of all time. She was born in Sevierville, Tennessee, the fourth of twelve children. Instead of taking her success and moving away she stayed and invested in her community. Today she lives in Sevierville and has many investments in the surrounding community including Dollywood in Pigeon Forge. Dollywood is the most visited ticketed attraction in Tennessee and Dolly Parton is the single biggest employer in Pigeon Forge.
Dollywood is not what you might expect. It's part amusement park, part old-timey mountain town, and part museum all rolled into one. The newest roller coaster, The Lightning Rod, is a wooden coaster which shoots riders straight up the side of a mountain at 73 m.p.h. and then launches them over a cliff. Other coasters have names such as Tennessee Tornado and Barnstormer, and while their names may conjure up cutesy country images these coasters are quite serious.
Guests can experience Dollywood any way they wish. You can visit Chasing Rainbows Museum and take in some shows around the park or you can ride some of the best thrill rides in the country. Rides have signs that clearly state the thrill level and what you can expect, so there don't have to be any unwelcome surprises if you have a sensitive kid. We especially loved riding the Dollywood Express- a coal powered steam engine that winds through the park and into the hills.
My family received complimentary tickets to Dollywood in exchange for this review, but I can assure you we would have enjoyed it just as much if we had paid for admission. My husband and my eldest son went on the roller coasters multiple times, while my youngest and I tried out some of the less scary rides. We had lunch at Aunt Granny's, an all you can eat buffet toward the front of the park named after Parton's nickname given by her nieces and nephews. The fare included country cooking such as greens and fried chicken, but there was also a taco bar, salad bar, and dessert bar. There are tons of food choices throughout the park ranging from sit down meals to snack bars. One of the nicest things about this park is you can get a free cup of water at any of the snack bars that serve Coke.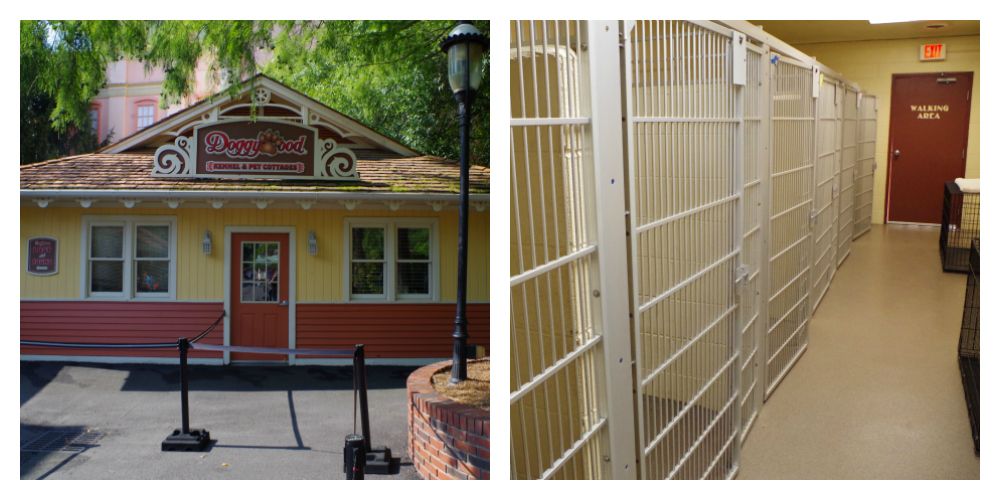 Since we were traveling with our dog we decided to take advantage of Doggywood- the boarding kennel at the main entrance of the park. It was so nice to not have to worry about our dog being back in our hotel room all day in her crate. Instead she was in a spacious kennel with plenty of water, a mat to lay on, and her favorite toy. We were responsible for walking her which was no big deal- we just went back every few hours and took her out and she was totally fine. It was so nice to have one less thing to worry about on our family vacation!
My family, including my fur baby, had a fabulous time at Dollywood. We spent 9 hours there and still didn't get to experience all the park had to offer, so we are planning a return trip for Spring Break. The first thing I plan to hit on my next trip is the Chasing Rainbows Museum. After seeing the investment of love she has made in the community I can't wait to learn more about her.
No matter what time of the year you go to Dollywood there is something fun going on. They have special programming for Christmas, a Southern Gospel and Harvest Festival, a Festival of Nations, and plenty of other seasonal events. The operation of some rides may be temporarily interrupted due to very cold temperatures, so it's important to check the weather as well as the calendar before you go. Earlier this summer, Dollywood opened a "calming room" for guests with sensory issues or autism spectrum disorders. The room provides a place for overstimulated guests to recover from sensory overload. You can read more about it here.
By Guest Contributor: Maggie