Fun Places and Events for Children with Special Needs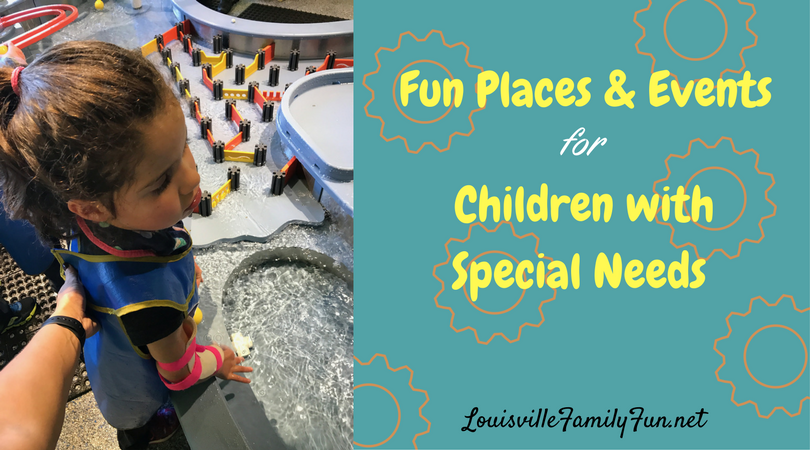 Bambino Buddy Ball: Available at St. Matthew's Baseball and Softball, Okolona Baseball, Prairie Village Baseball, and North Oldham Little League.
All About Kids offers FEAT swim lessons (swim lessons for children with autism) and movement and more gymnastics classes (gymnastics lessons for kids with special needs).
Camp Hi-Ho: Camp Hi-Ho and Kosair Children's Hospital recognize the unique challenge that kids on the autism spectrum can have making & keeping friends. We've organized "Thunder Day" for these special children and their siblings, grades 3-8. To ensure that every child has loads of fun and meets lots of friends, space is limited, so please respect our request that only families who have children with Asperger's or Autism (high functioning) register to participate. Saturday, April 22nd.
Challenger League: Clarksville's Special Needs Baseball League is devoted to special needs players of all ages and is a non-competitive program, with a goal to simply have fun playing the game of baseball. The league is open Southern Indiana residents.
House of Boom: They have special needs night the first Thursday of every month from 5-7pm for special needs children and their families only. $5/hour per person.
Kentucky Gymnastics Academy is offering Gymnastics through Early Movement. This class will help build the foundation to improve gross and fine motor skills as well as social skills as kids swing, jump, roll, and leap their way through developmental milestones! For ages 3-6.Kentucky Science Center No Limits Family Camp: Camp offers interactive and hands-on exploration for families who have children with special needs. No matter what the special need, there are no limitations when you are doing science! Each No Limits Family Camp includes a take home element and a supplemental activity card for continued learning. Each program includes general admission and a t-shirt for each child. No Limits Family Camp is offered once per month.
Northeast YMCA: All kids deserve the opportunity to participate in sports. YMCA Adaptive Sports programs are designed so that youth with special needs can experience building skills, confidence and friendships through sports. Offered at locally at the Northeast branch.
River City Turners: They host a special needs open gym once a month.
Sky Zone: They offer a special needs jump once a month. Contact them for more information.
Special Needs Valentine's Dance will be on February 4th at 5pm at the Hillview Government Center. The Hillview Community Center also offers a Special Olympics Team.
Special Olympics Kentucky
: The mission of Special Olympics is to provide year-round sports training and athletic competition in a variety of Olympic-type sports for children and adults with intellectual disabilities, giving them continuing opportunities to develop physical fitness, demonstrate courage, experience joy and participate in a sharing of gifts, skills and friendship with their families, other Special Olympics athletes and the community.
Stage One Family Theatre: They offer sensory friendly performances at times. Check their website and/or contact them for more information.
Altitude Trampoline Park of Louisville: Special Sunday at Altitude from 11am til Noon, special needs jumpers jump for FREE (socks included). Accompanying participants jump for $7.95.
Know of another great activity or venue for special needs kids? Email the details to brandy@louisvillefamilyfun.net
By Guest Contributor: Kelly