Family Attractions Offering Memberships, Annual Passes or Season Passes in or within 2 hours of Louisville, KY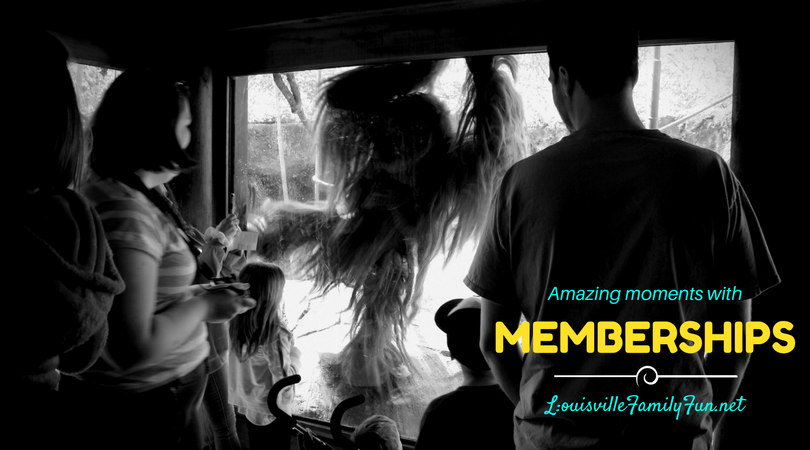 This post will be updated in 2021 but for now has old information
Louisville Area Attractions:
All About Kids: They offer a Member Pass for open gym that will save you money for your play!
$65/10 visits. That is almost a 50% off the admission price per visit for non-members!
Bats Kids Club: Membership includes free admission to all Sunday home games, a replica jersey, lunch cooler and two attraction vouchers.
Blairwood Tennis, Swim & Fitness Club: A Summer Membership and entitles you to full member privileges all summer, including access to all our club amenities and activities and discounts on camps, lessons and more.
Climb Nulu: Monthly individual membership or family membership is offered at Climb Nulu! Unlimited Climbing, Unlimited Fitness Gym Time, and 10% Off Retail Store are some of the benefits included. Huge savings for frequent users!

Hurstbourne County Club: Several different membership levels offering access to pool, tennis, golf courses, social events and more. Junior programs include clinic and camps for kids.
Jewish Community Center: Month to month membership for families or individuals provides opportunities to flex your muscles, grow your mind, explore the arts, and make new friends and so much more. To see the amenities, sign up for a free tour.
John W. Black Aquatic Center (aka Oldham County Aquatic Center): Individual and family season passes available.
Kentucky Science Center: Membership options for individuals, families and corporations. They also offer family dual memberships to the Kentucky Science Center and Louisville Zoo. Kentucky Science Center members receive unlimited free admission for 12 full months to permanent exhibits, science demonstrations, special member's only events and more.
Kentucky Kingdom: Season Pass includes: Free parking (Save $8 every visit), $1.00 21-oz soft drinks, 20% discount on all food and all merchandise, unlimited admission to Kentucky Kingdom and Hurricane Bay during the 2017 season and unlimited rides in the park, even during the Kentucky State Fair! If you plan to visit more than once, a season pass will save you money!
The Little Loomhouse: Membership includes: Quarterly newsletter, 10% discount in Gift Shop, notice of special events and lessons, discount on lessons, and free admission for tours!
Louisville Zoo: A Louisville Zoo membership gives you 12 months of adventures including unlimited admission and parking during regular Zoo hours PLUS discounts on concessions, gifts, select attractions, special events, classes, camps and more. Your membership is also tax deductible! They have various levels of membership so check their website for prices. A duel membership with Kentucky Science Center is also available.
Metro Parks Golf Courses: Various season passes are available including: adult weekdays, junior's weekday only, and youth team weekdays only. *Covers green fees for a calendar year; a small user fee is assessed each time the pass is used.
My Gym Louisville: Great discounts on prepaid memberships! 10% off 3 months, 15% off six months, or 20% off 12 months of classes! Applies to My Gym, Rockin' Rhythms Music, and Zumba Kids classes!
Norton Healthcare Get Healthy Walking Club for ZooWalkers: This free program offered by Norton Healthcare, includes the Best Foot Forward Kit, route and distance information for the Zoo and other sites, and quarterly issues of Get Healthy magazine. Walkers can enter daily (March 1 – November 30, 2017) beginning at 8 a.m. This club does not include admission to zoo exhibits and attractions, so you must exit by 9:30 a.m.
Oldham County Country Club: Membership includes unlimited golf, tennis and swimming for the whole family. Other benefits also available.
Parklands of Floyds Fork: Annual memberships are available in various forms and include: Perks Card which offers reduced prices on fee-based park programs as well as discounts at local partner retailers, Parklands bumper sticker, access to members-only events, discount on paid park programming (such as camps) and more!
Speed Art Museum: Members enjoy free general admission—plus access to popular programs like the Global Speed Lecture Series, Members-Only Preview Parties, Family Member Nights at the Museum, discounts across the Museums, and much more! Choose the Membership level that fits your lifestyle. Tax deductible as well, see website for exceptions.
South Park Country Club: Several levels of membership are available. The club offer members and their guests an 18 hole golf course, a junior Olympic swimming pool, and fishing.
Wildwood Country Club: Several levels of membership offering access to golf, swimming, tennis, clubhouse dining and involvement in social activities.
Woodhaven Country Club: Offers a family pool and dive pool, a cabana bar with weekly live entertainment, indoor fine-dining the Member Lounge, and catch-and-release private fishing lakes. Check their website for levels of membership.
Yew Dell Botanical Gardens: Enjoy free admission all year (excluding special events). Different levels of membership available offering additional perks such as shop and class discounts, early admission to plant sale and more.
YMCA: Check it out at first with a free guest pass. Once you decide you love it you can join. The YMCA offers a lot of membership rates and these can be accessed on their website. A membership includes lots of benefits: Special member-only rates on swim lessons, sports, day camp, personal training and other fee-based programs, hundreds of free group fitness classes each week, and free wellness consultations. Families with young children may be interested in adding a membership to the Y's Calypso Cove water park.
Central KY
American Legion Water Park (Elizabethtown, KY): They offer family passes as well as individual season passes.
Beech Bend Park (Bowling Green, KY): The season pass includes unlimited visits to Beech Bend Park and Splash Lagoon, free parking all season, plus lots more!
Dinosaur World (Cave City, KY): Annual pass cost is equal to two visits to the park, so it's a bargain if you plan to visit more than 2 times. Also, Dinosaur World has a reciprocal agreement which will get you into Nashville Zoo for 50% off with your DW pass (valid through the end of 2017).
Explorium of Lexington: Annual pass includes unlimited free admission for the children in your immediate family and two accompanying adults, free subscriptions to e-mail blasts and newsletter, invitation to two members' night per year, 10% discount on store merchandise and more!


Juniper Hill Aquatic Center: The website was down at the time of our posting, but season passes are usually available for this water park. Inquiries can be made via Facebook.
Kentucky Down Under Adventure Zoo (Horse Cave, KY): Individual and family passes are available. For larger families, additional children (or adults) can be added to a family pass. Membership lasts for 12 months and includes 10% off cafe, fudge and gift shop purchases.
Kentucky Horse Park (Lexington, KY): Individual and family annual memberships are available. For a family of four, membership pays for itself in 2 visits.
Salato Wildlife Education Center (Frankfort, KY): Individual and family passes available. A family pass covers 2 adults and all children in the household for only $35. If you plan to go 2 or 3 times, this may be a great value, depending on the size of your family. More info about Salato can be found on Facebook.
Indiana:
Atlantis Water Park (Clarksville, IN): Season passes are available for individuals and allow unlimited admission all summer long. A great value if you plan to visit regularly.
Children's Museum of Indianapolis: A Children's Museum membership includes unlimited admission, free carousel rides, discounts on programs and special events (including the Haunted House!), discounts in The Museum Store and much more.
Holiday World (Santa Claus, IN): Holiday World offers a Platinum Season Pass, Season Pass, and a Summer Fun Card. Each offers various benefits including: food discounts, gift shop discount purchases, and souvenir cups! Check their website for comparisons.
Indianapolis Museum of Art: Most memberships pay for themselves in less than two visit. Enjoy art, the Gardens, evenings out at the National Bank of Indianapolis Summer Nights film series, and Family Days.
Indianapolis Zoo: As a member you get free general admission, free parking* to the Zoo, special access to members-only events and exhibit previews and much more.
Kids Commons (Columbus, Indiana): Become an annual member and enjoy a year full of unlimited visits to Kids Commons during public hours, special member-only events, birthday party discounts, and discounts on camps and special programs
Paoli Peaks (Paoli, IN): Unlimited skiing and snowboarding for the season. Equipment rental can be added on to the pass for an additional cost.
Perfect North Slopes (Lawrenceburg, IN): Unlimited skiing, tubing and snowboarding for the season.
Northern KY/Ohio:
Ark Encounter (Williamstown, KY): Annual passes are available for individuals 5 and over. Unlimited free admission to Ark Encounter and nearby Creation Museum.
Cincinnati Art Museum: Members enjoy unlimited admission, special discounts, invitations to exclusive exhibition openings and events, advanced information on new attractions and more.
Cincinnati Museum Center: All members receive unlimited free museum admission and free parking for one full year, and more.
Cincinnati Nature Center: One and two year memberships available for families and individuals.
Cincinnati Zoo: Membership comes in different levels and can include: FREE year-round admission to the Cincinnati Zoo, $2 tickets to the 4-D Special FX Theater ($5 for non-members), and two half-price guest tickets per day.
Coney Island Park (Cincinnati, OH): A season pass pays for itself with only 3 trips to the park. Enjoy private parties at the newly renovated Sunlite Water Adventure, bring your friends and family with free guest tickets, and enjoy the endless discounts.
Creation Museum (Petersburg, KY): Unlimited free admission to Creation Museum and nearbyArk Encounter.
Kings Island (Mason, OH): Kings Island offers a Season Pass, Gold Pass, and Platinum Pass. Each pass offers various benefits including: Easy Payment Plans, free parking, and food and merchandise discounts. Check their website for comparisons.
Newport Aquarium (Newport, KY): An annual pass pays for itself after just two visits. Passes include unlimited visits for 365 days, experience Stingray Hideaway, Mermaids and Scuba Santa before anyone else, special Bring-a-Friend Free Days during Pass holder Appreciation Week in March and August and discounts on Penguin Encounters and more
The Beach Waterpark (Mason, OH): Variety of membership levels available.
Splash Cincinnati Indoor Water Park (Cincinnati, OH): Annual pass includes unlimited admission for a full year from date of purchase. Not valid during black out days and holidays.
Know of another nearby attraction offering memberships or passes? Email the information and a link to info@louisvillefamilyfun.net.