Review of Whet Your Palette – Drop-in Painting Option in Anchorage, KY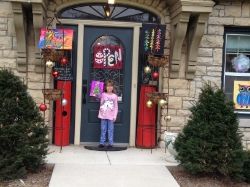 Recently we decided to try the drop in time at Whet Your Palette. Whet Your Palette is at a house in Anchorage near The Village Anchor with drop in times daily (Monday through Saturday), as well as class times in the evening that you must pre-register for. We had never been to a drop in painting time, so for only $10 (more money if you want a larger canvas size), we figured we'd try it out.
When you walk in, the check-in is in the first room on the right. We decided to stick with the 8×10 canvas for my almost 5 year old to paint, paid our $10, and headed in to the next room on the right. This room became very crowded while we were there, but there was another large and small room that were not available to use (I'm not sure if those rooms are just for classes or parties). I think the employees at Whet Your Palette are used to return customers, because we were not given very much instruction, but most people there seemed to know what to do. We grabbed aprons, and one of the workers brought our canvas over to an easel at the end of the table. Here's what we learned from watching and asking questions: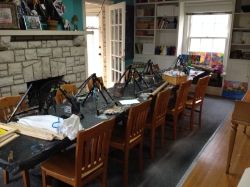 1. Around the room are lots of completed canvases. If you decide to paint one like it, they can give you a little picture of it to attach to your easel to look at.
2. The paints on the counters with the pumps are see-through, the bottles on the back shelf are solid (and look better on the canvas).
3. Grab several sizes of brushes and put them in the clean water right away to soften up the bristles.
4. You use the little brown scraps of thick paper by the pump paints as your palette, and add a little of each type of paint you'll use on it.
5. They have things like glitter that you can add to make your canvas extra special – ask the employees if you want to add something special before you start painting.
6. You can use a sharpie marker on your canvas (some signed their name or initials with it)
7. They have an oven that they will put your canvas in to help it dry between coats of paint. If you don't do this, you will have runny colors if you try to layer your paint.
8. When you're done, you leave your brushes in the water and your paint palette on the table.
The website does say they provide "partial guidance" during the open painting time, so we didn't expect to be told how or what to paint, but we would have liked some guidance initially. They were very helpful when we asked them specific questions on how or what to do to make our paintings better. And everyone that worked there was very friendly. For $10 (or $15 or $20 if you want a bigger canvas), it was very worth it. And now that we have a better understanding of what we're doing, I think we'll have an even better time next time.
By guest contributor: Caryn