Review of Wiggles and Giggles Playroom at the Griffin Center in New Albany, Indiana
New Albany Parks and Recreation
has just opened their new
indoor playroom designed for children ages 5 and younger. My two-year old
daughter and I went to their grand opening celebration where Rainbow Puppets
performed a great puppet show that captured the attention of the little ones.
They also celebrated the opening by offering snacks and even had a book
giveaway for each child as they left.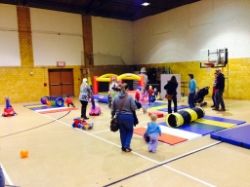 There are two areas available for the children to play in:
the Wiggles & Giggles Playroom and the gymnasium. All of their equipment
and toys are brand new. In the gymnasium, there was lots of space to run and
they had lots of ride-on toys, a jumpy castle, tunnels, blocks, cars,
hula-hoops and more. Inside the Wiggles & Giggles carpeted playroom, there
were lots of imaginative play toys, a small climbing frame, books, a felt
board, chalkboard and lots of foam-shape climbers.
My little one had a great time and cried when we had to
leave. My 4-year-old son is requesting to go now, so we will be heading back
soon!
The playroom is open every Monday from 10am-12pm and every
Thursday the playroom
and
gymnasium
is open from 10am-12pm. It's located inside the Griffin Recreation Center at
1140 Griffin Street, New Albany. It's a 5-minute
drive off of the 64 bridge. Both areas are unsupervised and you are responsible
for your children.
Oh, did I mention
this is FREE?!
The New Albany Parks & Recreation Department has a lot
happening right now. Head over to their
website
to see it all-Mommy
& Me fitness classes, kids art and nature classes, splash pads and pools!
For more information, call 812-949-PARK.
By guest contributor: Jennifer