Review of Family Adventure Day at Churchill Downs in Louisville, KY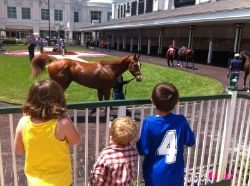 We got to Churchill Downs for the Family Adventure Day around 11:30 last Sunday. The sun was shining, the wind was lightly blowing, and adventure was in the air. The kids, who had never been to Churchill Downs, were amazed by the sights and sounds of the racetrack. We got to catch some horses in the paddock area; a huge hit since we were able to go right up to the rail. Moving on, we came upon the Family Pavilion.
There were several activities for the kids in the pavilion area including Cookies and Canvas where the kids painted a horseshoe, three bounce houses, mini golf, an area designated for sidewalk chalk drawing, the Kona Ice Truck (my kids favorite), face painting, registration to run in a stick horse race in the paddock, a photo op with Charlie – Churchill's mascot, a firetruck, a bike safety station where kids can actually ride bikes through a small obstacle course, and a live band just to name a few. The fun continued up the steps where there were smaller games like ring toss (over a stuffed penguin), skeet ball, and a few more small carnival type games.
There was also a menu of decently priced food for the venue ($3 cheeseburgers, $2 hotdogs, chips, drinks, etc.). The upstairs area was definitely less crowded so we were able to just grab a snack and enjoy the sunshine. Just make sure you have cash for the food and Kona truck to avoid $5 ATM fees!
When you go the next one in June, be prepared for the lines. They are long and deep. Some activities seemed to be somewhat disorganized – like unmanned bouncies for the first couple of hours and only two face painters for a line of a few dozen kids. However, this was the rough draft and I'm sure they took notes of areas they could improve on. All in all, it was a great experience for the kids as well as a great way to introduce them to the track. And they even got to see a horse race!
By guest contributor: Dana