An Afternoon of Family Fun in South Louisville
Want to spend half a day in South Louisville taking in some sights, sounds, and scrumptious-y-ness? Here's an itinerary for you!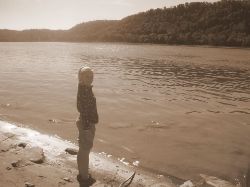 Start your day at Iroquois Park. No back up first. If you're arriving morning or late morning, stop at Sister Bean's Coffee Shop first for a pick-me-up! Then take your coffee, latte, milk, muffins, or cookies over to the playground at Iroquois Park and eat them there! Iroquois Park is a lovely park, and has a great play area and splash area during the summer months.
Venture over to the Riverside Farnsley-Moremen Landing for an afternoon on an historic farmstead on the river. This place is absolutely gorgeous and they have a full schedule of family activities going on all the time. They have all kinds of programming for families, and the summer season is a great time to head out that way. Learn how to grow heirloom tomatoes, attend their annual old fashioned ice cream social in July, attend builidng blocks of history field trips in the spring, and go on archaeological digs throughout each month. Click here for their events page. Read our review of the artifact event here.
You can grab some lunch at Jimbo's Bar-B-Que or even Valley Dairy Freeze. I recently had lunch at both of these awesome local establishments. If you eat at either and have the Kids Eat Free VIP card, your kids can get a free meal! Jimbo's was super! My toddler and I had lunch there not too long ago and the food was delicious and the service was great. I got a Bar-B-Que wrap with pulled chicken and it was HUGE, stuffed with baken beans, onions, cole slaw, and their signature barbeque sauce. I had a side of potato salad. I also had the fried green tomatoes which are seasonal and they were superb! My toddler got his meal from with the card, and he had grilled cheese and fries. They have a few options. This is a very small local place right at the corner of Kenwood and New Cut Rd, directly across from Iroquois Park. The lunch crowd was hopping and I could tell it was all locals from around the area. They also have great outdoor deck seating, and they do catering, give them a call at 502-375-1888. Either way, after lunch you must get some treats at Valley Dairy Freeze. They are a great mom and pop shop and have been serving up frozen concoctions in southwest Louisville since 1955. They are family-owned and operated and their followers love them. My family does now too!
Also stop at Riverview Park while you're over this way. They have a great playground, great walking paths right along the river view, and they have a fantastic splash area/sprayground feature.
Another fun place to check out over near the south side of Louisville is Barrel of Fun Ice Cream. Another great local joint who is celebrating their 20th season this year. Check out our review here.
Go give south Louisville some love, folks!
By guest contributor: Erin