Fall Consignment Sales in and Around Louisville – 2014
Click here to see our latest post – Fall 2015
This is a partially sponsored post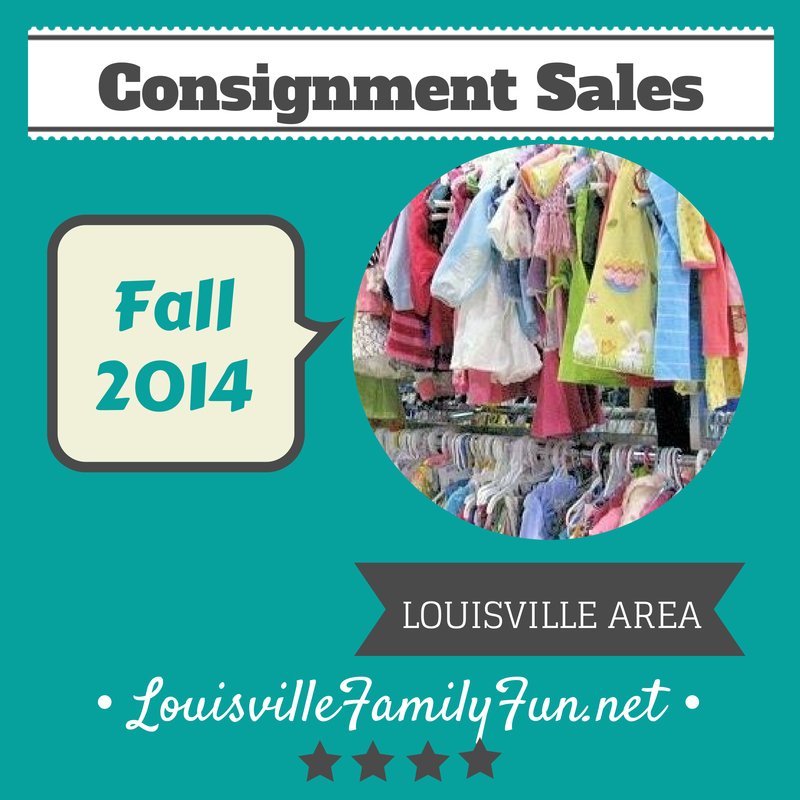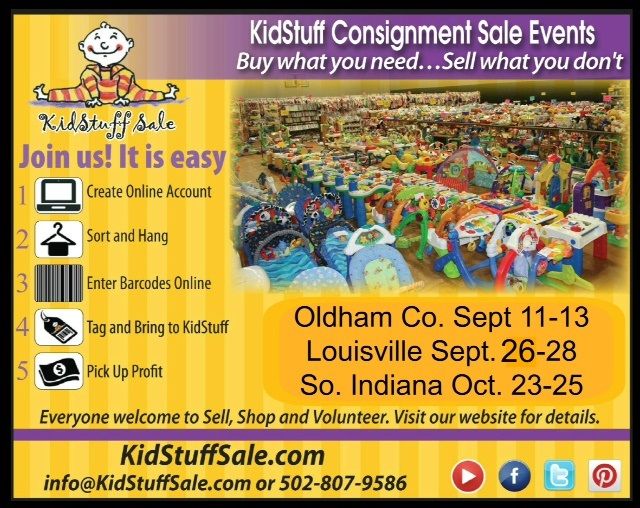 Kidstuff Consignment Sales
Buy what you need…sell what you don't! KidStuff Sale is a sure, safe, and secure way to earn extra ca$h for your children's items and clothing that you no longer need. KidStuff Sale has seasonal events in Louisville, New Albany and Oldham Co. this season will kick off the Fall event schedule in Oldham Co. starting September 11th at 9am. Visit our website for event dates and hours. You can register to join us as a seller at any time – KidStuff team helps YOU every step of the way. Here are the ways you can get in contact with us: www.kidstuffsale.com, call or text: 502-807-9586, or email info@kidstuffsale.com. Be sure to check our Facebook page to enter contests for FREE registration, early shopping and gift cards for FREE KidStuff.

Little Treasures Consignment Sale
Little Treasures is the area's largest twice-a-year kid's consignment sale with 1,200 sellers. Families have the opportunity to earn money on things their kids have outgrown and save a bundle on gently used items they need this season. Shoppers can save up to 90% on brand name clothes, shoes, toys, furniture, equipment and maternity. Don't miss our Fall/Winter event: August 21-24 at @ HOOPS 12101 Sycamore Station Place, off Blankenbaker, behind Sam's Club.
Kentucky Kids Consignment Sale
2014 marks our TENTH year in business! We feature everything babies, kids, teens, & expecting moms need! We'll have toys, furniture, infant gear, toys, shoes, bedding, books, games, toys, women's handbags, sports equipment, toys, DVD's, accessories and did we mention toys? With over 650 sellers & 75,000 items, there should be something for everyone! Sellers earn at least 70% of each item's selling price. Our Preferred Sellers will have most of their seller's fee refunded and are the first to shop at two exclusive presales. Located less than 3 miles from exit 94 off I-65 in Pritchard Community Center, Elizabethtown. Find us on Facebook https://www.facebook.com/Kentucky.Kids and visit our website for more details http://www.kentuckykidssale.com.


Kids to Kids Consignment Sale sponsored by Louisville Mother of Twins Club
Looking for some great deals on gently used baby equipment, toys, books, clothes and more? Come shop our semi-annual consignment sale in August, benefiting our non-profit club that offers support to families with twins, triplets and other higher order multiples. We have a great selection of children's clothing, including a rack of twin/triplet sets where matching outfits are sold together at one price! We usually have a great selection of double, and even triple strollers.





St. John's Kids Kloset
Fall 2014: October 10-11, 2014 Friday, October 10th: 9:00am- 7:00pm Saturday, October 12th: 9:00am – 1:00pm Sale held rain or shine! Saturday is our ½ price sale day and begins as soon as the doors open! Each tag indicates if the consignor has reduced that item or not.
We accept Cash, Visa, Discover or MasterCard (Debit or Credit).
All Sales Are Final, No Returns.
We always need volunteers, and . . . VOLUNTEER WORKERS RECEIVE EARLY SHOPPING PRIVILEGES!
Rhea Lana Children's Consignment Event
Do you need extra cash? Consign your children's best outgrown Fall/Winter clothes, shoes, toys, and baby furniture. Don't forget.. Rhea Lana's GUARANTEES your items against loss or theft. We invite you to shop at Rhea Lana's of Southern Indiana for infants up to size 16. Come check out the Rhea Lana difference! Sale will be held at Floyd County Fairgrounds, 2818 Green Valley Road, New Albany, Indiana. Sale dates are September 20-24. We will be posting a "Facebook Friends" pass to shop early, so be sure to 'like' our Facebook page to keep up-to-date.
Facebook: www.facebook.com/rhealanaofsouthernindiana
Web page: http://southernindiana.rhealana.com
In order by date:
Kids 2 Kids/Louisville Mother of Twins Club Consignment Sale Saturday August 9. Open to public 8-1. Immanuel United Church of Christ, 2300 Taylorsville Road, Louisville, KY.
Little Treasure's Kid's Sale August 21-24. Thursday – Saturday: 9 – 7, Sunday: 1 – 5 (1/2 price sale!). At HOOPS
12101 Sycamore Station Place, 40299.
Kentucky Kids Consignment Sale September 11-13. Thursday and Friday, 10 – 8. Saturday, 10 – 4. Pritchard Community Center, 404 S. Mulberry St., Elizabethtown.
Sweet Repeats Kids Consignment Sale September 12-13. Friday 8-5, Saturday 8-2. Abraham Lincoln Post 167 (Legion Hall). 202 Downs Lane, Bardstown, Ky 40004
KidStuff Sale – Oldham County September 11-13. Thursday 9-7, Friday 9 – 7, Discount Saturday, 9 – 4. YMCA Soccer Arena 20 Quality Place, Buckner, KY 40010
Rhea Lana Consignment Sale September 20-24. Saturday, 9 – 7, Sunday, 11 – 6, Monday, 9 – 3, Tuesday, 9-7, Wednesday, 9-3 (Many items half price Tuesday and Wednesday). Floyd County Fairgrounds, 2818 Green Valley Rd., New Albany, IN 47151
KidStuff Sale – East Louisville September 26-28. Friday 9-7, Saturday 9-7, Sunday 9-4 . Ramada Plaza Louisville Conference Center, 9700 Bluegrass Parkway Louisville, KY 40299
Saint John Kid's Kloset Consignment Sale October 10-11. Friday, 9 – 7, Saturday, 9 – 1 (1/2 price day). Saint John United Methodist Church,12700 W. Highway 42 Prospect, 40059
KidStuff Sale – Southern Indiana October 23-25. Thursday 5-9, Friday, 9 – 7, Discount Saturday, 9 – 7. National Guard Armory, 2909 Grant Line Road New Albany, IN 47150
St. Paul United Methodist Church MOPS, St. Paul United Methodist Church, Family Life Center Gym, 2nd floor, 2000 Douglass Blvd. Dates and times TBA
CCUM Pass It On Kids Sale Dates and times TBA Christ Church United Methodist, 4614 Brownsboro Road
Lots 4 Tots Kids Consignment Sale Dates and times TBA Shelby County Fairgrounds in the Floral Hall building. 1513 Midland Trail, Shelbyville, Ky. 40065
Silver Spoon Consignment Sale Dates and times TBA. 13314 Ridgemoor Drive, Prospect, 40059.