Review of Hinton Orchard and Farm Market in Hodgenville, KY
Over a day on fall break, my kids and I decided to check out Hinton's Orchard, which is located in Hodgenville, the birthplace of Abraham Lincoln. So yes, Hodgenville has a lot of stuff to do for families in mind. This fall, stop by Hinton's Orchard and spend some time in the little town known for the 16th President!
We went on a weekday and found out that the activities that do go on are only for the weekend, so keep that in mind. They do offer the outdoor activities around their property for field trips from neighboring schools. It was also a rainy kind of day when we went, so we spent most of the time browsing through their indoor marketplace which is packed with local goodies and fresh baked items made from scratch-as in the apples were just picked yesterday that went into that apple pie for sale. We picked out a small apple pie for $5 and a small bag of apples for $5. The lady who works there actually helped me figure out a good variety to make an apple pie with at home, and suggested I try Winesap. She went and got them fresh out of the bins that had just been picked and reminded me that they hadn't been washed yet (making them that much fresher!) Larger bags of apple varieties are available for $9. Caramel apples, scoops of soft serve ice cream (including pumpkin!), and cinnamon rolls and lots of different freshly baked breads are also available for purchase. When we walked in, we could smell the apple goodies baking in the small kitchen right next to the market. I could even smell it outside as we approached the doors-it was so inviting and delicious! We also used the restrooms which were clean and had a changing table. It was fun to watch the bakery in action and we took a peek at the machines in the back of the store which were cleaning and sorting the freshly picked apples from the orchard.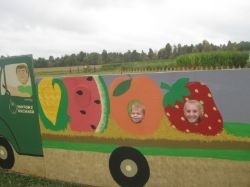 Hinton's Orchard is hopping spring, summer, and fall, and with the autumn season finally upon us, it's a great time to go for some fresh apples and pumpkin picking. They also have flowers and plants for sale, tons of seasonal vegetables, fresh apple cider, Louisville's own Rooibee Red Tea, and more. This fall, they have a Pumpkinfest coming on October 11 and a Halloween Party on October 25. All fall activities are available on the weekends through November 1. For $5, each person can take a hayride out to the pumpkin patch, go pumpkin picking (prices vary according to size), climb the haystacks and play on the playground, and have fun in the corn maze among some other things. Children 2 and under can enter for free. It's all set up for some great family fun and photo taking!
Hinton's Orchard & Farm Market
8631 Campbellsville Rd
Hodgenville, KY 42748
Phone: 270-325-3854
July 1-October 31 Hours:
Monday – Saturday 9am – 6pm & Sunday 1pm – 6pm
November Hours:
Monday – Saturday 9am – 5pm
Closed Thanksgiving Day
December Hours:
Wednesday – Saturday 9am – 5pm
Through Dec. 20
See their Facebook and Twitter pages for more information as well. Noteworthy: I-65 South is under major construction so be forewarned for stop and go traffic. Hodgenville is about an hour away from Louisville near Elizabethtown. On our way down 210 East toward the farm, we passed another Roadside Market called Crawford Farms that looked promising as well. Click here for directions.
By guest contributor: Erin