Review of Mulberry Orchard in Shelbyville, KY
My family discovered Mulberry Orchard last year when I came
across a flyer on
Facebook
for their
Light the Night Corn Maze
. We
are regular attendees of other farms in Shelbyville and were excited to hear
that there was another one for us to discover!
Mulberry Orchard
is owned by Matt & Amanda Gajdzik and is just under an hour's drive from
Louisville. The farm offers fresh, local
produce late June through October that includes 15 varieties of peaches and 17 varieties
of apples. The farm also has a variety
of berries and fresh vegetables, local honey, apple cider, eggs, meats and
unique gifts. We recently went back to
the farm to check it out during the daytime.
What I love most about the farm is that it is full of open spaces! There is a large play area with a super
slide, large tunnel hill to climb, tractor tires to conquer, a sandbox and a
jungle gym. Picnic tables are set up
near the play area where families can relax, watch children play or take in the
quiet view of the orchard, corn fields and cows grazing. This area is also
great to visit after purchasing something from the new kitchen that offers
delicious, affordable snacks, treats and sandwiches. One sandwich that caught my eye was the Ham,
Swiss Cheese, Apple Slice, on a Hawaiian Bun with Cranberry Sauce ($3.50). The apple cider donuts (.75₵ each) are
delicious, too!
The Gajdzik family offers educational school and group
tours. Your family can also visit the
farm for free and take a hayride to the orchard and pumpkin patch. At this time, the farm does not offer u-pick
apples because their trees still need a few more years to mature. They hope to add this feature in the future,
but in the meantime you can find plenty of apples in their farm store. Honey crisp is our family favorite! You can
also find pumpkins in their store (.45₵ a pound) or pick your own out in the
field.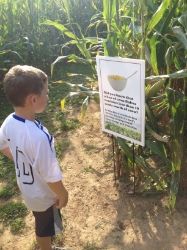 If your fall Saturdays are packed with sports activities or
other festivals, Mulberry Orchard's
Light the Night Corn Maze
is perfect for an evening alternative. After
attending last year, we knew this would be a unique fall adventure we would
make a priority to attend each year. We
started with a hayride through the apple orchards and then made our way to the
maze. Last year, my 5 year old son and I
trekked through the farm's 4-acre corn maze with headlamps attached to our
heads. Besides the maze being dark,
there were no other "scary" elements involved.
We never came across any other individuals trying to scare anyone, which
was nice for our young family. There are
informational signs planted throughout the maze stating different facts about
corn and farming. We were given a sheet
with questions to answer by reading the signs in the maze. If you completed the sheet, you were given a slushy
from the farm store. I thought this was
a great aspect to the maze.
After we made our way through the maze, we walked over to
the bonfire. You can bring your own
s'more ingredients or they had some available for purchase. We enjoyed sitting on the haystacks, sipping
apple cider, around the fire and talking with each other and other
families. The Light the Night Corn Maze
is scheduled for October 11th and 25th 6:30-8:30. Children 5 and under are free and all others
are $5. Families must bring their own
flashlights. Again, read more about
Kentucky Family Fun's
post about Light the Night Corn Maze
here
.
Providing safe, fun and educational activities is essential
for making family memories and Mulberry Orchard definitely offers all of these. Mulberry Orchard is thoughtfully planned and grown
with families in mind.
By guest contributor: Nicolle