Review of Mark's Feed Store, Fern Creek Location in Louisville, KY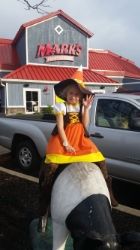 There are several Mark's Feed Stores within Louisville, and in my opinion, the Fern Creek location is the best!
Known for their bar-b-q pork, chicken and brisket, the menu is filled with mouth-watering meals. Not to mention the local twist to their company! There is a little something for everyone, and even if you're not a bar-b-q fan, there are delicious salads and several fish meals as well.
The kids menu includes your choice of: bar-b-q, cheeseburger, corn dog, hamburger, grilled cheese, or PB&J (for $3.19 per meal), or chicken fingers (for $3.79). Each item is served with choice of green beans, fries, beans, baked apples, corn-on-the-cob, or applesauce.
BONUS – Kids Eat FREE every Tuesday (*2 kids meals FREE with every one adult entree purchased)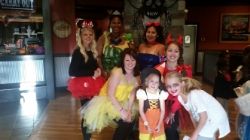 Recently we went on a Tuesday, and joined in on their annual Halloween Party fun. This year began with a scavenger hunt that started as soon as we walked through the front door. Kids were lead throughout the restaurant in search of clues (employees dressed in various costumes), and eventually made their way to the end, the sun room dining area. Once completed, they made crafts, played games, and of course, received candy treats!
After all this fun, we were sat at our (4) tables (*there were 20 people in our party), and all enjoyed some delicious food. The kids had fun, we all enjoyed dinner, and the cost was more than reasonable being that kids ate free!
The visit, besides being unique because of the Halloween Party, was very typical for the Fern Creek location. The staff is always kind and helpful. The food is always delicious, and best of all, the entire family enjoys it! Be sure to remember this event for next year.
*Side note – Our family has used this location on two different occasions for catering, and both times everything was beyond fantastic! The food was hot and delicious. The amount was more than enough, and all party guests raved about it! We ran into a problem with the 2nd catering event, in which Mark's forgot to include the extra sauces for the meat. Instead of us having to leave our party to go back to the restaurant (where we had originally picked up the food ourselves), the manager offered to immediately drive it out to us himself!
Location: 6501 Bardstown Road
Hours: Sun 11-9, M-Th 11-10, Fri-Sat 11-11
By guest contributor: Karen