Happy Places: Favorite Local Date Night Spot in and around Louisville
We're continuing our "Happy Place" feature. Different activities and places around town that just make your family HAPPY, written by the LouFamFun team.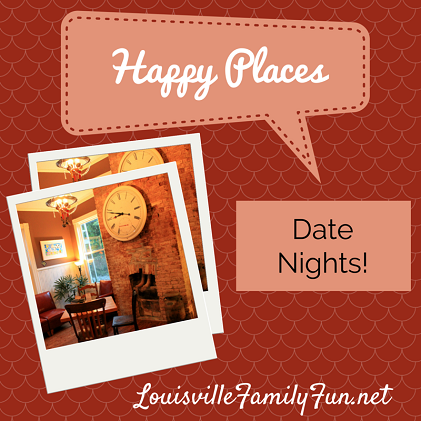 LouFamFun writers: Tell me your favorite local place for a date.
Stephanie ~ Frankfort Ave – Coffee at Vint, off to Bourbon's Bistro and finish with dessert at Comfy Cow.
Nicolle ~ My husband and I love Captain's Quarters! We enjoy sitting outside by the Ohio River and listening to the live music.
Jeanette ~ Heine Brothers to play some games.
Kelly ~ Dinner at Harvest followed up by a movie.
Caryn ~ We do dinner at a different restaurant each time and then a movie at Tinseltown.
Karen ~ Trying any LOCAL non-chain restaurant, then sitting outside at a restaurant/bar for drinks and dessert on 4th street (listening to music and people-watching).
Kimberly ~ Village 8 for a $2 movie.
Lauren ~ Martinis! We love the three cheese ravioli and lasagna!
Brandy ~ We honestly don't get many date nights, but we enjoy breakfast dates. Our favorite local place is Verbena Cafe in Norton Commons.
Maggie ~ Anywhere on the Urban Bourbon Trail. I love exploring all the facets of the bourbon culture and I'm always sure to be among friends!
Erin ~ Local spots in Clifton, Crescent Hill, or Highlands. We really enjoyed an anniversary date at The Grape Leaf and dessert at Comfy Cow a couple of years ago. We keep a running list of local places to try and when we get the rare chance, we go to our list.
Tami ~ Mojitos or KingPin lanes for x-treme bowling.
Allison ~ Marketplace Restaurant at Theater Square.
Dana ~ Bristol in Prospect – wontons and wine, need I say more?