French Lick Springs Hotel and Resort: Weekend Getaway from Louisville, KY
Erin was given a complimentary two night stay for purpose of review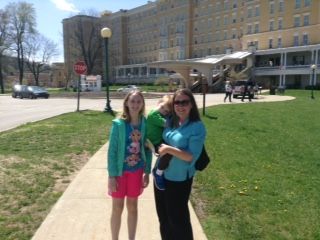 My family and I stayed at French Lick Resort for two days over our JCPS Spring Break week. We enjoyed the Spring Break activities that the resort put together with families in mind. It was a ton of fun and we filled our days up pretty quickly with all they had to offer!
We arrived on a Friday in the early afternoon and check-in was as smooth as possible. My family and I have never been to French Lick so it was exciting to be there as first time guests. We stayed at the French Lick Springs Hotel; the property also has another hotel called West Baden Springs Hotel. Both hotels are listed on the National Historic Register and carry a lot of history with their stories. Guests of either hotel can visit both properties and take advantage of amenities at both.
Some of the options available for spring break guests included the following:
Kids Pass: unlimited bowling and shoes, unlimited project/play time at KidsFest for ages 6-12, one small ice cream French Lick Mercantile Co, one slice of pizza and one drink from Pluto's Pizzeria, one youth admission to French Lick Museum, one hayride, youth duathlon participation, one s'more every Fri/Sat evening, and one painting class.
Suggested activities for the special Spring Break itinerary: guided family-friendly hikes through the resort's trail system, pick up basketball, duathlon, piano entertainment, 80s dance party, s'mores, movie nights, DJ at the pools, obstacle course, capture the flag, acrylic painting class, bowling and arcade games, swimming, footgolf, horseback riding, and historical walking tours. Throughout the past month, the resort had put together an activities guide that included the above mentioned activities plus events such as Mommy & Me tea, renegade bowling, game nights, karaoke, tricky golf, dodgeball, magic shows, Cookies & Canvas, and many arts and crafts projects and workshops. At the KidsFest Lodge, children and families could participate in what was called Family Springfest and many scheduled activities such as toymakers workshops, craft projects, and airplane olympics. For children ages 6-12, a supervised drop off time was set up as well in which parents could utilize this time to have some parent's night out time for 4 hours while their children played and were involved in organized activities and were given dinner as well. All of the spring break activities that the resort puts on are a yearly offering, and with the summer season getting rolling, the resort also has summer time activities lined up for families staying at French Lick Resort.
My family and I took advantage of many of the spring break activities, including playing and crafting at KidsFest Lodge, renting and riding the surrey bikes from the Lodge, playing a round of Footgolf at the Valley Links & Golf Learning Center, attending the 80s Dance Party, and using the Kids Pass for free bowling and the acrylic painting class. We took the free trolley ride from French Lick Springs Hotel to West Baden Springs Hotel twice and that was really enjoyable. We played arcades and bowled at Pluto's Alley and used the indoor swimming pool several times. We loved listening to the DJ play poolside both days we were there and enjoyed roasting our s'mores over the fire pit by the outdoor pool.
One of the other special things we got to do was have a Mom and Me manicure together. My daughter and I were treated at the spa at West Baden Springs Hotel. It was really a special time for us and my 11 year old daughter thought it was all so neat to be treated so formally! We got to have our manis side by side and chatted while we got pampered and it made for a great memory for us.
There are many dining options available at French Lick Resort. We ate at Spring #8 Deli for lunch the first day, and bought some convenience items to go from the French Lick Mercantile Co one morning for breakfast, which we ate in our room. The options are kind of pricey at the resort, so keep that in mind for family dining. There is a breakfast buffet and brunch available at the resort at The Grande Colonnade. It is $14 for adults who are staying at the resort and children under 12 eat for free. We ate at Pluto's Pizzeria (where the kids used their pass for a free slice of pizza each and a free drink) and the prices there were pretty affordable. There are other places to eat if you leave the property and drive down the state road, and you can walk across the street from the hotel and find a couple of places (including a Denny's where we ate one day as well).
We also spent some time just roaming through the lobbies and halls of both French Lick and West Baden. It was fun to explore the gardens and the shoppes and event center. Riding the free trolley between both hotels was really one of the highlights for us! The gardens and grounds surrounding West Baden are worth exploring, and seeing the huge dome shaped ceiling at West Baden is impressive too. We absolutely enjoyed our stay and all the fun activities we did; we used up every hour of each day we were there and filled our days to the brim! Along with all of these family-friendly activities, the resort also hosts a concert series, live music at the restaurants, golfing, spa treatments including massages and facials, and of course the casino entertainment is available as well. I highly recommend checking into French Lick for a weekend getaway. Even adding another day would help because you could add in visiting historic Paoli and the rest of French Lick, as well as check out the golf course and nearby Patoka Lake. At such an easy and accessible one hour drive from Louisville, it's totally worth it. Take 64 West toward Greenville and take 150 directly to French Lick. Follow French Lick Resort on Facebook and Twitter as well.
By guest contributor: Erin