Review of ColorFest at Bernheim Forest
The ColorFest at Bernheim Forest is one event you don't want to miss! The festival is October 17th (10-5) and 18th (10-5) and trust me, you can spend the entire day at the festival! Let me try my best to pack in the details in this review for you!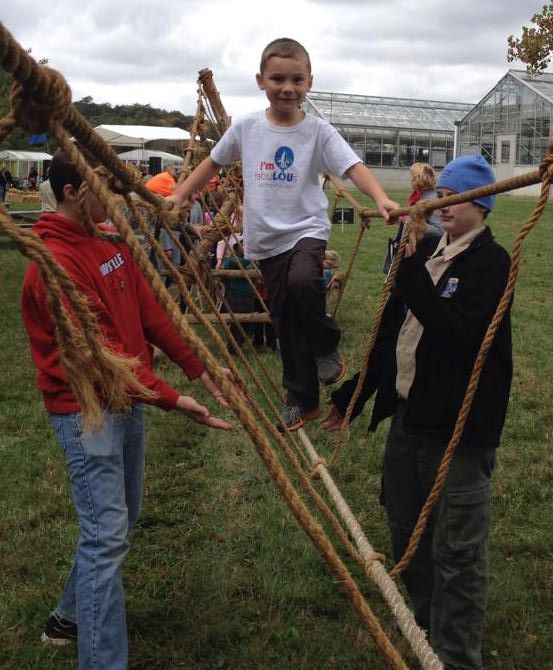 To say this festival is family-friendly is a complete understatement. First of all, the festival is FREE! There is a small $5 environmental fee per car for non-members, but still, $5 allows you to experience an array of free activities geared toward children and adults.
Let's start with the hay maze because once your children see it, they will be drawn to it! Children are allowed to run and play by this volunteer monitored hay maze while parents snap perfect fall candid pictures of them. Surrounding the hay maze are antique tractors for more exploring and imaginative play, free crafts from community vendors, a "Discovery Station" area that includes Kentucky Science Center and Bernheim Forest hands-on activities.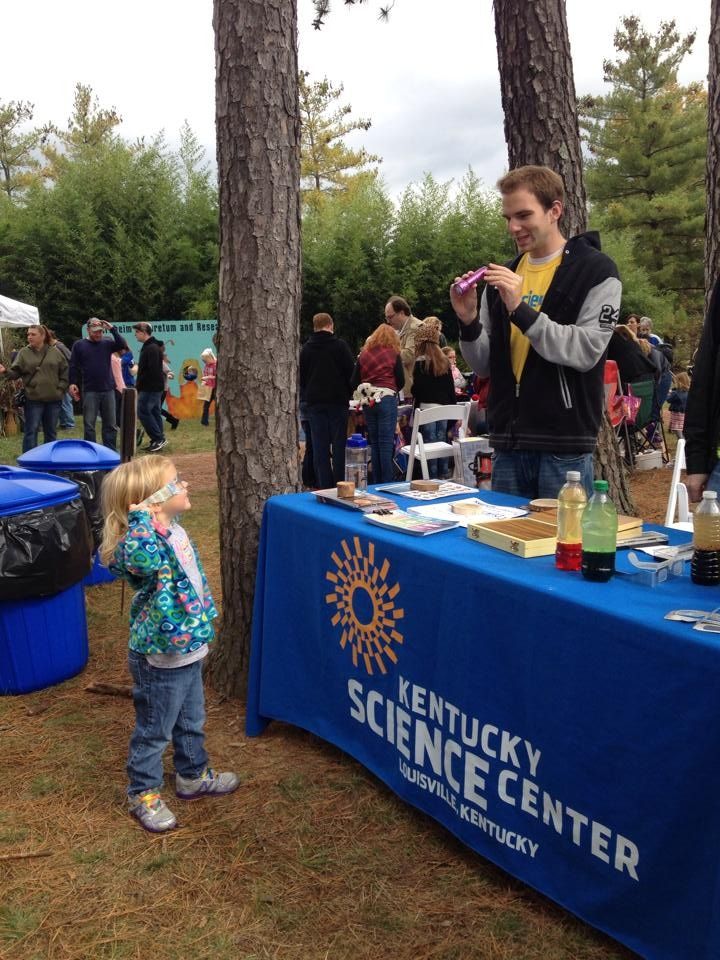 Also near the hay maze is the hayride. One pointer I will give you is to make sure you sign up for your preferred hayride time because it sells out fast! The hayride is $2 per person and lasts about thirty minutes. We did not get to do the hayride because we didn't know it sold out so quickly, but I think it's safe to assume that the fall colors were a beautiful sight!
But wait, there's more! Make your way toward the Research Center and you will find a Boy Scout rope bridge ($1 donation fee), an entertainment stage used for musical performances and demonstrations by the Kentucky Science Center and a Nature Arts area that includes making your own mud pie, coloring, nature jewelry making and mural painting.
Keep walking because you're not finished! Free face painting is available and then a fun pumpkin launch and roll will entertain the children for a long time! You can pay $2 per pumpkin or 3/$5 at the catapult launch. The pumpkin roll is free for all ages. My children had a blast at this center and had to be pulled away!
Are you hungry from all of the different activities yet? There is an assortment of food trucks at the ColorFest, too! A few of the foods we saw included: burgoo, lobster, gourmet grilled cheese sandwiches, crepes and ice cream. There is also a café inside the visitor's center and of course, families can pack their own snacks and meals. There are plenty of seating areas and indoor restrooms are available.
For the arts and craft enthusiasts, the ColorFest offers festival goers an opportunity to shop one of a kind items and view demonstrations from the Friendship Spinners inside the Visitor Center. There was also a cooking demonstration using some items from Bernheim's edible garden.
For the brave individuals, one can see and touch creatures found at Bernheim Forest. My children were drawn to the corn snake, slimy critters and bee exhibit. There was also a table set up with different animal skins and tracks for the kids to touch. Raptor Rehab happened to be at the ColorFest on the day we were there, so there were even more cool creatures to view.
If you want to take a short break from the festival, there is an I Spy Trail off of the Visitor's Center. It will take you to Cedar Pond where families can relax and, once again, get great fall foliage photographs!
Phew! Did you catch all of that? Like I said before, the ColorFest is a full day's worth of entertainment at beautiful Bernheim Forest. Bernheim Forest is located twenty minutes south of Louisville. Mark your calendars now, because this is one festival you will return to each year!
By Guest Contributor: Nicolle