Review of "All the Whos in Whoville" at Iroquois Amphitheater in Louisville, KY
Click here to learn about all of the holiday happenings for 2016
I took my son to the last working dress rehearsal of "All the Whos in Whoville" to check out this holiday play and see what it might have in store for families looking for a seasonal event to attend this month.
When we arrived, several of the actors were going over lines on stage and were dressed in colorful outfits, looking very Who-ville and it set up the mood for us as far as getting in the Grinch and Who spirit. They were super receptive to my son and immediately drew him into their acting and humor by telling him to say "Merry Christmas" to a certain Who, and he would run off the stage and hide. It was very fun and interactive and of course my son loved it. He loves attention! He has really exhibited a love for theater, so I really enjoy taking him to these types of events. The actors then played along with him and asked him "Wanna play follow the leader?! You're the leader, go!" And he took off and they followed him, imitating his every move and making the small audience laugh hysterically. It was really fun and got us very pumped for the start of the play.
When the play began, there was a narrator telling the back story of The Grinch and how he had grown to love the Whos in Whoville and loved Christmas and giving to everyone. Then, the story turns into the Grinch becoming basically "mean" again because he looks into a superficial little globe of light that "shocks" his system back to "Grinchood." In the story, there is a lot of sci-fi, fantasy, lights, music, time travel, mystery, and problem solving as the story goes on. We are introduced to Cindy Lou Who as she is a grown up now and has a daughter of her own, Suzy Q. We are also introduced to Cindy's mother and her sister, Betty Boo and Mary Sue. While the lines are lyrical and rhyming for the most part, much of the dialogue in my opinion will only be understood by adults and older children and teens. The Grinch stole the show though, and he was fabulous. My son really only enjoyed the scenes where the Grinch was center stage. Who wouldn't be drawn to him?! He was dressed spectacularly to the part!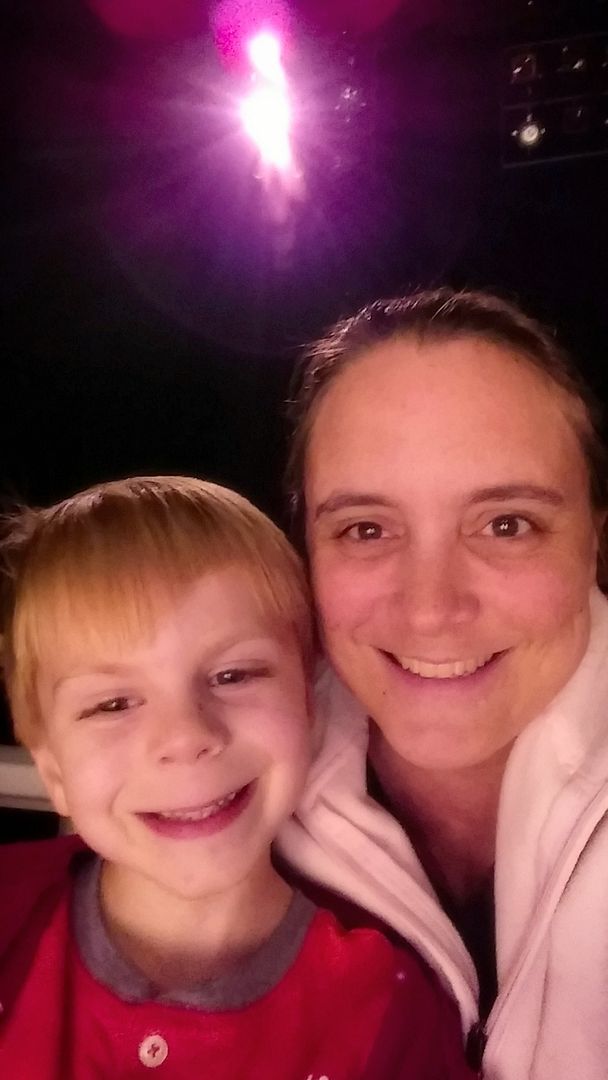 I would recommend this show for an older audience. If you have a family of younger children, I really think it's scripted well and has a lot of humor that adults will catch, but it is not very much like the movie or anything, so if your kids are expecting something like that, they may not enjoy it as much. As a parent with children who span 8 years between them, I value finding entertainment that we can all enjoy though, and isn't so entirely centered on the preschool age range. Older kids, teens, and adults who enjoy mystery and sci-fi and theatrical effects will most likely appreciate this show. The ending is heartfelt and brings joy to the scenes.
It is a totally locally sourced cast and is in its second run at the Iroquois Amphitheater. "All the Whos in Whoville" is a ZTK Entertainment production written by Todd Zeigler and directed by Kathryn Zeigler.
"All the Whos in Whoville" can be seen Thursday-Saturday November 18-20 at 7:30 p.m. and at a family matinee on Saturday, November 19 at 2 p.m. Tickets are $22; matinee special pricing is $20 for adult admission and $10 for children admission.
See the show at Parkside Studio indoors at the Iroquois Amphitheater
1080 Amphitheater Road
877-987-6487
www.iroquoisamphitheather.com
By Guest Contributor: Erin