Review of The Sword and the Scone Tea Parlor and Boutique in Louisville, KY
Writers received free food and beverages for the purpose of review.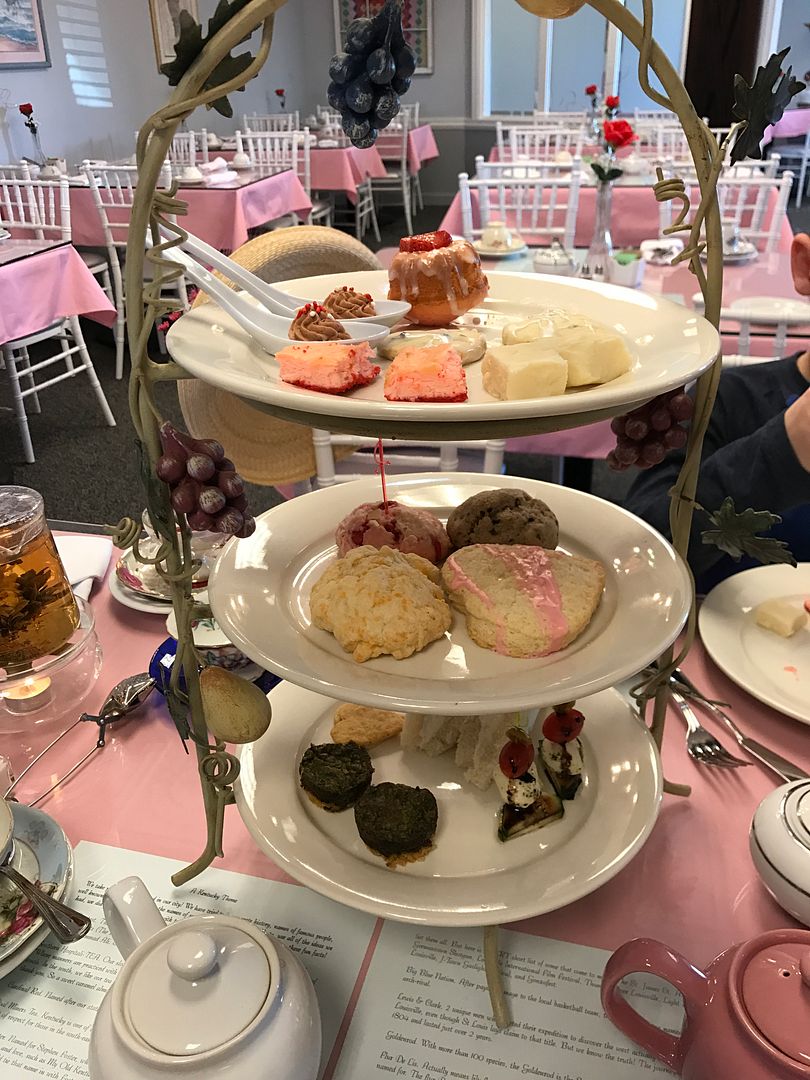 Three of our writers recently had the opportunity to check out The Sword & The Scone Tea Parlor and Boutique which opened a few months ago off Blankenbaker Parkway. We thought it would be fun to review the tea parlor from a couple of different perspectives, so Nicolle brought her kids for a mother/child date and Brandy and Christine visited together on a separate day.
Our combined first impressions were good. The tea parlor is bright, spacious, friendly and cheerful. Though there are fancy touches, such as the lovely handcrafted tea cup chandeliers and unique cups and saucers as at each table, there is also a relaxed, cafe-like feel to the atmosphere, which was a pleasant surprise. There is a cute photo area with hats to choose from and also a small boutique with unique items for sale. We all enjoyed the tea jar display in the front. The owner invites guests to sniff the jars to get an idea of which flavors they'd like to try. There were so many that smelled great!
The Sword & The Scone with Children:
Tea parties make me nervous. There's china, I feel like my kids have to be quiet (and have manners) and I worry if they are going to like the tea and food. I wasn't sure how it would go, however, my 5 year old daughter and 8 year old son are begging to go back to The Sword & the Scone after having a great experience there.Choosing our teas was a breeze because they were displayed at the front counter and suggestions were given to us. My son went with a chocolate flavored tea, "The Belgian Chocolate," my daughter was immediately drawn to the "Cotton Candy" flavored tea and I chose the recommended "Cardinal Red" tea. We all tried each other's different teas and they were all very nice!We enjoyed the High Tea Three Tiered Tray with our hot teas. The food is so delicious. In the past, my kids have refused to try any of the savory items and only eat the sweets. All of us enjoyed the chicken salad sandwich and spinach artichoke dip pinwheel. It was hard for us to choose a favorite sweet because were they amazing and so fresh tasting! The chocolate mousse cups served on a teaspoon were fun, the strawberry mini bundt cakes with a sliced strawberry on top were too pretty to eat and the iced lavender lemon tea cookies were so refreshing! A lot of the flavorings were new for my children, but they still enjoyed the three tiered tray with me. Tea arrangements specific for children can be made and the menu will be adjusted to menu choices more for a child's palate.
My children were in awe of the blooming teas that were served to us! A clear teapot was brought to our table and set on top of a small tea light candle. The tea leaves bloomed about a minute after they were dropped in the warm water. It was entertaining to see the flower appear and the tea brew right in front of us. Again, there are flavors for everyone to enjoy with the blooming teas. My kids tried the Bouquet of Flowers Bloom which has an orange crème flavor. My kids said it tasted similar to an orange cream popsicle.
The Sword & the Scone is very kid-friendly. My nervousness eased when I saw that there were hot teas that appealed to children, the setting was relaxed and not too stuffy and the food was enjoyed by all. The food is very fresh and homemade tasting. We loved the experience of having tea together and enjoyed being "fancy" for a couple of hours!
The Sword & The Scone for Ladies (and men too!):
After checking out the boutique and decor, we sat down to select or teas. The tea menu is extensive and includes many flavors in several varieties including black, ceylon, green, gunpowder green, sencha, yerba mate, white, rooibos, tisanes, pu-erh and oolong. The teas have fun an interesting names with Kentucky themes! Blooming teas, iced tea and coffee are also available. We each opted for a bottomless tea pot, which allowed us to each begin with one flavor and select a new tea (if desired) for each additional pot.
While perusing the menu, it was a little difficult to decide on individual options that were big enough but not too big, so we decided to share a High Tea tray. This is a three-tiered tray which includes multiple sweet and savory treats. All of the food was delicious! Some standouts were the fresh Chicken Salad, the very flavorful Cheddar and Rosemary Shortbread, the Cherry Almond Scone! We also got clotted cream and lemon curd on the side– both were amazing! We each sampled multiple teas and found them to be very flavorful. The Mint Julep tea was especially good. Sugar cubes and sweetener were on the table, but we found that some of the teas tasted sweet enough without them.We were able to chat and relax while enjoying our tea and treats. The Sword & The Scone is definitely a great place to meet up with a friend or a group. Although there is a feminine flair, I believe that many men would also enjoy the experience. In addition to tea trays, The Sword & The Scone has a lunch menu and orders can be called in and taken to go for those who do not wish to dine in. To-Go tea cups and some à la carte items are available for order at the counter. Since our visit, the owner has added a Children's Tea and a Dessert Tea to the menu.
In the back of the parlor, The Sword & The Scone has two rooms which can be used for private parties for adults or children. The parlor is closed to the public on Sundays, but is available for private events and parties. There are also special events a few times per month, including themed teas with entertainment and painting parties by Judy's Paint Party. Children's events, such as two upcoming Princess Teas are also offered. Check the website and Facebook for updates and information.The Sword & The Scone is vegetarian-friendly, allowing substitutions as necessary. Most every menu item can be prepared gluten-free, however, reservations must be made and gluten-free specified at least 24 hours in advance. Reservations are recommended, but walk-ins are always welcome.
By Guest Contributors: Nicolle, Brandy & Christine