Review of Trial Swim Lesson at Bear Paddle Swim School in Louisville, KY
Our writer was invited at no cost to try Bear Paddle.
Recently, I took my son to check out a trial class at the Bear Paddle Swim School. He is 5 years old and we have tried swim lessons off and on over the past year or two, but nothing has really stuck with him. I was thoroughly impressed with Bear Paddle Swim School, which recently opened in Louisville off South Hurstbourne Parkway.
Upon entering the building, the pool manager greeted us and took us on a tour of the facility. We saw the large party room where they host pool parties for birthdays. We then saw the separate changing areas/locker/restrooms for boys and girls. The pool manager showed me the lockers for storing gear, changing areas and showers, and restrooms. From the changing area, you have direct access to the pool deck. The Bear Paddle facility was very clean, well managed and structured from what I could tell. I was impressed by the newness and cleanliness of it!
We went on out to the pool deck to wait for our swim lesson time. They ask that children (and parents if applicable) shower before entering the pool for their lesson. There is a large shower area with water sprayers for this purpose. There is ample bench seating all around the pool area. It is one fairly large pool that is divided up into sections and/or lanes depending on what level is being taught. At Bear Paddle Swim School, there are 7 levels, plus a parent participation class which helps beginners under three to acclimate to the water and learn a basic paddle and float. Children can advance through the levels as they master skills. Read more about the levels here.
My son was very excited about getting in the water! Last summer we tried a lesson or two and he didn't even want to step off the steps into the pool and he sure didn't want to use a flotation device to do anything. At this lesson, he was ready to go go go! We signed up for the basic water adjustment level class, but once I saw him in the water I realized he could have started at a higher level because he was more comfortable than I thought he would be. His instructor was so fun, entertaining and engaging! He played games with my son and the other boy who was in his lesson. At that level the ratio is 3:1. During the lesson my son just fell in love with the water and tried the two skills with confidence and ease. He held onto a flotation device with it under his armpits and leaning over it and had to kick from one side of the swim area to the other. The other skill he mastered was floating on his back (with assistance) for 30 seconds. He also worked on putting his face in the water and blowing bubbles and getting used to his face being wet which is huge for him.
I would recommend at least trying a class for your child. I believe they are still running a special that includes a free trial class. My son loved it so much that we are planning on signing him up for ongoing lessons. Bear Paddle specializes in having certified swim instructors, small class sizes and multiple swim levels so the child can progress easily while staying at Bear Paddle. Lessons take place in a warm saltwater pool! They offer lessons all year long, every day for 30 minute intervals once per week. A lesson for one student is $22.50 per lesson and pricing moves up from there. I appreciated the flexibility of lesson times for busy families. They have many evening time slots and Saturday and Sunday lessons as well that work great for working parents. Check out the website for more information!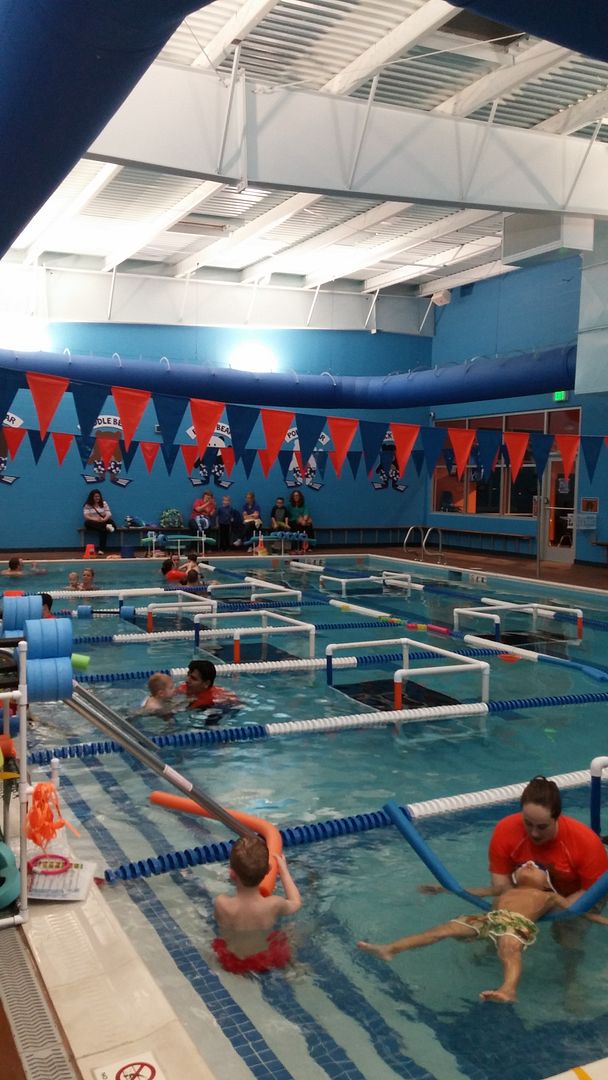 As mentioned, you can also have a pool party at Bear Paddle Swim School. The price is $300 and includes swimming and pool fun for 16 guests, a gift for each swimmer and the birthday child, invitations and thank you cards, set up and clean up, structured pool activities, use of the party room and more. Call 502-438-8833 to book a party. Bear Paddle also offers swim camps as well. They have one coming up during Spring Break week for most students in Jefferson and surrounding counties.
Bear Paddle Swim School is located at 2915 S. Hurstbourne Pkwy. Connect with them on their Facebook and Instagram pages, as well as email at Louisville@bearpaddle.com.
By guest contributor: Erin