Clarksville Cove Birthday Parties – a review
We were granted admission for purpose of review.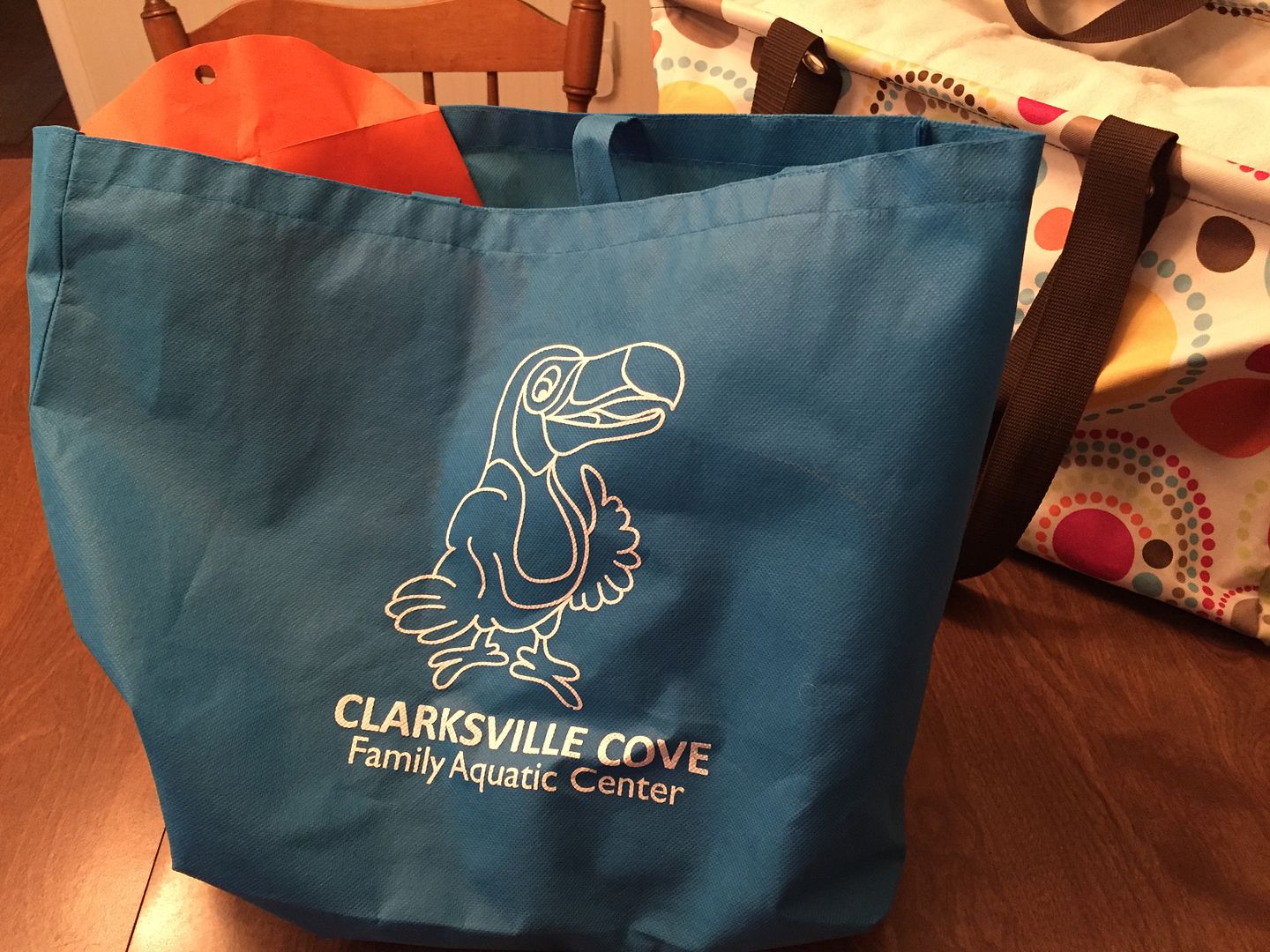 Clarksville Cove offers birthday parties in the summer months for fun swim parties. There are a variety of time slots (parties are 1.5 hours) and packages ranging from $175 to $300. The price differential basically considers whether or not you want food at your party. I found that with a 1.5 hour party, the basic party was perfect and if we had a bunch of food, we would have had less time for swimming! And, that runs you $8.75 per attendee, that's not bad at all.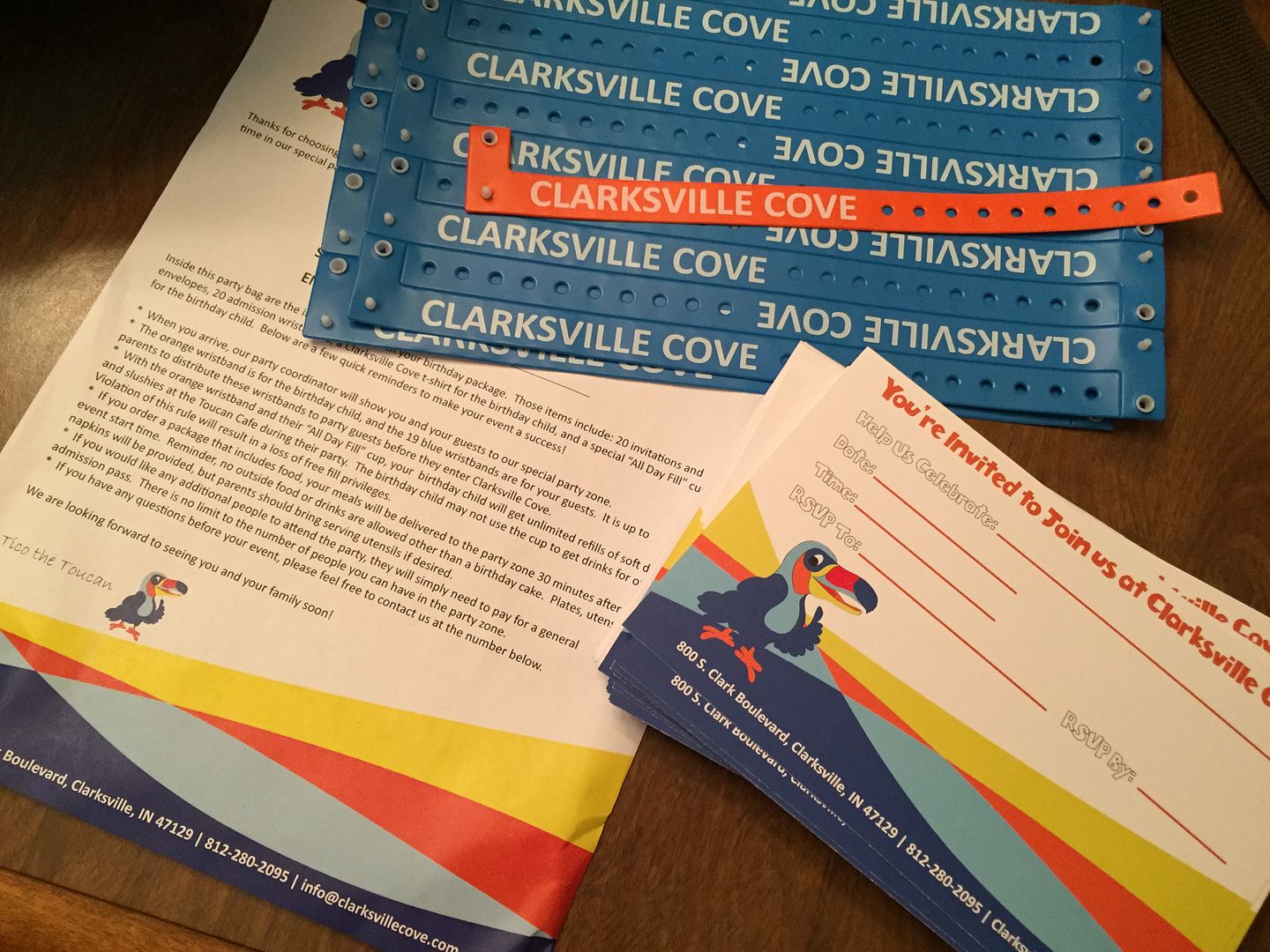 You do get a party pack in advance of your party so you can hand out all of the invitations and you get wristbands upon arrival. The parties include supplies and admission for 20 people and you can bring in your own cake. They supply the plates and utensils. With the party, you get a reserved, covered area for your guests. And, the birthday gal/guy gets shirt and a special cup for free refills that day!
When we arrived, our party host greeted us and made sure we had what we needed. He checked in to make sure we were all doing well and when the party was wrapping up to help. Guests can stay and swim after the party, everyone just has to move to the general seating area and out of the party area.
Some of the LouFamFun writers joined the party with their kids, here's what they had to say:
Nicolle: The aquatic center is perfect for children of different ages. My five year old had a blast on the smaller slides, while my 9 year old enjoyed the tube slides and large lap pool. The party tent has a great location allowing for some privacy and easy access to the pool and splash pad. I appreciated the warm water and plenty of places to sit around each area.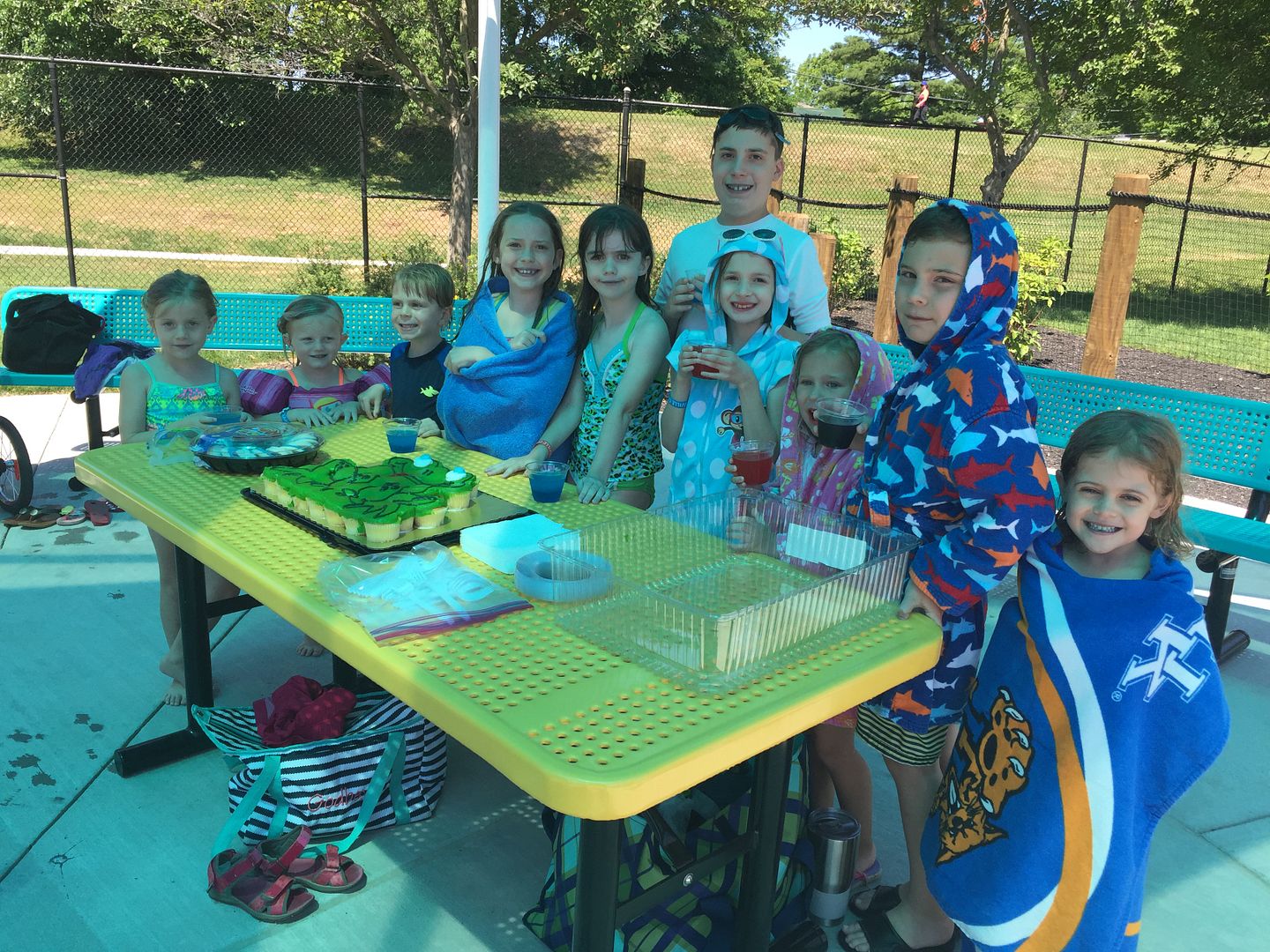 Lauren: The party was fun and it was an easy drive across the bridge from Louisville. I loved how the lap pool was warm. As far as the party area is concerned, it was very nice to know we had a private area to keep our things without them possibly being bothered.


Erin: The party area was very nice and secluded. I appreciated having our own space to spread out. One of the staff came out when we first arrived and asked if we needed anything, which was helpful. I thought the pool and facility looked very clean and noted lots of lifeguards. I did have a lifeguard tell me that my son couldn't wear the particular arm floaties he had on and that he had to remove them so be aware that not all types are allowed. My teenage daughter and friend had plenty to do, as did my five year old, and I appreciated that it serves many ages.
Brandy: My 8 yr old daughter and 11 year old son had a great time at the party– our first visit to Clarksville Cove. We liked that we had a designated party area and we didn't have to search for a chair or locker for our towels and shoes before heading out to explore the park. The party area had a shade over it, though, like most coverings, at some point in the day the sun crept in. Soft drinks are not included in the basic package and cannot be brought in, but we learned that party groups can request pitchers of ice water and cups from the concession stand.
Kimberly: We had a great time at the birthday party at Clarksville Cove. It wasn't far from Louisville, and it was very easy to get to. The party area was covered, which is nice for those really hot days! I also liked how it was close to the water, but still felt private. I loved how they had something for all ages…the sprayground area for the smaller kids, slides for the bigger kids, and a warm pool for everyone. I think it would be nice if you could bring in your own drinks for a party. (Drinks can be purchased on site or complimentary pitchers of ice water can be obtained from the concession stand for parties.)
In addition to parties, Clarksville Cove offers facility rentals for large groups. General daily admission, season passes, swim lessons and fitness classes are also available.
Stephanie