Review of Thunder Over Louisville: the family perspective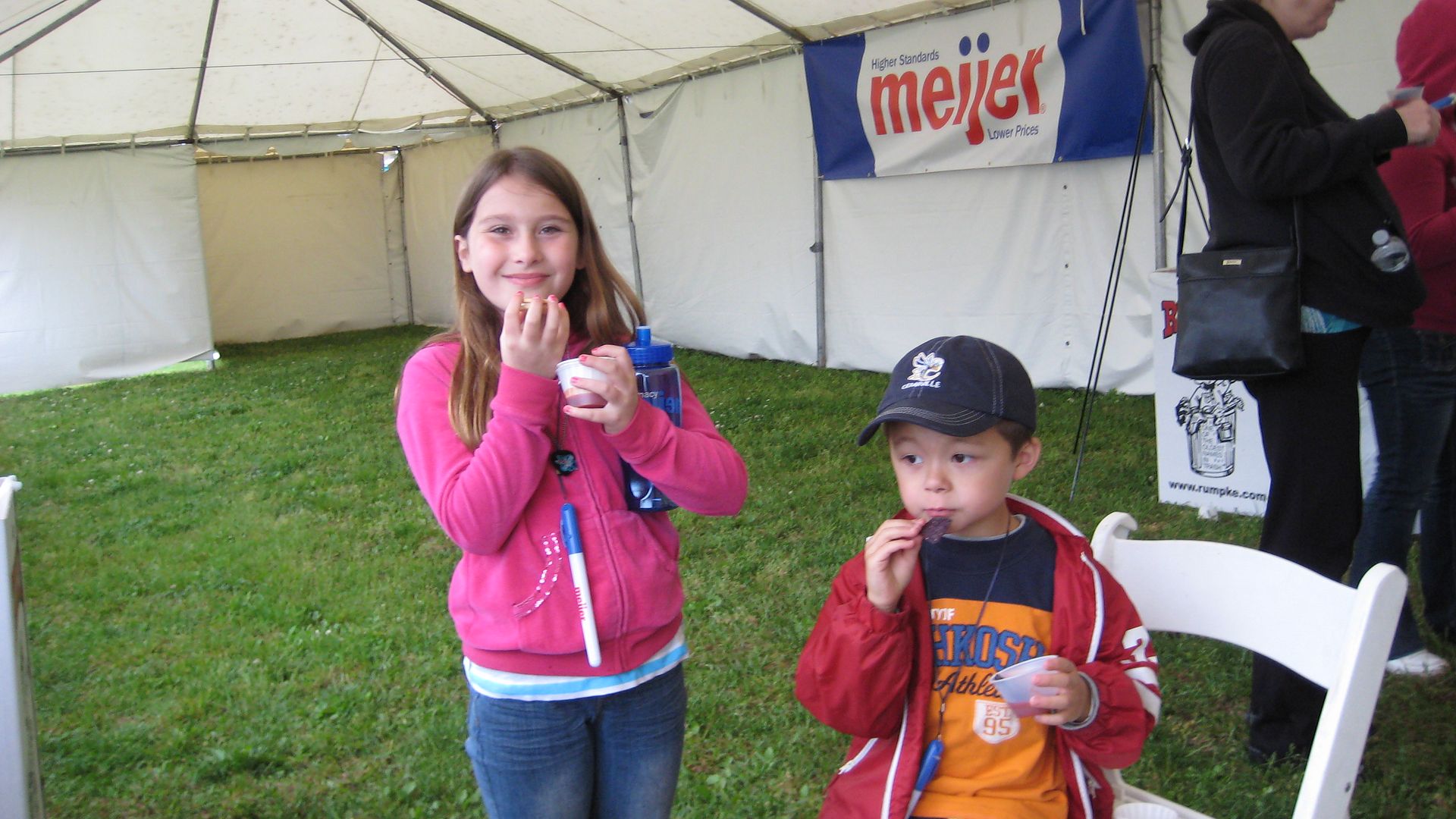 The
Derby Festival
officially kicked off this past weekend
with
Thunder Over Louisville
, which features an extensive air show and North
America's largest annual fireworks show. The first year we lived here I wasn't
sure about staying for both or not, or how to best navigate parking and the
huge crowds with my young son. Add to that the drizzly & cold weather and
we decided to just watch on TV. We were really impressed by the show, so
decided that if the weather was tolerable next time we'd go in person and this
year we did.
It was a cool day, heavy jacket weather, and the rains
stopped at least a couple of hours before the air show was set to begin at
2:30pm. I really recommend trying to carpool to make parking easier and more
affordable, which we did. We started seeing parking lots while still at least a
couple of miles away, for $10 or $15. As we got closer the price went up to $20
for most and a few for $30 or more. We found a private lot
that would put us out facing the right way to follow the appropriate express
route, where police are in place to help direct traffic. See
here
for that
information.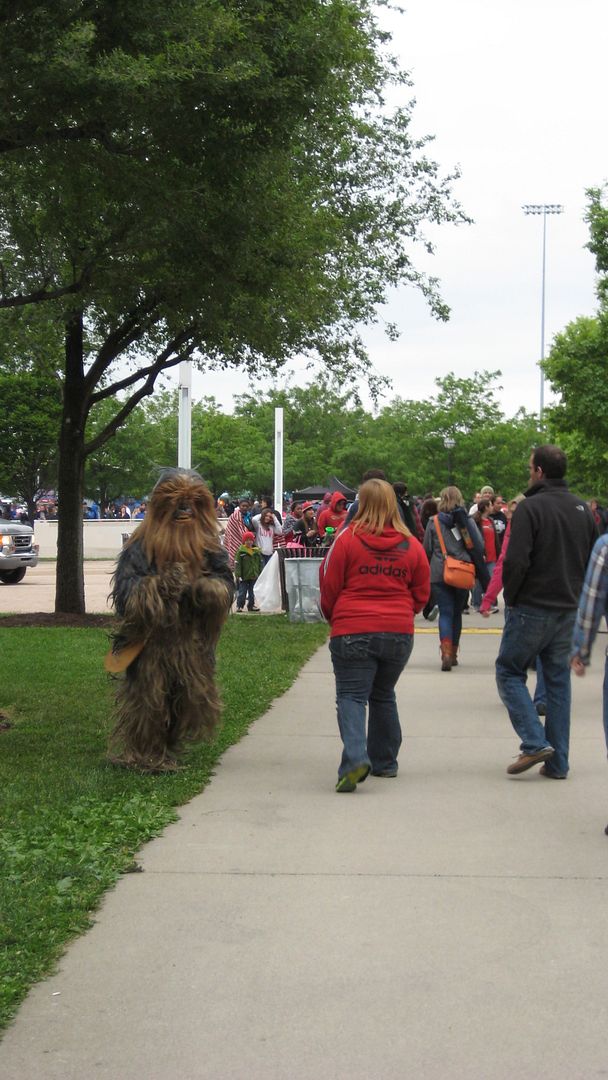 We were lucky enough to be with someone who works in one of
the many buildings downtown, so we had a home base and place to stow our stuff,
but had it all in one back pack that was easy enough to carry had we wanted or
needed to. We ate lunch before leaving and so packed our refillable water
bottles and lots of snacks, money for dinner, as well as extra clothes for our
youngest, our camera, and some small games we could play if we had any down
time between shows.
We started at the Belvedere area, a
Pegasus Pin
only entry,
which then lead to a few different private areas. If you did not pre-purchase
one, you could buy one for $5 each nearby. These help support this event, as
well as other fun
Derby Festival activities
, and gains you entry into more than
30 festival events & concerts. We had wristband access for the Meijer
Family Fun Zone. The gatekeepers were very careful to let only families into
this area and there were several activities to do, as well as a good spot for
looking up to see the many aircraft that took part in the air show. We could
even hear the announcements about the planes when close to the waterfront.
There were a couple of inflatables, food samples, and several tables with games
where you spin a wheel and answer food related questions to win a variety of
small prizes for various aged children. They also passed out fun little light
up stick necklaces for later once it got dark. The kids had a really great time
here and the smaller crowd was perfect for us. Everyone working in this family
zone was friendly and helpful. It was nice and clean. There was a long row of port-a-lets without any
waiting in line and the one we looked in was also clean. This alone was worth
trying to win or pick up the wrist bands for entry as the lines we saw closer to the main venue were very long. They only give out a certain
number of wristbands, so this fun zone stays much less crowded than the main
area at Waterfront Park, were we went next.
To get there, we walked on Main and turned on one of the
connecting streets to River Rd. to see the steam boats. There were at least a
half dozen food vendors in that area with reasonable lines, especially
considering it was approaching dinner time. From there we continued to the main
area and checked out the Chow Wagon area, which requires a Pegasus Pin to
enter. There were many choices of food vendors here and a lot
more people. At some points, it was hard to navigate through while still
staying together, but not as stressful as I had anticipated. We did encounter
people openly smoking as they walked through narrow areas and I wish
they had smoking areas set aside, like at most amusement parks.
The next area over is the
main viewing venue, which you also need a Pegasus Pin for, and the area was
electric with energy from all the people walking talking, and watching the air
show. There were people with wacky hats, noisemakers, and we even saw a fun
person in a Chewbacca costume who danced and posed for several snapshots.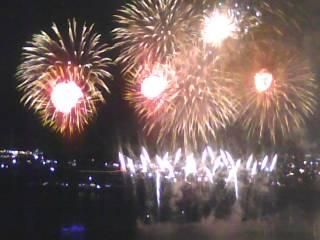 After a while, we made our way back up Main St. back towards
the Belvedere area. We played games, drew, ate the food we picked up at one of
the vendors, and continued to enjoy the air show, which by now had been happening
off and on for 5 or 6 hours! There was a
large selection of air craft throughout, from older smaller planes to modern
jets and all sorts of different sizes. We marveled at the stunts they performed
earlier in the day and were delighted to watch them as it grew dark. Shortly
before the fireworks show, one even looked like it had trails of sparklers
coming from it.
They fireworks show started with enormous US flags flying by
while patriotic music played. Then the sky lit up over and over again with dazzling
colors, sizes, heights, types, and even shapes of fireworks all set to a great
soundtrack. We were thoroughly captivated and especially loved the fireworks
waterfall off the bridge. The finale was great and the encore was awesome. The
whole thing lasted about half an hour and was truly the best pyrotechnic
display we have ever seen. Watching it on tv previously was great, but seeing
it in person can't be beat and was well worth the effort. Parts of it, and the
air show, obviously can get pretty loud and if you have young or sensitive
children with you, you probably want to bring ear plugs and plan where you'll
view this terrific show based on where they predict the smoke will flow.
After we gathered our stuff, we joined the throngs of people
heading to their vehicles and could really see how big the crowds had been.
There was one incident on our way to the car that was a little scary. Some kids
on a hotel balcony were arguing with some kids on the ground and threw some
bottles down which barely missed hitting us. I stopped to inform the police
officer directing people at the next crosswalk and he said he'd try to let
someone know, which was disappointing. The rest of the officers we observed
throughout the day had been helpful and seemed to have things in good order
though and we are grateful for their hard work. Honestly, I was pleasantly
surprised that this had been the first incident we'd noticed, considering the
sheer number of people there.
Getting out of the parking lot took a bit, as did
traveling on the express route out of downtown, but people were courteous and
friendly overall and I think traffic was moving along as expected since almost
everyone poured out of there at one time. It took us about an hour to get home
once to our vehicle as opposed to the normal 20-25 minute drive, which I
thought was not bad at all.
This was a great fun long day for our whole family,
including our young son and our teenager. There were things we did not check
out, like the bands or even the other entertainment like the public children's
area, because we preferred to stay in the less crowded more family oriented
areas. I am glad there are places for both, so that adults can celebrate the
kick off to Derby season while those with younger families can have fun too. We
also appreciate the many options of enjoying Thunder, from as little as the $5
cost of a Pegasus Pin per person (you can buy them in advance for less) up to a
more expensive and exclusive limited crowd viewing area with other amenities.
We hope to be able to again enjoy the Meijer Family Fun Zone. We felt very
comfortable and welcome there since we had young kiddos with us and were with
others who did too. Once our son is much older, we might explore the larger
crowds to see how many friends we run into and to see how it is watching the
show shoulder to shoulder with the energy of so many people. After all, variety
is the spice of life!
By guest contributor: Angela