Review of Havana Rumba Cuban Restaurant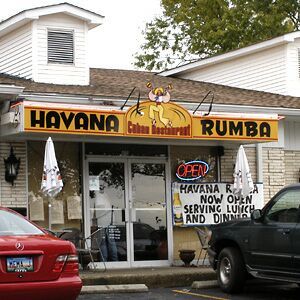 Would you love to try some authentic, fresh, absolutely fabulous Cuban style cuisine? Would you love
to support a LOU LOCAL? Would you love to go out on a date with your significant other? We did!
Recently my husband and I hit up Havana Rumba for a date night and
had a wonderful time.
I had been to Havana Rumba one other time, but it was my husband's first time to dine there. I had
called ahead and made a reservation. If you have a large party that is recommended. This place is
hopping! It's not as necessary for two people but still nice to arrive and be seated fairly quickly. We
went about 7:30pm on a Saturday night. Havana Rumba is located at 4115 Oechsli Avenue in St.
Matthews. There is also a second location in Middletown, which boasts a huge outdoor patio and looks
fabulous to try soon when the humidity has passed! I like the original STM location a lot; it is very cozy
and quaint. It has a small seating area outside with tables for two-perfect for a cool, breezy night and
quiet conversation with your date! They pack a lot of people into the seating areas inside. There is
usually always a big group or two celebrating something so one area of the restaurant is full of larger
parties. This time when we went we sat towards the back of the restaurant by the bar. There were
many more two party tables back there. It was kind of loud back there because the blender was going
full throttle to make all of those awesome drinks from the bar! That was the only part of the experience
I would change, from now on I might ask to not sit by the bar. They have a fantastic bar, lots of people
were sitting there enjoying a drink and some couples were eating there as well. There's another neat
little seating area near where we were where you sit at bar stools with four people on each side at a
longer table. That would be fun for a girl's night out kind of gathering.
On our date night, my husband and I declined an appetizer but shared a virgin piña colada. If you like drinks, they have a whole menu for that! You can find
wines, domestic and many import beers, and house featured drinks. Havana Rumba is known for its
great Mojitos. Havana Rumba's menu has many dishes that remind us of our honeymoon in Jamaica. They serve a variety of dishes from sides of plantains and boniato frito (sweet potato fries, which I recommend!) to soups and salads to their entrees: chicken, pork, beef, or seafood to choose
from. On this evening, my husband ordered the Fricase de Pollo, a boneless chicken dish that was so tender,
yum! It came with rice and sweet plantains. I ordered Cubano Vegetariano that included a spinach & cheese empanada, rice, and Cuban style potatoes, Both of our dishes came with a side of black beans,
which they serve to you separately right out of the pot where they have been simmering all day! They
are delicious-they could be a meal by themselves! They offer many veggie dishes. Signature dishes
abound throughout their menu and their Cuban pork is famous here. I have also had the Vegetarian
Press; a veggie sandwich served on hot pressed Cuban bread and loved it. The portions are huge, big
enough to share with a couple of sides or bring some home for lunch the next day! They also serve a
wealth of possibilities for dessert, which I haven't tried but have been told the Cuban bread pudding is
mouthwatering. While you are waiting, warm toasty bread is served with some outstanding flavored
butter. There is always great music with a Latin flare playing and the service is pretty quick and very
attentive. It's kid friendly too but I think it's more of a date kind of place. They also have a lunch menu.
And you can go frugal as well! My husband and I dined for under $40 on a special meal! Check out Havana Rumba soon and continue to support our local establishments: they need YOU!
By guest contributor: Erin