Three Toddler Themed Ways to Enjoy Christmas
1. Make your tree a place for touching. We did this with our tree this year because we have a new little one in the house. Last year our baby was just 4 months old and he wasn't a monkey trying to scale every piece of furniture in our house. Fast forward twelve months and we've got a tiny toddler gymnast on our hands (I've got visions of the Olympics for him.) For one thing, about the tree, I decided since we've all been sick, and I haven't felt like really doing up the tree big this year, it would be a good time to do something different with it. Also, we've been using the same tree for thirteen years and frankly I'm tired of stringing lights on it. So we had already decided that we were going to retire this tree and buy a prelit Christmas tree after the holidays when we can get a great deal for 75% off, hopefully! And finally, I just thought it would be fun. I didn't Pinterest search it, I was kinda proud that I thought it up on my own for once. I'm sure there are plenty of Pins out there along these lines. We spray painted the tree with that spray-on snow stuff, bought at Wal-Mart. I strung on the lights, for the last time!, and my kids added snowmen, any stuffed animals that they wanted, and other various Christmas stuffies that we have collected over the years. We used the animals as our ornaments. We added a few dozen candy canes and some bows. And all season long, when my toddler wants to pick an "ornament" off the tree, he can! I won't be building or manning a gated fence around our tree all month long, and I won't be telling him "No touch" about 1000 times a day either. Granted, next year he will have to learn not to touch certain things on the tree. But we have another twelve months to mature on that one.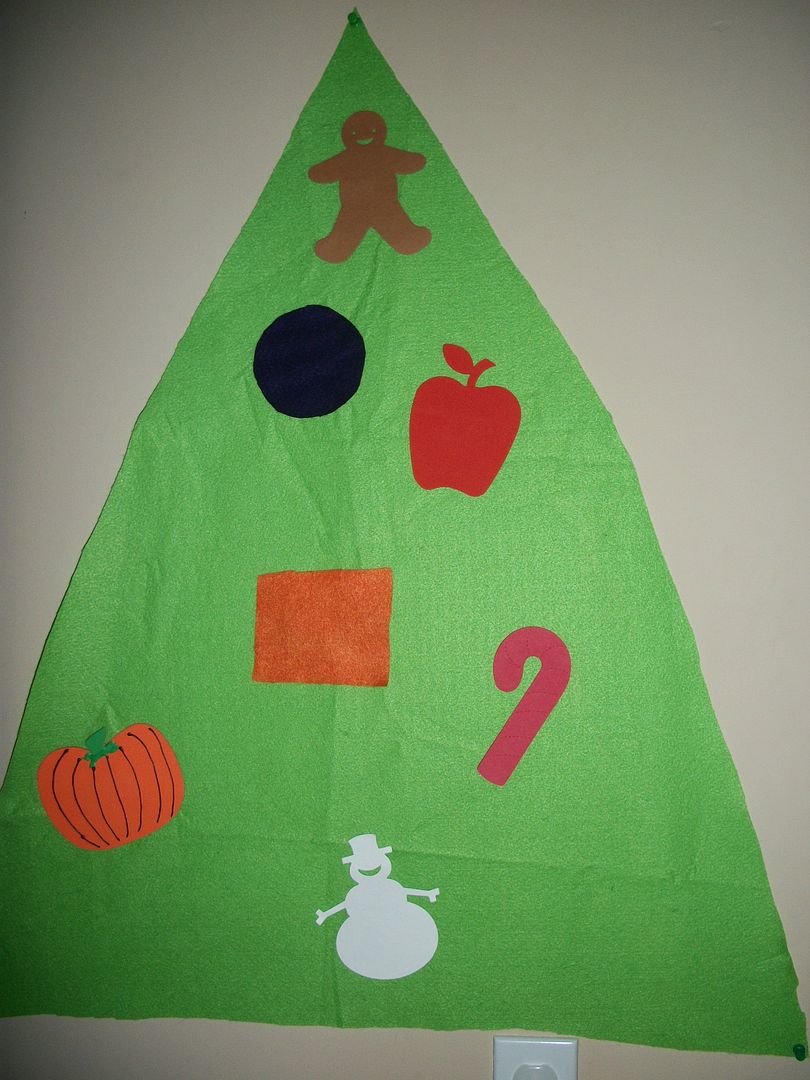 2. Make a toddler felt Christmas tree. Go to a fabric store, or Goodwill, or your favorite place to buy felt or fabric. Purchase a yard's worth of Christmas green felt or fleece (I purchased mine at Hancock Fabrics on Hurstbourne Lane.) Ask for a reduced price on some scraps or buy a variety of bright colored pieces too. I used felt because I'm used to how it works and felt sticks great to felt. Cut out a huge triangle. You don't have to be "crafty" to cut a triangle shape! This green triangle is your toddler's Christmas tree. Hang it low on a wall where he/she can have access to it. We secured ours with lots of sticky tack. Use the colored pieces of felt to cut out whatever shapes you'd like to use as ornaments for your little one to add to the tree. This makes a great little game for them, or something to just pass the time when you need some time to do something else. Unless yours are a little older, I wouldn't recommend completely leaving them alone with it. Ours is in our living room and our little boy only gets the pieces to the tree when we are in the room with him, just because he still tends to like to taste everything. Since I have connections to the library where I used to work, I used the Ellison cutting machine to make stars, candy canes, gingerbread and snowmen, and other fun bright shapes that he likes.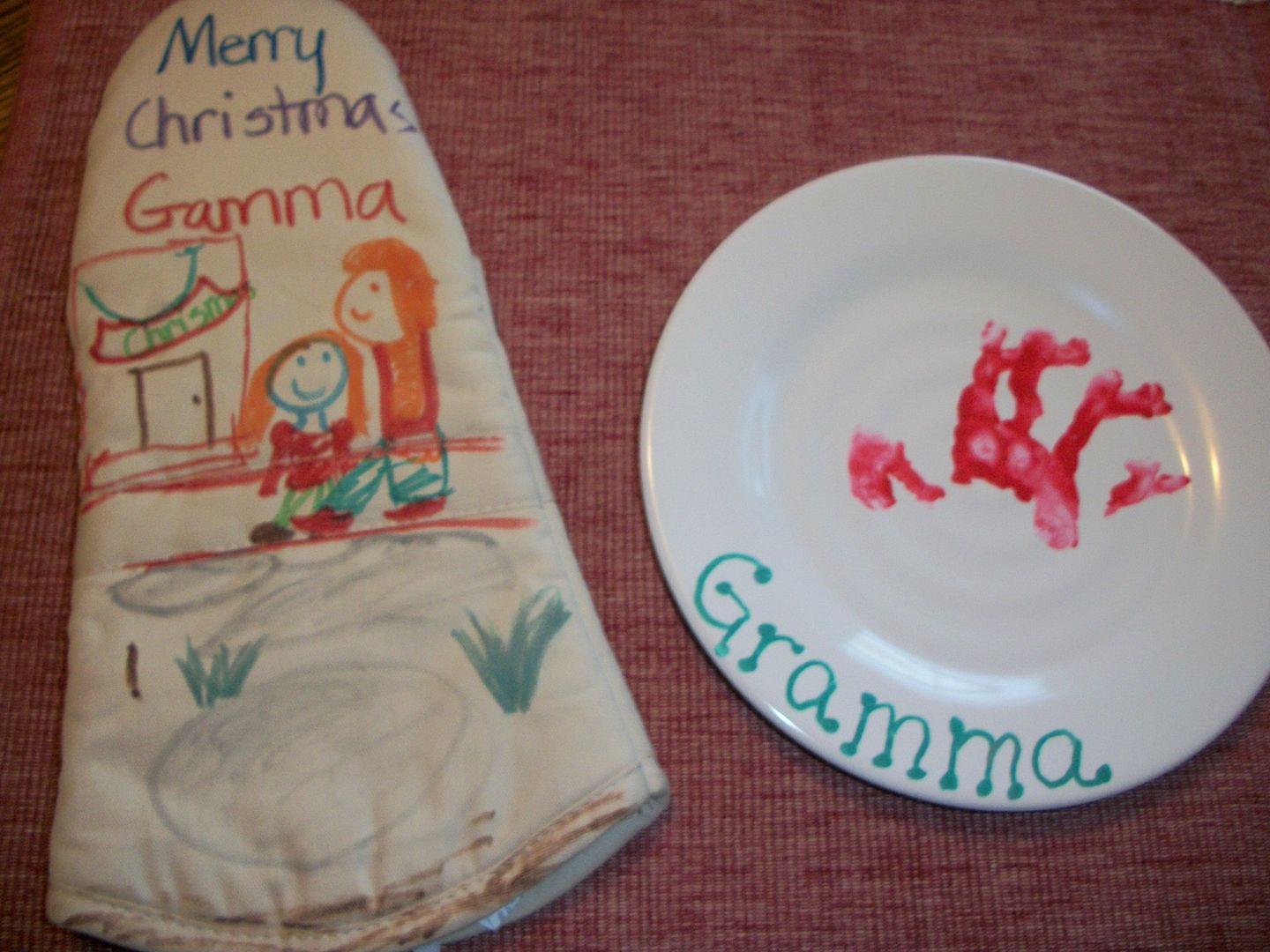 3. Make presents that involve your toddlers hands. Grandparents.Just.Love.Them. Seriously, simply, they eat them up. Well not literally. When my daughter was little (pre-Pinterest, I know, the dark ages) I had a set of tins that contained some kind of substance that when water was added to it, it became like clay and we imprinted her hand in each one for each year till she turned 5. They are great little keepsakes. We've taken plain white or off-white mugs and used good ol' Crayola fingerpaint and captured her handprint onto the side of a mug for grandparents and aunts. You can get plain t-shirts and fabric markers and make outlines of their hands. One year I bought a set of 4 dessert plates in plain off-white and we did the same impression with fingerpaint onto the middle of the plate. It cost me about $8 for a set at Meijer, so it was $2 per person (1 for each grandmother and 1 for each aunt.) As she grew older and started drawing, she would take those special markers and draw a picture of herself with her grandparent onto a plate, and she would add their names. Another year she drew pictures with fabric markers onto two lightly colored oven mitts for her grandmothers. And lastly, once again we took finger paint (that stuff goes a long way baby) and bought non-expensive, flat serving platters and had her imprint her foot onto them. I added a saying that read "I love to follow in your footsteps, Pop Pop or Grampa." Nowadays you can Google and Pin until your heart's content all kinds of examples of homemade gifts. This year we are going to make this one (fingerprint ornament), which yes I must admit, I found on Pinterest.
By guest contributor: Erin