The Zany Brainy Magic Shows this Summer with Steve-o the Magician
This is a sponsored post, please consider attending these free events!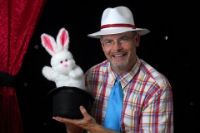 My children love every Steve-o Magic show! We are so lucky that he teams up with the Louisville Free Public Library every summer and his shows are free. Check out the following list of dates, library branch locations and times for the free Zany Brainy Magic Show from Steve-o the Magician. It'll be a great reason to explore a library you haven't been to and spend sometime inside to beat the heat.
11-Jun
Fern Creek
2:00 PM
14-Jun
Main- Teens
6:15 PM
1-Jul
Main- Children's
2:00 PM
2-Jul
St. Matthews
2:00 PM
10-Jul
Iroquois
2:00 PM
16-Jul
Western
2:00 PM
17-Jul
Fairdale
4:00 PM
18-Jul
Portland
2:00 PM
10-Aug
Highlands
2:00 PM
10-Aug
Okolona
11:00 AM
Stephanie