Review of Children's Theatre Shows at Derby Dinner Playhouse in Southern Indiana
My daughter and I recently braved the torrential
downpour to head to
Derby Dinner Playhouse
and enjoyed a hosted visit to see
Miss Nelson Has a Field Day
.
What I love about the children's shows is they are right at an hour. They are
short, sweet, and keep your little ones entertained for the duration. Not only
do they have a good message behind them, but they're great for piquing interest
in the arts.
When we arrived my daughter immediately began oohing and
aahing over the gift shop. I have to say, I don't think the Derby Dinner gift
shop gets enough credit. They have a wide variety of things to appeal to all
age groups and it's not your typical junky who really needs that anyway stuff
kind of place. In fact, I have some super cute Halloween decorations I
purchased there about 10 years ago. I remember them being cost effective and I
can attest that they're still in good shape. With that being said, make sure
you take a little walking around money with you. The kids are now allowed to
take light up toys into the show and if yours is anything like mine, they're
going to have to have one. They sell a great light up toy and it's
only $6.50 here so save it for Thunder! There were all sorts of other cute
things too. Again, all very cost effective.
Next it was time to enter the theatre. There are two lines
formed, one on each side of the theatre to get in. However, if you don't have
your tickets in hand, you will need to go to the left. This was the case with
us, but it was painless and we were in our seats at no time.
If you've never been to Derby Dinner, there is no such thing
as a bad seat. It is a theatre in the round, which means they play to 3 sides
of the stage. It's an intimate setting, so even if you're on the 3rd
row, you're still in great shape! However, my daughter was a bit nervous
because a couple of rows in front of us, someone was celebrating a birthday
which meant there was a bunch of balloons tied to their table. It also means if
you want to celebrate a birthday there, you can! They have parties for up to 12
kids which includes the show. When our server, Gavin, walked up to the table,
she pounced on him asking about the balloons. Gavin immediately put her fears
to rest and set about taking out beverage order. Coffee and tea are included
with the buffet; milk and OJ are on the buffet. You can purchase soft drinks
and alcoholic beverages. After giving Gavin our drink order we headed up to the
buffet. Let me preface this by saying I am not a buffet kind of girl. I do like
a variety of food, but buffet food tends to not be cooked well (either over or
under) and it tends to be cold. I am not a fan. That was not the case here. The
salad bar had a lot of good choices. I was very happy with the selections. It
wasn't anything too extreme, but it was enough for me to make a meal since the
hot line was definitely catered more to the younger palate. Waffle fries,
corndogs, green beans, corn cobletts, mac n cheese, chicken nuggets, and a
turkey carving station. I got some green beans to go with my salad and left the
rest.
When we got back to the table our drinks were waiting and
this was a sweet older lady sitting at the table next to us. She saw I didn't
have much other than a salad and asked why I didn't make myself a turkey
sandwich. PURE GENIUS! So, I went back to the buffet, grabbed a couple of
turkey slices and a roll and voila! Turkey sandwich. I asked my daughter if she
wanted one, but she was too busy scarfing down a corndog while doing the games
inside the program. So, I guess she was good!
Before the show started, Bravo the Star came out and talked
to all the kids. He walked the aisles then went on stage to discuss turning off
cell phones and all the other pre show do's and don'ts. He gave a synopsis of
the rest of the Children's Theatre shows and after every description my
daughter said, "Mom! We HAVE to see that one." So, it looks like we'll be
getting season tickets. That's four shows total for $17 per child and $55 per
adult. FOR THE ENTIRE SEASON SHOWS!!- Let's not forget that includes lunch or
breakfast depending on which show you pick. Also, if you went to Miss Nelson
Has a Field Day without season tickets, paying full price, Derby Dinner will deduct the
price of your ticket off the season ticket package. Pretty sweet! The remaining
shows are Jingle Arrgh the Way (Pirates, matey!), The Jungle Book (I LOVE
Baloo), and Princess Penelope's Dragon (after How to Train Your Dragon, who
doesn't like dragons anymore???) Alright. I admit, I'm excited too. After all,
I was a theatre girl in a previous life. Which is why I love that they offer
camps and classes too!
When the show started my daughter was glued to the stage. It
was a cast of 5 with lots of songs, audience participation moments, and lots of
antics. Some of the scenes were performed in slow-mo which my daughter thought
was too cool for words. She's always "performing" slow-mo around the house. The
show was super cute and we really enjoyed it. I don't want to go into too many
more details and be a "spoiler alert" as my daughter calls it, but I definitely
recommend the show.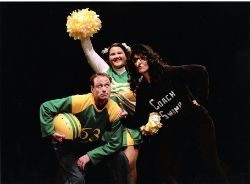 If you've never seen a Derby Dinner production, they are always top
notch! A few years ago a bunch of us parents got together and took a group of
girls to see Cinderella. They all dressed like princesses and it was a great
time. This was part of their normal season, not the children's theatre. The
show was fantastic and the girls loved going. Ticket prices are very
reasonable, especially when you consider you get dinner and a show. There are
even some performances during the regular season when the kids get half price
admission. I believe it is Friday and Sunday evenings. However, feel free to
call the Derby Dinner box office and ask. We'll see you at the show!
812-288-8281
Above image courtesy of Derby Dinner Playhouse
By guest contributor: Heather