U-Pick Strawberry Picking at Gallrein Farms in Shelbyville, KY
To view updated information about berry picking around Louisville, click here
This review is from 2014. Some information may have changed.
The beginning of warmer weather always makes us want to get outside and also enjoy a tasty cool treat! Strawberry picking at Gallrein Farms allowed us to do both! Their website states that their strawberry season starts mid-May and ends Mid-June. Once we heard that u-pick season started, we planned our visit to the Shelbyville Farm.
We arrived at the farm early on a Friday morning so we could beat the heat. We were given buckets to use and directions on how to find the right field. The strawberry field was just around the corner from the greenhouse where we got our buckets, so it was a short walk. There were already a few people picking and while we were there several more people arrived. The fields are plenty big, so you never feel like you are on top of others.
We spent about thirty minutes picking our strawberries. The rows are easy to maneuver through and perfect for small children to join in on the picking. My two year old got a kick out of pointing out all of the "bewwies" in the fields and also taste-testing a couple strawberries along the way. (Gallrein Farms' Facebook page states that although they are not a certified organic farm, they do not spray their strawberries.)
We returned to the greenhouse to have our strawberries weighed. Gallrein Farms charges $1.99/lb for u-pick strawberries. The kids got a kick out of seeing the scale numbers move based on how much they picked. They brainstormed all the different ways we could cook using our fresh strawberries.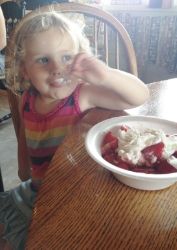 Before planning our trip, I saw a picture of Gallrein's strawberry shortcake on their Facebook page. It looked divine! I knew we had to try one from their newly expanded bakery menu while we were at the farm. We ordered one strawberry shortcake for us to share. The bakery was in the process of making the cakes, so we waited for a bit for our order. There was plenty of indoor and outdoor seating on this particular morning. Luckily my kids were willing to stay in their chairs indoors because we waited quite a while for our dessert, but it was worth the wait! The cake was hot and the strawberries with the whipped cream were so fresh and delicious!
After devouring our dessert, we played on the grounds for a bit. There is plenty of space to run off the strawberry shortcake! The animals were unavailable during our visit because they are in the process of building a new educational barn and petting zoo. We are looking forward to another visit when it opens!
If you missed strawberry season, don't fret, this farm is fun during other seasons, too! Check out their farm calendar for more information; rumor has it they have some pretty great sweet corn for summer cookouts!
By guest contributor: Nicolle