Review of The Cafe Restaurant in Louisville, KY
I recently enjoyed a nice sit down lunch at the very well known to Louisvillians, The Cafe, near Louisville Stoneware. It was such a nice lunch because I was alone, without my children, having lunch with two very near and dear ladies, and just having some catch up adult time in this eclectic Louisville staple to the dining scene.
When I posted a picture of the old overpass with the date engraved onto it, readers on Facebook knew right away where I was! Just from this picture! They know their restaurants, and the beloved Cafe is just that: very loved and very family-oriented.
I scoured the menu and literally wanted to try everything listed! I ended up getting one of the Combination options: 1/2 chicken salad sandwich with a cup of the tomato soup and a side of pasta salad. It also came with a cookie. I had coffee to drink. My two aunts-in-law had tea with their meals; one had the Louis XIV-their famous chicken salad and the other had the Roasted Chicken Breast Sandwich.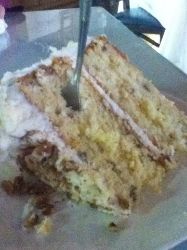 I also indulged in one of the decadent desserts-I had the raspberry filled yellow cupcake, and my aunts had the Italian creme cake. I tasted it and it was divine!
The Cafe is open Monday-Saturday from 7am-4pm; they are closed on Sundays. They are really known for their weekend brunch. The place is full of ambience and history and is a hopping place. They do carry-out and that was just as busy as the dining area of the restaurant. They also made our Top 10 Places to Dine Al Fresco! You can also pair a lunch outing here with a paint your own pottery setting at Louisville Stoneware which is just across the street. If you're new to Louisville (or have been here for 25 years like me and hadn't been here yet!), you must check them out! The Cafe is located at 712 Brent Street; 502-589-9191. Follow them on Facebook as well-their photos will definitely have your mouth watering!
By guest contributor: Erin