Review of Carmichael's Kids Bookstore: Local Shopping in the Highlands, Louisville, KY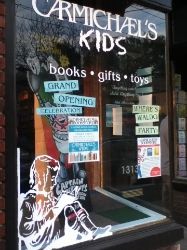 I visited the new Carmichael's Kids Bookstore (located at 1313 Bardstown Road) with my daughter during their grand opening party, featuring a street festival in the Highlands a couple of weeks ago. The store has been open since August 4 and is a great new addition to Louisville, the Highlands, and families in the city. How better can you shop locally?! For books, one of my ultimate loves!
The new store is right in the middle of the bustling Highlands. It is just a block down from the Carmichael's Bookstore Highlands location; there is another Carmichael's location in the Clifton/Crescent Hill area on Frankfort Avenue. The owners decided now was the best time to open up a children's bookshop, as they had been talking about it for several years now. After we browsed the store and bought a chapter book in a series my daughter loves, we had some girl time and a drink at nearby Heine Brothers on Longest Avenue.
The store is just perfect. Anyone a fan of the movie "You've Got Mail"? Well think 'Shop Around the Corner'-totally reminds me of that and how one of my many dream jobs I like to give myself is a children's bookstore owner just like in the movie. The store is filled with shelves and shelves of children's books, ranging from very newborn board book titles, to toddler books for those little ones looking for a fun story, to all kinds of picture books and more. Chapter books and middle grade books are also lining the shelves; the store's book audience goes up to about age 12.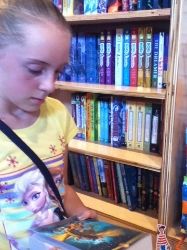 In addition to all of the awesome titles of books, from The Very Hungry Caterpillar to one of my favorites, Mo Willems and that Pig and Elephant, the store also houses neat parenting books, journals, and gift items for expectant parents. They also carry a pretty large line of gift ideas that have been carefully selected to reflect the shop local theme.
They will be playing host to lots of events and programs-so keep up to date on their website and Facebook page as well. Recently they announced two new storytime days, on Mondays and Thursdays at 11am (recommended for ages 2-5). Plop down in the bean bag chair window seat soon with a good book!
By guest contributor: Erin