Review of La Grange Farmers' Market & Artisans + Recipe
Local farmer's markets can be found all around the Louisville area. I decided to check out the La Grange Farmers' Market and Artisans one Saturday morning with the intention of preparing a meal made from
products found at the market. The market is located on Main Street on the Oldham County Courthouse
Square and is open every Saturday morning 8-1 beginning in May and ending in October. We found
plenty of free parking all around Main Street in downtown La Grange.
I knew I wanted to find the La Grange Coffee Roasters tent because I wanted to enjoy a cup of coffee
while walking around the market. The tent was easy to find and I was on my way around the market
sidewalk.
The La Grange Farmers' Market allows your senses to go wild! The aroma of fresh flowers, homemade
soaps and baked goods was very pleasant! You can hear children playing instruments and singing for
the crowd and the train running right along Main Street. Gorgeous handmade jewelry, woodwork,
bean-filled mason jars and colorful produce were beautifully displayed. And of course, the samples!
The free samples made our tummies grumble for more! My children really enjoyed this part of the
market, sampling cheeses, BBQ sauces, breads and anything else they could get their hands on. I
particularly liked the wine samples from Old 502 Winery.
On this particular Saturday, the market had a farm to table cooking demo with Chef Gary Bajdek. My
family and I sat and watched him prepare a meal using products donated by vendors. His samples were
delicious so I decided to be ambitious and prepare some of the same dishes.
I went back through the market and picked up the items that I needed. A lot of the vendors were
equipped to take credit cards, but some only accepted cash.
I prepared my ambitious meal for my husband's birthday the following week. I grilled lamb and veggie
kabobs, made tzatziki sauce, boiled corn on the cob and served wine and a small dessert. Because it
was a special occasion, I spent more than I normally would on food and picked up extras like the wine
and dessert. The meal was a great mini-at-home date night for my husband and me. My husband
appreciated me venturing out of my normal recipes. Here are the simple recipes I followed from Chef
Bajdek and online sites:
Lamb & Veggie Kabobs:
Lamb from Magic Acres Farm ($14)
Veggies from Sunshine Farms ($2)
Cherry Bourbon Jam from Trish's Jam ($6)
The lamb was already cut for kabobs and once I sliced the onion, squash and zucchini I had 7 full kabob
sticks. Season the whole kabob with salt and pepper before placing it on the grill. Grill the kabobs at
450 degrees for 10-15 minutes, turning once. Spread the cherry bourbon jam on the kabobs at five
minutes and then again when you turn the kabobs. I was told by Chef Bajdek that lamb should not be
overcooked because it will be tough. He also gave me the tip of letting the meat sit for a few minutes
before cutting into it to let the flavors cook a little longer.
Tzatziki Sauce:
1 (8 oz) container of plain Greek yogurt
1 whole cucumber (from Sunshine Farms) – peeled, seeded and diced
1 T olive oil
1⁄2 lemon juiced (do to taste, I like mine lemony)
Salt & Pepper to taste
1⁄2 T chopped fresh dill
1 clove garlic, peeled
Combine in a food processor, cover and refrigerate for at least an hour.
Corn on the Cob:
Corn from Gallrein Farms ($2)
Place in pot of boiling salted water. Cover the pot and return to boil again, then turn off the heat and
keep the pot covered. Take corn out after about five minutes and butter 'em up!
I served a bottle of "Kentucky Lady" wine from Old 502 Winery ($11) and a s'mores brownie from Q & A
Sweet Treats ($2.50)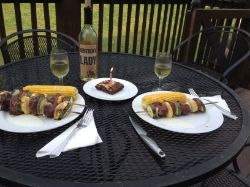 I loved that the market offered an array of products from farmers all around the area and even shops
right along Main Street. The market is located in a park-like setting with lots of shade, benches and
grassy areas for kids to run. The La Grange Farmers' Market & Artisans is a relaxing environment
allowing one to experience fresh, local products and also quaint downtown La Grange all in one spot.
By guest contributor: Nicolle