Top 10 Places for Horse Riding Lessons in and around Louisville, KY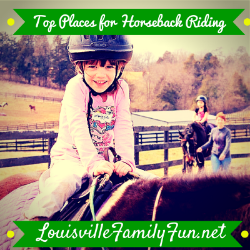 I am for sure a horse lover, I rode and showed American Saddlebred horses for most of my school years. When I was asked to compile a list of the best places to take lessons I jumped all over it. I will say this as a disclaimer, I know that there are so many great barns in the area to take lessons. I however created this list based on personal experience.
Thank you for visiting our website, this post is "older" and some of the information may not be up to date!
1. Jo Cornell Stables – First on the list is the barn that gave me my start as an equestrian. Jo is formerly a world cup coach, she has been the instructor of some of the world's best saddle seat riders. Now she has stepped out of the showing spotlight and has been focusing on 4H. The barn is located in Crestwood KY and can be reached by calling 502-241-6150.
2. Louisville Equestrian Center – Betsy Webb and her staff are doing big things in Taylorsville! They have a huge operation and while they are primarily focused on American Saddlebreds they also have branched out and are offering lessons in other disciplines as well.
3. Razor Creek Stables – This barn is located in Jeffersontown and the emphasis is on hunter jumper horses. They have indoor and outdoor lessons and 8 miles (!) of trails for trail riding. A one hour lesson is $45.
4. Hidden Bridge Farm – This farm focuses dressage, hunter/jumper, and cross country. They are located on Cover Bridge Road in the Prospect area. The owner, Emily Ragan has been teaching since the mid 70s. They have a beautiful facility.
5. Bannon Woods Farm – The style of riding offered at this barn is hunter/jumper, and dressage. They are located in Fairdale KY, their farm is 51 acres but is surrounded by 5,000 acres land from the Jefferson County Forest that they also use for trail riding. Lessons start at $35.
6. Ariatti Equestrian Services – Eventing and hunter/jumper style riding is taught at this barn. They are located in Anchorage KY, and offer riding lessons to children as well as a variety of camps.
7. Signature Stables – This riding lesson program is located at the historic Rock Creek Riding Club in Seneca Park. Signature stables is an American Saddlebred facility, and they offer riding lessons beginning at $35 per half hour.
8. Lands End Farm – Is an eventing facility (hunter/jumper, dressage) located in Goshen KY. They offer lessons starting at $40 per lesson, they have two instructors Martha and Lauren Lambert.
9. Premier Stables – Is located just outside out Louisville in Simpsonville KY. They train American Saddlebred horses. They are one of the best barns in the area when it comes to producing show horses and riders alike.
10. Zubrod Stables – Has been around for 25 years and they offer lessons featuring American Saddlebred horses. They are a family business with 2 generations teaching riding lessons.