Review of Open Gym at Discovery Gym in Shelbyville, KY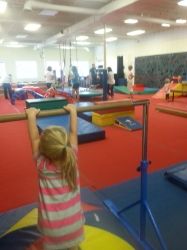 My family and I recently moved to the Shelby County area. Being new to the area I am constantly on the look out for family friendly things to do that don't involve traveling to Louisville. Much to my excitement, I learned about The Discovery Gym. It is a fairly new establishment that offers gymnastics classes, a pre-school and Kindergarten program, birthday parties, and open gym times. From Louisville, it's about a 20 minute drive past the Middletown exit on I-64. If you're looking for a more scenic drive, you could head down Shelbyville Road and see some amazing homes and horse farms.
The Discovery Gym currently has open gym on Saturday mornings from 9-9:55 for $5 a child. It may seem early, but if your children are like mine than you are probably already wide awake by 9am. To sign up for open gym you need to "like" Discovery Gym on Facebook because that is where you will sign up each week with your child's name/age. Once 10-12 children have signed up you will be put on a wait list. The morning of the open gym they will let you know on Facebook whether or not there were any cancellations. I have been put on the wait list twice, once we got to go and once we didn't. I have found that it is much busier in the winter months when there isn't as much to do outside and people may be getting a touch of cabin fever.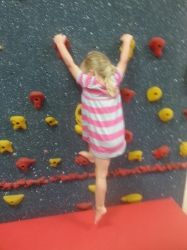 The gym itself isn't that large, but there are still lots of fun things for children of all ages. They have two rock walls, several different size balance beams, a climbing rope, swing, trampoline, uneven bars, parallel bars, and a few other pieces of equipment that you would find in a typical gymnastics class. My 3 ½ year old bounced around the gym from one thing to another, but really enjoyed trying to flip on the bars and walk across the tallest beam. My 1 year old enjoyed being bounced on the trampoline.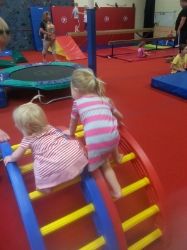 In the back part of the gym is their open preschool classroom. It's not separated by walls so if you have children playing in both areas you can watch them pretty easily. This area is full of wooden blocks, a doll house, a kitchen, baby dolls, cars, legos, and a few other toys that are accessible to the children during open gym. My daughters really enjoyed this area as well. It was a good way for them to rest after being so active in the gym area, but once they got their energy back they were ready to hit the gym floor again.
I think this open gym is great for families who live in the area or are planning on being in the area for awhile. I, personally, wouldn't travel to Shelbyville from Louisville just to visit a 55 minute open gym. I would, however, suggest visiting the open gym and then seeing some of the other wonderful sights Shelbyville has to offer. I would recommend Gallrein Farms, The Outlet Shoppes, or you could travel a little further down I-64 to Salato Wildlife Center.
By guest contributor: Kimberly