Visit Jeffersonville, Indiana via the Big 4 Bridge in Downtown Louisville, KY

My husband and I recently were lucky to get some date time, so we did our own version of Parent's Day Out and dropped the kids at their babysitter, headed downtown to Waterfront Park, and parked at one of the free lots near the Big 4 Bridge. It was a Sunday afternoon, a rainy one at that, and the place was deserted for once! We walked over the Big 4, took in the scenery, and the progress on the bridge construction, and made our way over to Jeffersonville and the well-known Spring Street.
We were looking for The Olive Leaf Bistro, a place we had earmarked for a date when we walked across shortly after the bridge had opened to the Indiana side. We arrived and found that they had just closed, although I had checked their hours on their website the day before. They did say they had just changed them and were going to reopen at 4pm for dinner. A nice reminder to always call ahead and check things out, especially for these smaller local eateries. We made do, and walked over to Big Four Burgers, which we had not visited before either. We practically had the entire eating area to ourselves, so that was kind of nice. It is a restaurant/bar that basically serves: burgers. We each tried a different sandwich. I had the Breakfast Burger and a side salad and sweet potato fries. My husband had the Fried Chicken Sandwich and garlic fries (YUM!) We had a very nice late lunch and enjoyed it. Big Four Burgers has Kids Eat Free on Mondays, so go check that out!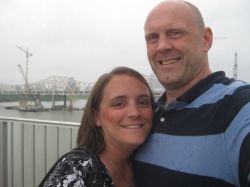 After lunch, we walked a little bit down Spring Street and went past a couple of other eateries, including Red Yeti Brewing and Ann's by the River and a few others. We also window shopped and enjoyed the street art along the curbsides in Jeffersonville. We saw the famous Schimpff's Confectionery and earmarked it go back soon as they were closed. We ended up back on Pearl Street and stopped in the frozen yogurt shop, Pearl Street Treats for dessert. We loved it, and have a review here.
Downtown Jeffersonville is a wonderful place to go for a date or just some alone time, or with the kids! It is being so revitalized right now, and the park that is coming at the end of the Indiana ramp to the Big 4 Bridge looks like it will be great for families. We love the atmosphere over there, and love parking at Waterfront Park and walking across the river to Indiana now!
By guest contributor: Erin