Review of The Blended Canvas in Louisville, KY
My daughter and I recently went to check out this new painting spot in Jeffersontown called The Blended Canvas. The business just opened in late fall and is a quaint little place, totally laid back and open to any kind of project you want to do. The owner caters to anyone, all ages, parties such as birthdays or baby showers, and more.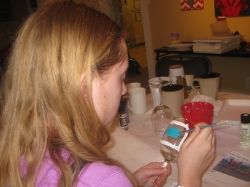 We visited on a Saturday afternoon over winter break and spent about two hours painting onto individual projects. My daughter chose a piece of glassware to make a party glass and I chose to paint a mug. The owner, Nichole, sat with us and helped us get started with ideas and brainstorming what we'd like to do, and I especially appreciated the attention she gave to my daughter to really hone in on what she wanted to create. She ended up with this fun glass and I decoupaged an L and painted in black and red onto a mug for UofL. It was fun and I definitely recommend checking this new paint place out.
She is open pretty much in afternoons throughout the evenings each day; she did tell me she will most likely be closed on Tuesdays starting in the new year. It's best to call or check the Facebook page for hours and updates. The Blended Canvas is unique in that there are calendar offerings on the website and ideas for projects to paint, but if you want to just drop in and paint anything you might be thinking of, Nichole welcomes that. Canvas paintings are $25 for the largest 16×20 and $10 for the smallest 8×10. You can also paint a glass, mug, mod podge different ideas, paint on wood pieces, tiles, and even more projects are being thought up.
We had such a wonderful time just sitting and chatting, like crafting together with a friend at their house. You'll instantly feel right at home in her white little house of a shop near the heart of Jeffersontown. All in all,my daughter and I loved chatting and had so much fun sitting there painting our glass and mug and just sitting down, away from the busy-ness of life and enjoying that afternoon together! Loved the space, the offerings, and the price point (projects range from $5-a maximum of $25). It's so reasonable and affordable. Louisville and especially those in Jeffersontown should definitely check out this new local business, support our businesses and #shoplocal! We can't wait to visit again and try another project with a friend- it's totally a great place, great owner, great location, great for families, birthday or other parties, girl's night out, etc!
Location: 3215 College Dr, 40299
Phone: 502-297-9966
Facebook: www.facebook.com/theblendedcanvas
theblendedcanvas.com
Hours: Vary, call to confirm
~Erin