Review of Dining Options at Holiday World in Santa Claus, Indiana
Nicolle was given admission tickets to Holiday World for the purpose of reviewing their dining options.
Holiday World and Splashin' Safari offers an array of rides, shows and food! While my family visited the park recently, we decided to take in the many food options available throughout the park.
There are restaurants in every section of the park and they serve food that matches the theme of the area. My family decided to have lunch in Holidog's FunTown at Hot Diggity Dogs. This area of the park is a great place for families with younger children to have a light lunch, catch a show, play and go on rides. We ordered three corn dog meals with applesauce and oreos ($4.99 each) and one chicken tender basket with fries and oreos ($7.99). One of the many great perks about Holiday World is the free unlimited soft drinks! This is a huge savings for families when visiting the park. Unfortunately, the wait was long and there was no drink station in this area. Holiday World's website lists the best times to catch a bite to eat to avoid long waits.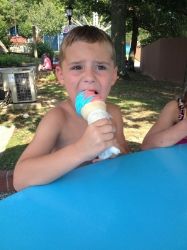 We enjoyed a lot of the rides and decided to hit the water park after lunch. Splashin' Safari has many dining areas and a few snack stands. A pretzel with cheese ($4.79) is one of many options if you're looking for a quick snack between meals while visiting the water park. My family decided to head back over to the Fourth of July area to try the blue ice cream at Udderly Blue. My son got the twist of blue and red soft-serve ice cream in a cone ($2.69). This was a combination of blue raspberry and cherry flavored ice cream and it was delicious! The park has several ice cream options available from traditional ice cream to Dippin' Dots, but I recommend trying the blue ice cream, for sure!
After our snack we hit the ride trails again for a couple of hours. Thanksgiving is one of the last sections of the park and I knew that is where I wanted us to have dinner. Plymouth Rock Café is one of the priciest restaurants in the park, but has generous portion sizes and delicious food! The food choices are traditional Thanksgiving dishes like turkey, stuffing, sweet potato casserole and mashed potatoes. The food is served cafeteria style, which allows for fast service. I chose a child portion chicken & dumplings that included a side and choice of bread ($5.99). We also got one vegetarian combo meal for the kids to share that included three side choices and a choice of bread ($8.99). We loved enjoying Thanksgiving dinner in the middle of summer!
Thanksgiving has some great choices for dessert, too, but I recommend saving the last treat for on your way out of the park. Mrs. Klaus' Kitchen in the Christmas section of the park is heaven on Earth! There are so many smells and sights to take in as soon as you walk inside. A staff member was hand-dipping caramel apples ($3.99) – my favorite! Candy in bulk, fudge, cookies and cronuts can also be found in Mrs. Klaus' Kitchen. In keeping with the Christmas theme, one can enjoy these treats with a cup of milk.
For those seeking healthier options, I would recommend visiting the new Wildbeestro in Splashin' Safari. Wildbeestro has a variety of sandwiches, salads and fruit cups that looked great and can accommodate vegetarian and vegan diets.
Allergy warning signs were posted at many of the restaurants. An allergen-friendly menu guide is available with many dining options and their park locations listed. Holiday World recommends ordering any special requested food an hour ahead of time or calling the park to avoid a long wait time.
I saw a lot of families taking advantage of the pizza family deal. For $29.99, a family can enjoy a whole pizza, 8 bread sticks and 4 cookies. Another thing that caught my eye were the unusual treats at the park. Feeling adventurous; try the Hot Diggity Dog! This is a bacon wrapped, deep fried hot dog covered in cheese and BBQ sauce and served on a pretzel bun. If you're looking for state fair-like food then try the deep fried Reese's peanut butter cups or the chocolate covered bacon.
We enjoyed eating our way through Holiday World & Splashin' Safari! The park does not lack choices when it comes to entertainment or food. The restaurants and seating areas are clean and the staff are friendly and very accommodating. Check out their website to read about the other eateries found in the park. Your stomach is sure to grumble!
By guest contributor: Nicolle