Review Early Learning Readiness Program with YMCA of Greater Louisville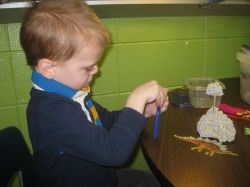 The YMCA of Greater Louisville offers a fairly new program for three and four year olds in the Louisville/Jefferson County area. It's called Caring and Learning with Me, or also known as Early Learning Readiness (ELR). "It is a free early learning readiness program for children ages 3 & 4. This program is geared for the child who usually stays home with a family member, friend or neighbor. Our caring staff combines the fun of a play date and the preparedness for kindergarten. We provide hands-on resources and support for the caregiver of the child. We come together 2 days per week for a playful learning experience for everyone. We meet from 10 am-12 pm at Thomas Jefferson Middle School (1501 Rangeland Road) on Tuesdays and Thursdays or Wednesdays and Fridays."
My 3 1/2 year old son and I have been attending the program since late January; we got in on it a little bit late but they still had some openings so we could attend. We have been having a blast together. We attend on Wednesdays and Fridays from 10am-12pm. This is not a stand alone preschool type option in which you drop your child off; it is a parent driven, interactive program where you learn with your child and experience fun together. It has been great for us because we didn't start traditional three year old preschool this year, so it has really helped my preschooler learn about expectations and skills needed for school. Circle time, learning to follow directions better, going from one task to another and how to transition and clean up after yourself, listening to others in authority figures, being part of a team (having jobs to do) and taking responsibility and ownership of the classroom, and socializing with others are the big factors for our experience. He is the type of child who is probably close to being school ready in terms of kindergarten readiness skills like knowing shapes, colors, ABCs, number recognition, etc, but really needed some help with social skills. We have really enjoyed it, he calls it "preschool class" and looks forward to it each week!
Other Helpful Information:
While it's designed for 3-5 years old, they do enroll birth to age 5.
A second site is starting this fall at Roosevelt Perry Elementary; Robin Norfleet is the program facilitator –
rnorlfeet@ymcalouisville.org
.
The program is completely FREE.
They are currently accepting registrations for the new year that starts the week of August 17th.
You can call 637-1575 as well for more information. Mary Graybeal is the Program Supervisor.
Email Kerry Basham at kbasham@ymcalouisville.org
Facebook
Twitter
ymcalouisville.org
Phone: 502-637-1575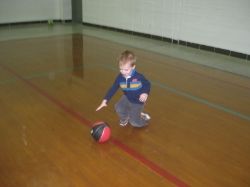 This program runs during the school year and follows the JCPS school calendar. Look for registration and sign ups for next year around August.
By guest contributor: Erin