Review of Disney's Zootopia
We were given admission to Disney's Zootopia for the purpose of review.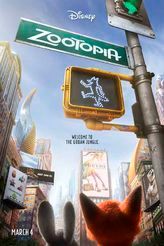 Disney's Zootopia is a story of a rookie bunny cop, Judy Hopps (voice of Ginnifer Goodwin), trying to prove herself in the big city of Zootopia. She quickly finds that it is difficult to be a bunny cop in a big city surrounded by much bigger animals than herself. Determined to prove herself, she asks to be assigned to solve a mysterious missing persons (otter) case. Along the way, she has help from a sneaky fox, Nick Wilde (voice of Jason Bateman).
The story-line takes the audience through the different districts of Zootopia where Judy and Nick face different obstacles. It was fun to see the various animals and surroundings in each district. The buildings, cars, food, etc are scaled according to the animal. For example there is a tiny city for mice and snobby elephants ordering giant ice cream in a shop. The slow sloths at the DMV are hilarious!
In Zootopia, all of the animals live together, both predator and prey. But, because there are different districts, the city is separated into classes where the animals are faced with prejudices based on preconceived notions. The story-line starts with following your dreams (even if you are the smallest and only bunny on the police force) and ends with a message of being the change one wants to see in a world where there is discrimination.
The film is fast-paced and entertaining from beginning to end. We watched the movie in 3D! The graphics and 3D effects were great! There was one "scary" scene in the film, but nothing too bad. There is a lot of silly humor and, in true Disney fashion, adult humor that will go over most children's heads. Our favorite characters were Flash the Sloth and Mr. Big! You will recognize other celebrity voices such as Shakira, Tommy Chong and Bonnie Hunt in the movie.
Zootopia opens in theaters on March 4th! It's a fun, family-friendly film!
By Guest Contributor: Nicolle