Family Getaway Vacation to Chicago, IL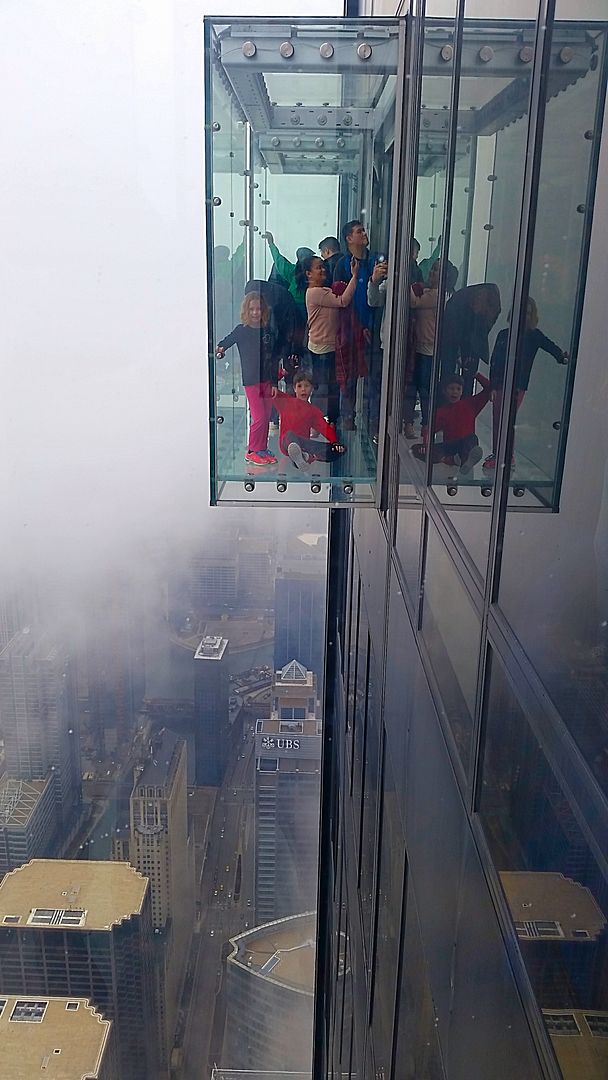 My family and I took the 5 hour drive through windmill farms and toll booths to Chicago over spring break . It was cold (there was some snow), but still enjoyable!
We researched and bought the CityPass prior to arriving. With the CityPass you can visit 5 attractions at a discount. You can buy alternative discounts like the Go Card (you buy the day, and fit in as many activities as you want), but basically the more attractions to buy upfront, the better the deal. I think the CityPass is a great deal for a week trip to Chicago, but too much for a long weekend.
Street parking is almost non-existent in downtown Chicago, and it is not uncommon to cost well over $20 for parking under 3 hours! Some places have early bird pricing (go to www.Parkingpanda.com to check parking options and prices). It's helpful to use Google maps for directions, and it will show you your walk, car, bus, and train alternatives.
My recommendation is the bus. At the time this was written, a one way bus ride costs $2.25 for adults, $1.10 for kids (young kids were free), but the bus does NOT give change. Have exact change or go to the local drug store for a metra card (you can buy one way, 10 rides, weekend passes, etc). There are lots of bike sharing/rental sites, Ubers, and taxi services as well. Traffic can be terrible, so walking is easiest – be careful in choosing your hotel location!
Our hotel had an indoor pool ("free" activity for the kids), but no complimentary breakfast, so we brought our breakfast foods with us to save money and time. Chicago is expensive. It was tough to find a bottle of water under $3, and meals were pricey.
Here are my tips and experiences for the sites:
Shedd Aquarium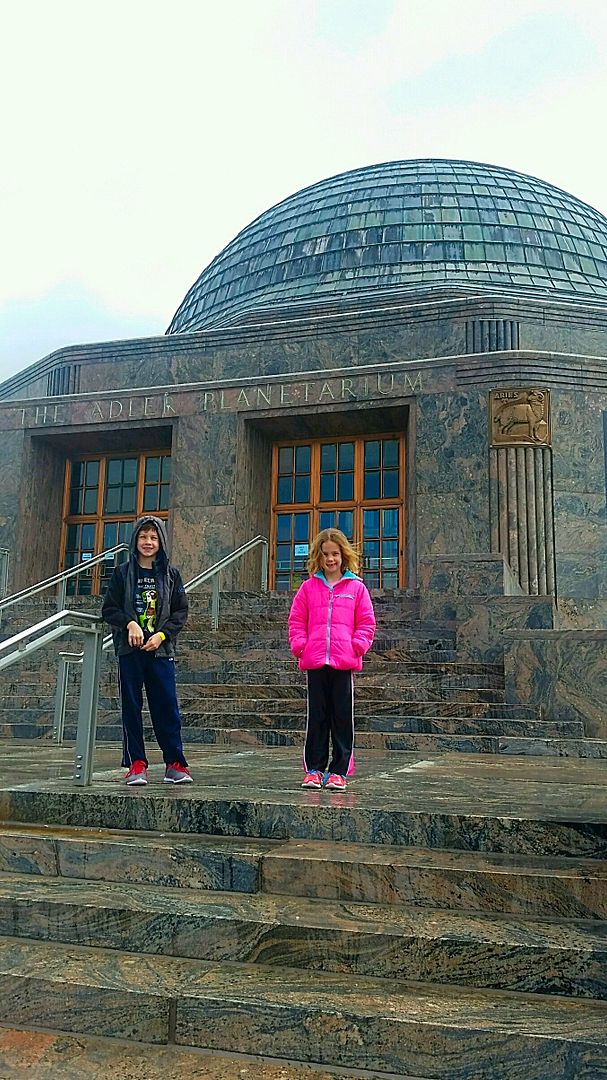 Get there before it's open – the line builds up fast! Don't bring any big bags with you – they do bag searches and don't allow large bags in. There is a lot to see – it could be full day depending on how many shows you see (the $2 Beluga whale show was worth $2, but all of the shows can sell out by lunch time!) They have bulaga whales, dolphins, amphibians, ocean animals of all kinds, and more. You can bring in your lunch to cut costs. The sting ray touch is only in warmer months. You can buy a cheap $8 ticket for just the main floor of the aquarium which I thought was a good deal and could take 2+ hours alone.
Alder Planetarium
You schedule 2 shows, then go back and schedule more. The shows are included in the ticket price. There is a cafe inside. More of a half day attraction for us, but it depends how many shows you see.
Field Museum

No big lines, so it was a good second half of the day attraction. Cool, life-sized T-rex skeleton on the main floor. Different floors with different themes. Our movie was included in the CityPass cost. You could pay extra for the main, temporary exhibit. My kids were good with a half day there, but if your kid was interested in everything it could be a full day.
Museum of Science and Industry
I thought it looked awesome online with lots of different areas and themes, but my kids weren't as into it. They enjoyed the planes, trains, and robots, but they weren't wowed. It's a big building, but after 5+ hours, my kids were over it.
Willis Tower
The previously known Sears Tower has long lines on good weather days. Try to be there when it opens, and don't go after sunset. After going through security (don't put your phone in your pocket!), you wind through lines with information on the wall, a short movie on the Tower's history, and then take an elevator up 103 stories in 60 seconds (there is a lot of ear popping). At the top you can go out on one of 4 glass ledges. Two are for paying costumers to have a professional picture taken floating over the city of Chicago, two are for you to take your own picture, and hope the strangers next to you don't photo bomb. Then you go back down the elevator and through two gift shops to get out.
Millenium Park and the Cloud Gate
"The bean" as the locals call it, is awesome and free! Great place for family pictures. The park is over 24 acres right in the city, and hosts free events regularly.
Buckingham Fountain
Buckingham Fountain is in Grant Park, and is one of the largest fountains in the world. It operates from April to October with water shows and light shows. It's right by the Art Institute of Chicago which can also be included in your CityPass deal.
Oz Park

Oz Park is a cute, little park with typical park stuff including a wooden playground and Oz character statues. Since my daughter's class is reading Wizard of Oz, she HAD to see it. The statues were neat. It wasn't too far of a drive from the free Lincoln Park Zoo and Millenium park. On-street parking nearby.
Places to eat:
Flagship McDonald's – not super special. It has two floors. My kids thought the elevator, escalators, and meal trays rocked. The second floor had museum type windows with McDonald's through the decades with a matching table and chairs to sit at. The upstairs bakery was closed when we were there. Only drive-through, no parking.
Rainforest Cafe
Typical Rainforest. Moving, life-size animals, overpriced food and drinks, large gift shop. The food was delicious and the wait staff was really nice. No parking.
Wildberry (breakfast/lunch)
Best breakfast food in Chicago! Huge portions, delicious tasting, clean restaurant, friendly staff. Go early, the wait can get long! Right across the street from Millenium Park.
Firecakes Donuts – take out only. Delicious and fresh donuts and hot chocolate. These donuts were so good they are worth the trip to Chicago! (Right near Flagship McDonald's and Rainforest Cafe).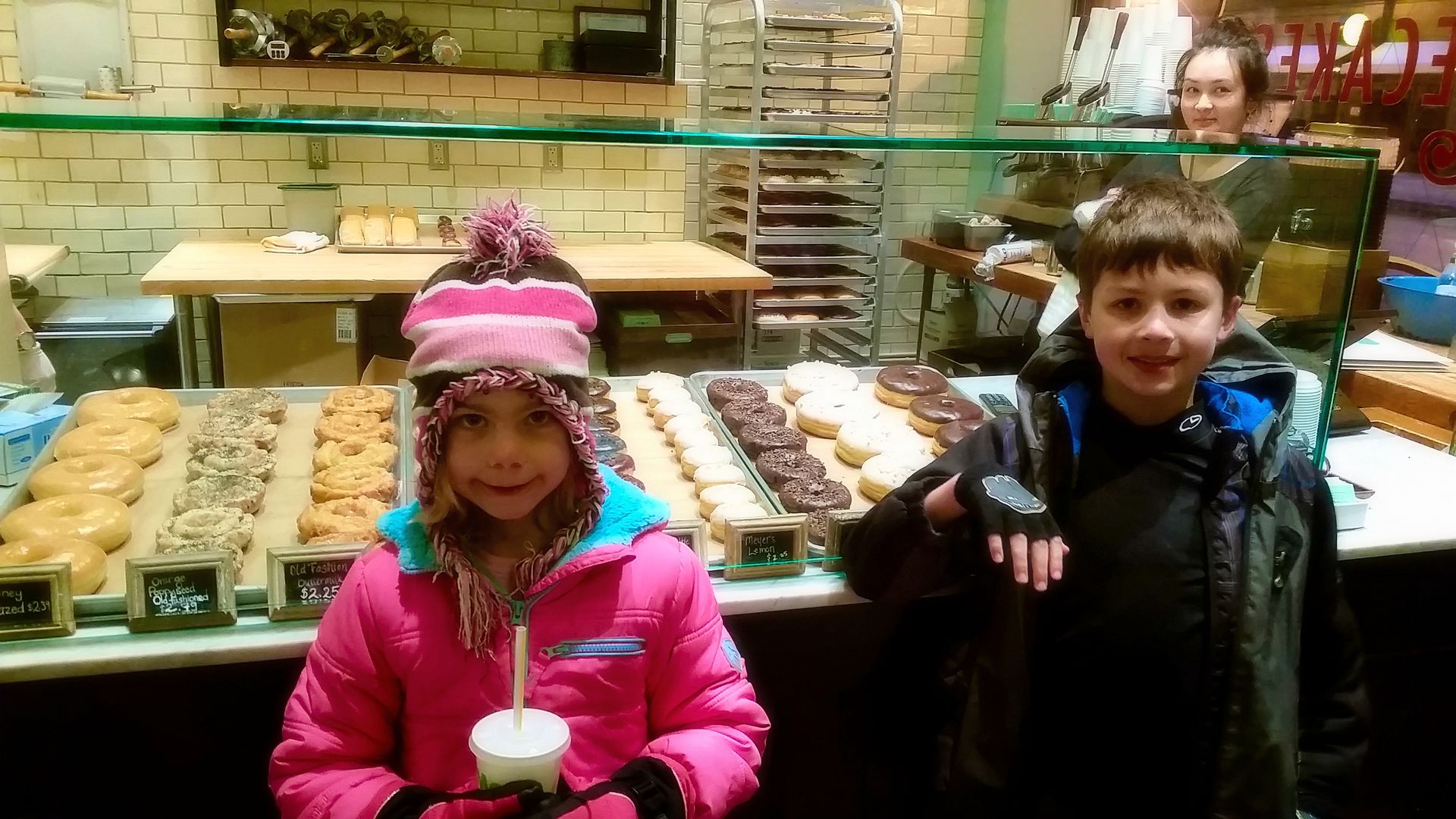 Other sites for our next trip:

Navy Pier (ferris wheel and rides)
Children's Museum
Lake Michigan beach areas
Museum of History
Art Institute of Chicago
Legoland Discovery Center
River Cruises
360 Chicago
Lincoln Park Zoo
Ann Sather Restaurant
Level 257
Pinstripes
Hard Rock Cafe
Honey Butter Fried Chicken
and many more…


By Guest Contributor: Caryn