A Day with Dad in Clarksville, IN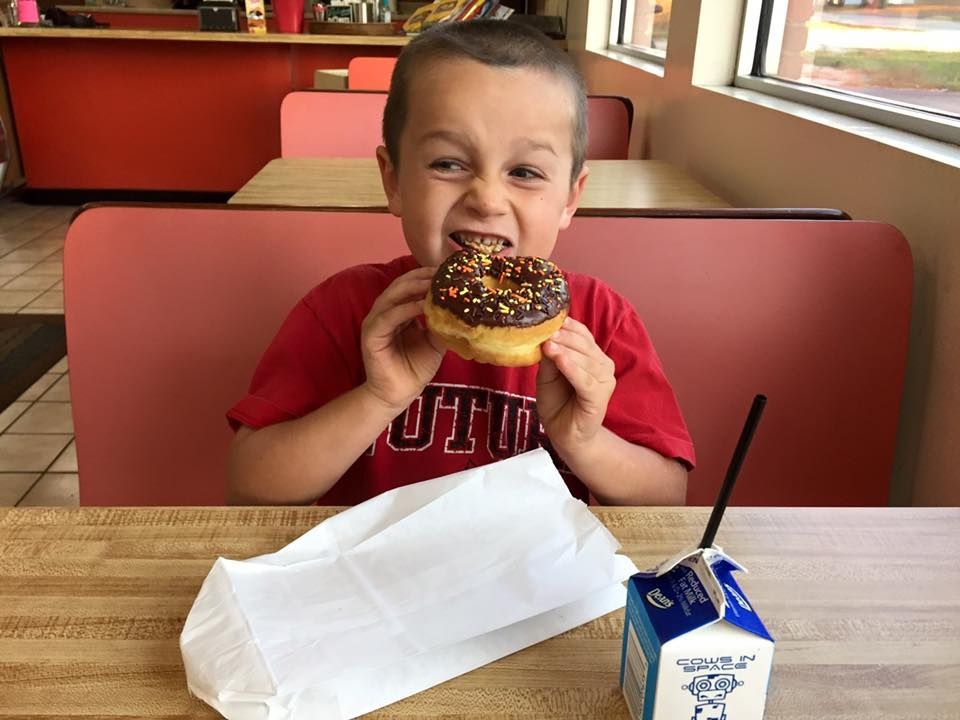 As a father of two children (7 &5), there is nothing more enjoyable for me than a weekend with no plans. If your family is anything like mine, weekends usually fill up fast due to work, family gatherings, or other obligations that always seem to come up. That's why a free weekend with no plans can sometimes feel like winning the lottery.
The next time you find yourself lucky enough to have a free day, try
something new and pay visit to Clarksville, Indiana. You can start the
day with breakfast at William's Bakery
located at 1051 N. Clark Blvd. They have donuts, turnovers, danishes
and more. Several booths are available if you want to eat inside, or
you can take it to go.

For a morning activity, I recommend heading to Clarksville's  Gateway Park. The park features what they call an 'adventure playground'. Instead of your normal playground equipment, kids get to play on things like spider webs, boulders, giant mushrooms, and a really cool clubhouse. There is also a splash pad area in the middle of the park, bordered by a line of adult swings for mom and dad. The restrooms are always clean, and there is plenty of covered and uncovered picnic tables. Subway and Little Caesars are located within view of the park, which make for a convenient spot to grab a quick bite.
Be sure to have your child's bike in the trunk and take them down to Ashland Park. My kids love to ride their bikes in our neighborhood in the afternoons, but I am always worried about cars driving too fast in the area. Fortunately, Ashland Park has a great paved path for bike riding and it isn't near the road. The path is actually part of the Ohio River Greenway, so it is rather long and even leads you up on top of a flood wall. The park has some of the absolute best views of the Louisville skyline, and there is always a nice breeze coming off of the river.
If you have extra time, stop in at the Falls of the Ohio Interpretive Center. They just completed a major renovation, including more interactive exhibits. Admission is $9 for kids 12 and up, $7 for kids 11-6, and Free for kids 5 and under. Parking is $2, but it is an easy walk from Ashland Park. If you don't want to go inside, you can still explore parts of the park for free. Before you leave, hit the Widow's Walk Ice Creamery for a sweet treat. I recommend the Proud Mary's Peanut Butter Cup Sundae. Two warm brownies, Peanut Butter Cup ice cream, and topped with hot fudge, whipped cream, & nuts! Plenty to share with the kids.
For a dinner out, I recommend the new Rails Craft Brew & Eatery on Lewis and Clark Parkway. It is very kid friendly, with one room decorated with model trains and signage. My son Logan was a big fan of what he called 'the train room'. They have the normal kid's meal offerings like burgers, chicken fingers, mac and cheese, and grilled cheese. If you get an appetizer, I highly recommend the beer cheese and breadsticks. The staff is friendly, the restaurant is very clean and maintained, and the prices are comparable to places like TGI Fridays or Applebees. They also sometimes have live music on their outdoor patio during the warmer months. The outdoor seating area is large, comfortable, and a great spot to end a fun day with Dad in Clarksville!
By Guest Contributor: Ken