Indoor Fun with Teens/Tweens
We know the struggle is real when you have tween/teens around the house so we have put together a list of 13 activities to get them out of the house with you. You might even catch the rare smile from them having fun.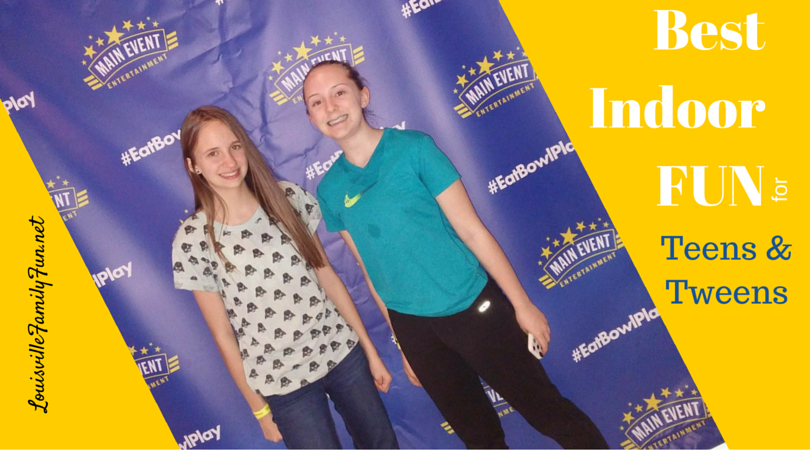 Here are some of our family-friendly indoor fun with teens ideas from you
Please call ahead to these indoor fun with teens places to make sure they are open and what their current happenings are, prices listed are also subject to change.
1. Main Event Entertainment has a huge indoor arcade and games play area plus a really cool blacklight bowling center. They also have a fantastic indoor ropes course as well as an entertaining laser tag section. They have deals to save some money on certain days during the week to help you save on your indoor fun.
2. Activate offers high-tech games that test your team's physical and mental agility across a wide variety of real-life challenges. The website says it is good for anyone 10 and up. It is $25 per person to play but will challenge you and your teen.
3. DEFY is a go-to for indoor jumping! It's an indoor trampoline park located in Middletown. It is near a lot of great places to eat and get a sweet treat (such as the Middletown location of Comfy Cow!)
4. Renaissance Fun Park is full of all kinds of fun for tweens and teens! They always seem to be offering some kind of deal, such as their occasional fun pass for $20 that includes unlimited Go Karts (if it's warm enough to be outside as well), Laser Tag and Mini Golf for 4 hours. Check out their website for more information.
5. Bowling– If you want to go Bowling in Louisville with tweens and teens in mind, there are plenty of options from which to choose.
6. Foam Warriors – Indoor nerf arena and more. Get their hearts pumping trying to get away from one another in some friendly competition.
7. Movies!! – The Cinemark Tuesday discount deal is a great way for teens to have fun at the movies for a few hours and not break the bank. Xscape Theatres, Cinemark Stonybrook 20, Cinemark Tinseltown, Baxter Avenue Theatres, Preston Crossings 16, Keystone Cinemas (Mt. Washington), Kentucky Science Center, Regal Cinemas New Albany 16, Cinemark Mall St. Matthews.
8. Bluegrass Indoor Karting is a unique indoor go-kart place right in the heart of Jeffersontown's Bluegrass Industrial Park. They have some great options for indoor fun including Axe Throwing (14+)! Check out our review here. And from the same folks, Ovrdrive located in downtown Louisville. Same great stuff by the same great people and some new features like VR.
9. BreakOut Louisville Escape Games is a place I haven't tried yet, but many friends have loved it. I think it's a neat idea to take teens as a group to try and figure out the mystery! There is a waiver to be filled out for anyone under age 18, and if you're under age 14 you must be accompanied by an adult.
10. Malibu Jacks is another indoor entertainment center that is located near Main Event. They offer arcades, bowling, go-karts and mini-golf as well.
11. Dave and Busters not only has good food but lots of games and the most TV's I have seen under one roof. Check their FB page and website often as they do different special during the week and host a variety of special events that are teen-friendly.
12. Climb NuLu is a fabulous indoor rock climbing spot in the heart of NuLu. They have a Youth Climbing Club and a Youth Climbing Team, perfect for younger ones and tweens-teens ages 6-17! Check out their website http://climbnulu.com/ for more info.
13. Shopping – We know most tweens and teens like to shop. Of course, there are the malls, for indoor fun, such as Oxmoor Center, Mall St. Matthews, Jefferson Mall, and Greentree Mall in Southern Indiana. Just remember the new restrictions (at Oxmoor and Mall St. Matthews) that an adult must accompany teens after 4pm on Fridays and Saturdays. Keep in mind places like Five Below in Middletown; my daughter was recently at a sleepover for a friend's birthday party and they went to Blaze Pizza (where each girl got to make their own individual pizza which is really fun), shopped at Five Below, and went and saw a movie at Xscape Theater. It's fun to group ideas together for a fun experience with a group of your tweens'/teens' friends!
Need more ideas? See our previous post.