Review of BreyerFest at the Kentucky Horse Park ( and a link for discount tickets!)
We had the privilege of going to Breyerfest 2012.
BreyerFest is a three-day model horse festival held each July at the
Kentucky Horse Park in Lexington, KY. There are horse performances, a
petting zoo, pig races, face painting, toy horse painting,
entertainers, a Trade Show, stores, meet-and-greets with the horses
that inspired the Breyer models, and more.
There's a Groupon deal!
BreyerFest Denim and Diamonds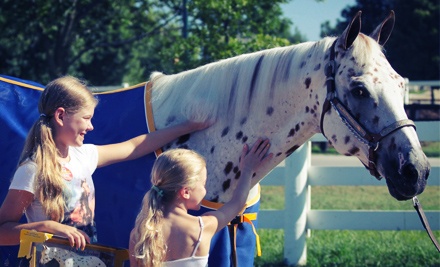 $16 for One-Day Admission for an Adult and Child to BreyerFest Denim and Diamonds at Kentucky Horse Park ($32 Value)
We were a little caught off guard that there was a $5 fee for parking
after buying the BreyerFest tickets ($20 for adults, $10 for kids for
a single day of the festival. Children 6 and under are free but don't get a model horse).The Horse Park is still open for
regular business, so regular parking fees applied. We first went to
pick up our little model horses that came "free" with your ticket.
There were 4 different models to choose from, and they came in their
own cloth pouch. Then we headed over to the main arena where there
were horse shows of all types going on all day. We saw miniature
horses, dressage, saddle horses, costumed horse and riders, and we
even saw a horse jump through a ring of fire! There was no set seating
that we could see, and the kids enjoyed coming and going to the arena
as they pleased. You could also eat in the arena, which was a great,
shaded place to get a snack. We started to walk through the many tent
shops on the top level of the arena, but with two small children, we
decided being surrounded by hundreds of breakable model horses was not
for us. We did notice they sold everything from models, toys,
expensive jewelry, as well as signs hung up asking for different
models to buy or trade. One thing to keep in mind, if you do buy a
Breyer Horse model, it must be left outside of the arena at a holding
area or in your car if you leave the arena. I overheard one woman who
was annoyed that they would not let her carry her horse packages back
inside.
We then headed outside to the petting zoo area. The petting zoo had a
good number of different animals in a fenced in area. You could pay a
quarter to get a handful of food to feed whoever would come to the
fence. While we were there, they had pig races which were really fun
to watch and root for. Right next to the petting zoo, there was a ring for unlimited pony rides with your BreyerFest wristband. My
daughter went a half dozen times, and would have gone more if I let
her. We also let the kids do the $5 camel ride which they thought was
terrific. Next we headed over to another outdoor area with a large
tent and multiple concession stands. They had jumping obstacle
courses for kids, a fake horse with multiple grooming supplies to play
with, jugglers, magic shows, and more. But my kids' favorite part was
the model horse painting. They were each given a free, little Breyer
Horse and they took a seat at one of the long tables set up. At each
table were paint and brushes. They could paint it however they wanted,
and leave it to dry and pick up later. It was nice to sit and be in
the shade for a while!
One of the things I liked best about the festival, was that you were
allowed to bring in food and drink. We brought a cooler for our lunch,
so we didn't have to rely on the concessions or hope there was
something my kids would eat. Plus it made the trip a little cheaper.
On a side note, there were multiple port-a-potties at each of the outside
areas. Of course, my daughter refused to use them, requiring us to
walk to the nicer bathrooms in the arena or one of the museums.
After lunch, we went to the Kentucky Horse Park attractions which are
included in our tickets. There are so many things to do and see, we
didn't even get to them all. We did pay a little extra to go on a
horse-drawn wagon tour of the park. We were a little disappointed that
the tour guides told us that kids under the age of 6 needed to sit on
a parent's lap. We heard them announce this at each ride, and saw that
they filled each wagon to full capacity. I understood why they did it,
but it made it an uncomfortable ride for me!
After the tour, we went in a few of the Horse Park buildings, but we
spent most of our time at the Kid's Barn. The Kid's Barn had stall
after stall of activities and neat things to see. They even brought out
a real horse for the kids to groom!
We also went to a Horses of the World show. Before the show started, I
ran to the Tack building next door to buy some ice cream which was
very reasonably priced. My kids enjoyed eating it during the show and
it helped to keep us cool. The seats for the show were in the shade
and there was a nice breeze which made it even more enjoyable. My kids
loved this show and talked about it for days. Basically, they had 20
different breeds of horses, many of them rare, parade around the ring
while the narrator gave information on them. Some did tricks, some
wore costumes, and some simply did a series of figure eights before
they left the ring. After the show, all of the horses came out for the
audience to pet and ask questions. My kids had to pet every horse.
Then we went over to a little building next door where they had 2
mechanical horses to ride. One was broken, but the other would canter
for a few minutes with just a quarter. The ride lasted so long, both
my kids were able to ride the same horse with only one quarter! By the
time we went through the police horse stable, my kids were getting
pretty tired. I would have liked to have stayed and looked through
some more of the museums and the Hall of Champions, but we will just
have to go back another time.
All in all, it was a great day, and very worth the money. Seeing the
BreyerFest and the Horse Park in a single day may be overwhelming, but
without young kids, you may be able to do everything in a single day.
Both the BreyerFest and the Horse Park have lots of shade and indoor
sites, so it would not be too bad in super hot or rainy days, though
I'd prefer mild weather. I had a great time, and I know my kids will
be asking to go again next year!
Caryn