Review of Paint Your Own Pottery at Louisville Stoneware in Louisville, KY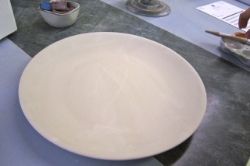 My daughter and I recently had the opportunity to pay a hosted visit to of the oldest stoneware companies in the United States;
Louisville Stoneware
. For those who may not know, there is actually quite a lot to do inside of this downtown Louisville landmark. There is a Visitor Center which includes an amazing gift shop and the "History of Stoneware Museum." You can also take a Factory Tour and see the artists at work. Check the
website
for tour pricing and hours.
On this day, our mission was to paint our own pottery. Initially, I had reservations about taking my energetic 4 yr old into a place filled with fragile items. Fortunately, my fears were immediately laid to rest. One of the ladies at the register quickly took us to the back of the store where there were stools and tables with paintbrushes. Surrounding the tables were several blank pottery pieces, multiple paints, stamps and stencils. The employee was very personable and obviously experienced with children. There was a binder full of project ideas to browse. I had my heart set on making a turkey-themed Thanksgiving platter with my daughter's footprint. The process was simple and fast. The lady "tickled" my little girl's foot with a paintbrush covered in tan paint, and lightly pressed it on the platter. For this particular piece, the rest is left up to the artists, who will work behind the scenes to decorate the plate around the footprint and add her name and year. "Creating Memories" is a really fun line! Footprint/handprint are pieces available for all of the major holidays. My daughter was especially drawn to a cute bunny platter that would be perfect for Easter. I like that all the pieces have a personal touch, but also come out looking very polished and professional– unlike a lot of DIY kits you can get a craft stores.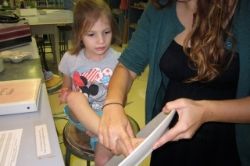 Since it only took my 4 year old about one minute to complete her part of the project, I decided to let her make a second piece. She elected to make pencil cup for her desk. She selected 4 colors which were put into a palette. Then I helped her to choose some stamps and stencils to use in her design. She was a little heavy-handed with the paint, but she was pleased with the results and cannot wait to take it home and put it to use once the firing process is complete!
Paint-your-own-pottery at Louisville Stoneware is a fun way to spend the quality time together. We went on a Tuesday afternoon and there were guests there taking the tour and shopping, but we were the only ones painting. It was nice not having to wait long and having plenty of space to work. I also liked that it was kid-friendly, and I even noticed there were wooden highchairs off to the side, for the youngest of painters. At Louisville Stoneware you can buy a classic from the shelves, order a custom personalized piece or even paint your own. There is truly an option for everyone!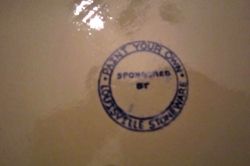 By guest contributor: Brandy