Review of Portland Museum in Louisville, KY
I learned about the
Portland Museum
last summer while I was researching all the museums in the area for Louisville
Family Fun. I was surprised I hadn't
heard of it since it had been around so long.
I asked a friend who grew up in Portland if she knew about it, and she
said she had gone there several times for school field trips. I added it to my summer agenda.
When I tried to go over the summer, I discovered it was only
open Tuesday-Friday from 10-4:30. The
hours made it difficult to get there, but I finally made it this winter.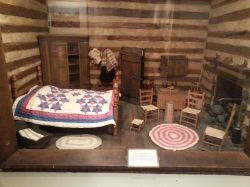 In the main lobby is an animatronic version of Captain Mary
Millicent Miller, native Portlander and the first licensed woman steamboat
captain in the United States. She tells
her story of working with her husband and then eventually captaining her own
vessel.
Then we went into another room filled with animatronics and
dioramas that tell the history of the Portland area. Each area is accompanied by an audio
presentation, and you are prompted to move through the exhibit by the stories
and lights. It was really a unique
experience. I had my four year old with
me that day, and once he got over his fear of the dark he seemed interested in
the animatronics if nothing else.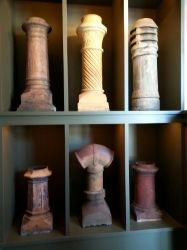 There were many displays of historic artifacts and documents
relating to the Portland neighborhood. I
don't recommend this for very small children, as it is a hands-off museum. This would be a great place for older kids
(6+) and anyone who wants to learn more about the unique history of the
Portland area.
Perhaps my favorite thing there was newsreel footage from
the 1937 flood in Louisville, but my son wasn't interested in sitting still for
it so I wasn't able to watch the entire collection. I will return for this.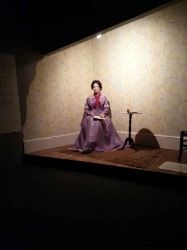 There isn't much off-street parking, but there seems to be
plenty of on-street parking. This would
be a nice place to visit in the summer time, because they have a really great
playground in the back. I would
recommend this in conjunction with a trip to the
Falls of the Ohio
and/or the
Howard Steamboat Museum
since they
all deal with the same area and histories.
By guest contributor: Maggie