Fun Takes Flight at the Louisville Zoo – May 20
This is a sponsored post

Butterflies n' Blooms
The Reign of the Monarch has Begun
Experience hundreds of graceful native butterflies including the amazing monarchs sipping nectar from colorful flowers, basking in the sunlight and flying freely as you wander through our brand new 1000 sq. ft. outdoor flight house. Improve your Butterfly I.Q. and have a magical experience. Visit Louisvillezoo.org/butterflies to learn more. Free with the Zoo admission May 20 through September 24, weather permitting.
"Wings of the World" Bird Show is back by popular demand
The thrilling "Wings of the World" Bird Show returns for the summer starting May 20. This "free flight" presentation weaves conservation messages with behaviors and personal stories about the animals. Shows may include the impressive bateleur eagle, black vulture, Andean condor, sarus crane, kookaburra or rose-breasted cockatoo. The show is created by Joe Krathwohl, aka The Birdman® and produced by Birds n Beasts, Inc. Multiple shows are held daily free with Zoo admission.
Storybook Character Day
Fire up your imaginations when you meet some of your favorite storybook characters on May 20. Pete the Cat, Llama Llama, Curious George, Rainbow Fish, Mama and Papa Berenstain Bear and Mouse (from "If You Give a Mouse a Cookie") as well as McDonaldland® characters Birdie®, Grimace® and Hamburglar® will be on hand on a rotating basis to meet you from 10 a.m. to 2 p.m.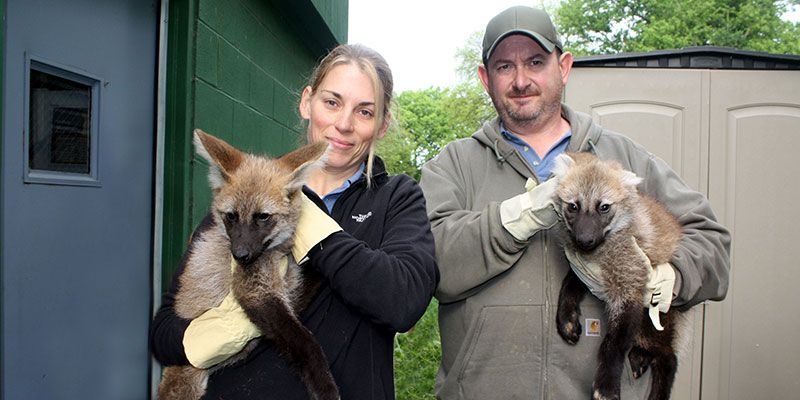 Not to Miss Encounters
Catch up with one-year old gorilla Kindi and all her rambunctious activity; don't miss the maned wolf pups born on Valentine's Day , the warthog twins, Rigger and Digger, a new Bongo, Heran, the new Sumatran tiger and the Sea Eagle chick. Have you taken a ride on a camel or pony? Fed a giraffe? There's so much to see and do this season.
May at the Zoo is presented by McDonald's® Restaurants of Kentuckiana. The entire 2017 season is presented by Ford Motor Company.