Fall Festivals and Events in and around Louisville
Sponsored by:
Here's a list of Fall Festivals for you and your family to enjoy! Click the links for times, addresses and admission information.
Halloween events will be in our Halloween-specific post!
Looking for more ideas? Click here for our Fall Fun page. 
September 7-9, Hours vary: Fairdale Community Fair
September 7-10, (Southern Indiana) Hours vary: Lanesville Heritage Weekend
September 8, 6pm-10pm & September 9 10am-9pm: Middletown's Family Fun Festival and Craft Show
September 8, 6pm: Southern Seminary – Southern Circus Fall Festival
September 8-9, 4pm-midnight Oktoberfest Louisville at German American Club
September 8-10, PeteFest Music Festival
September 9, Bike to Beat Cancer
September 9,(Southern Indiana), noon-9pm: Hidden Hill Nursery Bluegrass Festival
September 9, Louisville Dragon Boat Festival

September 9, 9am-4pm: Highview/Whitfield Academy Arts and Crafts Festival
September 9, 10am-3pm: Redeemer Community Festival and Health Fair
September 9, 4pm: Orchestra at the Amphitheater
September 11-17, Hours and events vary: Kentucky Bourbon FestivalSeptember 14, 4:30-6:30pm, Festival of the Faiths CelebrationSeptember 15, 4pm-10pm: Smoketown GetDown for Democracy
September 15-17, Times and activities vary: Gaslight Festival
September 15-17, Fri 5:30pm, Sat/Sun 11am-4pm: Fleur de Lis Regatta Sailing for a Cure
September 15-17, (Cincy) Hours vary: America's Oktoberfest Zinzinnati
September 16, 9am-4pm: BUGFEST at Bernheim Forest
September 16, Hours vary: National Jug Band Jubilee
September 16, 8:30pm: FARE Walk for Food Allergy Seneca Park
September 16, (Southern Indiana) 9am-12pm, Mighty Titan Mud Run
September 16, 10am-4pm, International Fair at SW Regional Library
September 16, 1-5pm: Family Kite Festival
September 17, 1pm: Louisville Public Media Block Party  
September 17, 2-5pm: reGeneration Fair with Waterfront Botanical Gardens
September 23, 7am: The Pumpkin Run at Gallrein Farms
September 23, 8am-noon: Harvest Festival 2017 at Beechmont Open Air Market
September 23, (Southern Indiana) 6-10pm: IAmPublicArt
September 23, (Southern Indiana) 7pm-10pm: Charlestown Under the Stars
September 23 10am-4pm: Art in the Park
September 23 (11am-9pm) – 24 (11:30am-6pm): Louisville Irish Fest
September 23-24,  HarvestFest at Shaker Village
September 26-28, hours vary: Idea Festival
September 30, 9am-4pm: Family Fun Festival at Summit Heights UMC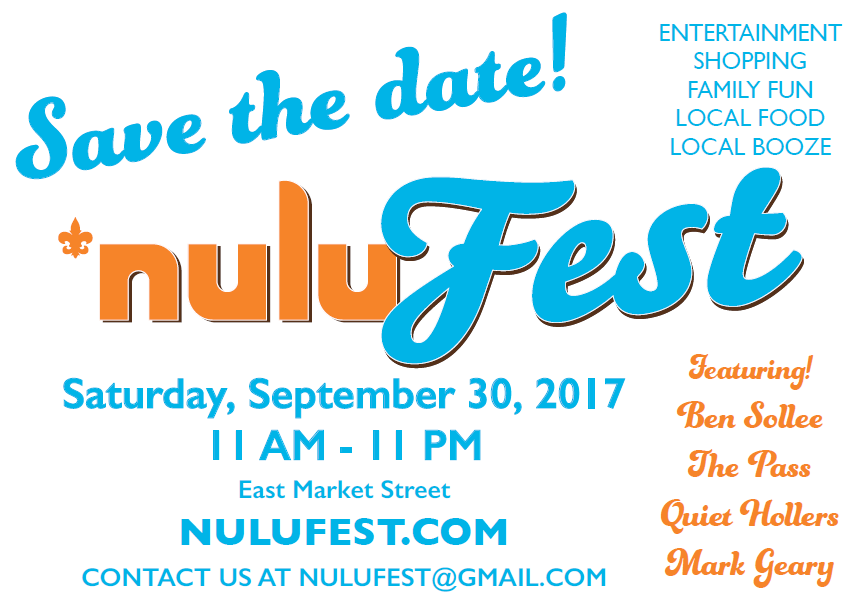 September 30, 11am-11pm, kids are 11am-6pm: NuLu Festival
September 30, 4pm-11pm: St. Francis of Assisi Fall Festival
September 30, 7:30pm  North Bullitt Demolition Derby
September 30-October 1, (Indiana) Hours vary: Madison Chautauqua
October 1 – Family Adventure Day at Churchill Downs
October 1-15, (Southern Indiana) Hours & activities vary all week: Harvest Homecoming festivities galore
October 1 – 30 (weekends only), 12 – 7pm: Pumpkinfest at Slow Poke Farm
October 6-8, Friday and Sat 10am-6pm., Sunday 10am-5pm: St. James Court Art Show
October 7, Spencer County Octoberfest
October 7, (Southern Indiana) 11am-3pm: Bluegrass JamFest
October 7-8 10am-5pm Nunnlea Craft Fair
October 13 (6-11pm), Oct. 14 (11am-11pm) Belknap Fall Festival
October 13 (4:30-10pm), Oct 14 (12pm-10pm): Taste of St. Michael
October 13 (6:30-11pm), 14 (2-11pm): Garvin Gates Blues Festival
October 14-15, Times vary by day: Bowman Field Aviation and Military Heritage Festival
October 14, 9am-5pm: Southwest Community Festival
October 14, 9am-4pm:CARE Africa at the Portland Christian Fall Festival
October 14, 10am-4pm: October Fest Fundraiser for Habitat at Lyndon Baptist Church
October 14, 10am-6pm: Foxhollow Farm Festival
October 14, (Bullitt County) noon-10pm: Bluegrass 101 Music Festival 
October 14, 11am-1pm: Children's Business Fair 
October 14, 6pm: Blackacre Barn Bash
October 14-15, Hours vary: Bardstown Main Street Arts, Crafts, Antiques Fair
October 15, IRONMAN Louisville 
October 15, 12-5pm: Farmington 17th Annual Harvest Festival
October 15, noon-5pm: Harvest for Hope Festival
October 20-21, Louisville Mini Maker Faire
October 21, (Southern Indiana) 10am-3pm: ClarkFEST
October 21, (Southern Indiana) 11am-5pm: Chili, Brats, and Brew at Vintage Fire Museum
October 21, 3-7pm: Fall Festival at Grace Church
October 21, Wilderness Louisville Forest Adventure at Jefferson Memorial Forest
October 21, 7pm: Corn Island Storytelling Festival at Blackacre
October 21-22, 10am-5pm: Bernheim ColorFest
October 21-22: Via Colori Kentucky festival 
October 22, 4-7pm: Prospect Fall Festival
October 27, 6-10pm: Altitude Trampoline Park Family Fall Festival
October 28, 4-8pm: Chilifest, Silent Auction, and Fall Festival
October 28-29, 10am-4:30pm: 18th Century Market Fair 
October 29: Family Adventure Day at Churchill Downs
November 3, (Southern Indiana) 6pm-8:30pm: Fall Harvest Hayride in Clarksville
November 11, Usually begins around 11am: Veteran's Day Parade in Downtown Louisville
November 11, 2-7:30pm: Fall Festival at Immaculate Conception Church in La Grange
Click here for a list of Fall Festivals around Oldham County
Click here for a list of Fall Festivals around Shelby County