Review of Sweet-n-Swirly Nitro Creamery in Clarksville, Indiana
Morgan was given a voucher for free ice cream for purpose of review.
My busy toddler stopped dead in his tracks! Sweet n Swirly in Clarksville has upped the Annie on the frozen treat experience! Their Nitro Cream takes the cake! You can customize your dream treat and enjoy it in less than a minute.
First, we chose our base…. from non-dairy to low fat and full circle back to ice cream. Now, once you have chosen your base, you choose the flavor of that base, you have over 45 to pick from! I was overwhelmed, but don't worry, tell the girls what you like, they helped me hone in on a great combo! Then, once you have gotten over the excitement of the base flavor, it all starts over with the mix-ins!! Don't worry, you only have 51, yes 51 of those to choose from – fruits, candies, chocolate, you name it, they have it! Once you have made your selections, they combine it all in the mixing bowl, you plaster your face to the window and prepare for take off!! Our magic potions were ready in under a minute!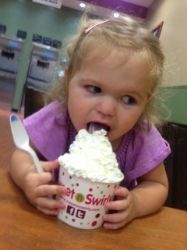 The ice cream was so smooth and creamy, and tasted great! We all devoured our creations in no time flat! It was definitely a fun experience. The prices are very reasonable when compared to all the other options out there these days, and you get an added benefit – your own dream flavor combination and a super show to go with it! I was very impressed with the dairy and nut free options that were there, being I am always on the look out for kids with food allergies to be able to enjoy the sweet treats in life! Now time for you to come up with your dream combo and get over to Sweet n Swirly Nitro Creamery to try it out!
By guest contributor: Morgan